Charlottesville And The Revival Of Racism
The racial protests that erupted in Charlottesville, Virginia, this weekend reflect the renewal of hate in American, a revival of repulsive ethnic antipathy.
An innocent woman died in Saturday's racial ruckus. Nineteen were maimed. Two law enforcement officers lost their lives in a helicopter crash as they surveilled the disruption.
Anti-black animus has again raised its ugly head in such a public way that it is shocking, requiring reaction, demanding reflection.
The actions of white supremacy in Charlottesville were clearly the work of alt-right hooligans and neo-Nazi nationalists who believe in the inferiority of other humans. They are whites who demand the prerogative to dictate the liberties of others. Even though many of the racist protesters — including the man apprehended for murder — were from other states, Virginia recently became our country's moral barometer.
In the clashes broadcast before the world this weekend, it became clear that Virginia is not for lovers, but a place where, at any given moment, vile resentment can rise from its bloodstained soil to reclaim the memory of racial recrimination and the antagonistic doctrine of the old, but not deceased, Confederacy.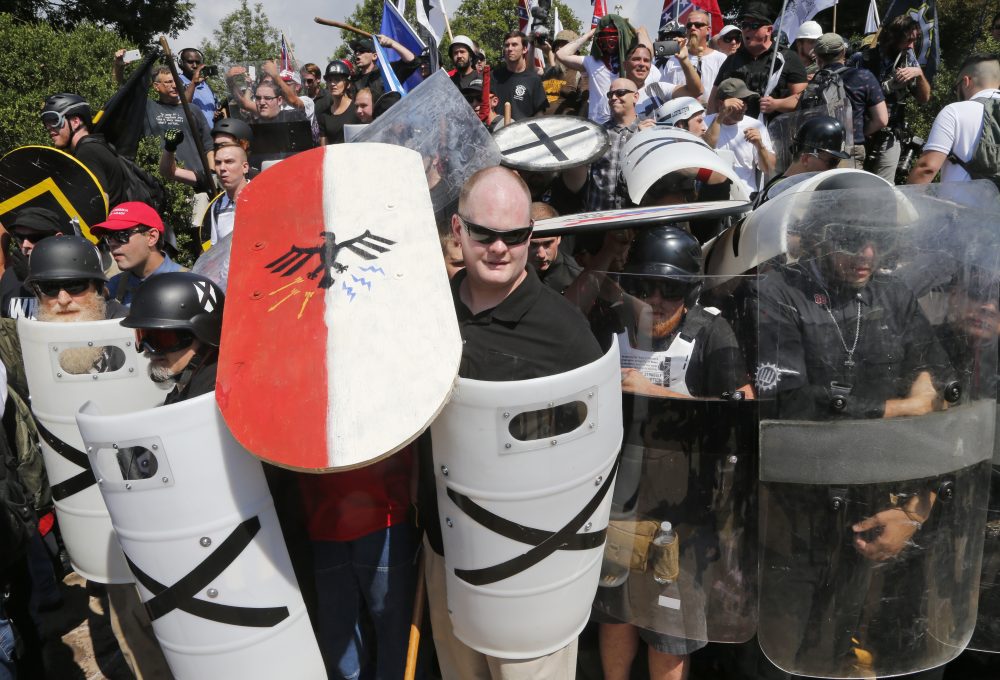 But the revival of racism is not limited to Virginia. It's endemic across America. It exists in large northern cities as well as inconspicuous hamlets across the South. It exists in Los Angles as poignantly as it persists in Louisiana. Its presence re-emerged under Barack Obama, the country's first black president. The repulsive sentiment grew stronger after the election of President Trump.
National polls articulate our national backsliding on race.
A year ago, 74 percent of American voters said race relations were bad, up from 61 percent in 1995, following the Rodney King-related riots and the O.J. Simpson trial that sharply divided whites and blacks. A Gallup poll last year revealed that 53 percent of black Americans "worry a great deal" about race in the country. Only 27 percent of whites answered the same way.
One appalling aspect of this weekend's racial events was the demeanor of presidential leadership. Trump called the tragedy in Charlottesville a show of "bigotry" and said that "the hate and division must stop." But, incredulously, he blamed the victims of violence as participants in the wrongdoing, saying that the melee was the result of agitation on "both sides."
Trump's words fall short of presidential comportment and compassion in times of racial trouble. He failed to denounce the white supremacists who caused much of the violence. He failed to call for clear action on how to reduce the racial tensions in Charlottesville. He failed to use his presidential status to ease racial tensions and promise protection for all citizens at risk at being victims of hate crimes. Trump, unfortunately, continues to pledge allegiance to his narrow base of voters, which includes a contingent of far-right-wing hate groups who espouse white superiority. His presidency remains dependent on a myopic band of voters who believe that the advancement made by blacks since the civil rights movement deserves reversal.
"This is a test now for Donald Trump. So far I think he's fallen short," said former presidential adviser and Harvard professor David Gergen on CNN Saturday. "Can he turn it around? Yes. I think he still has a moment to do that. I hope he reflects on how he leads this country. If he really wants us to unite he has to stand firmly against hatred and he has to do it publicly."
To date, what's clear is that Trump has proven himself to be morally degenerate on the issue of race. This was evident decades ago when he publicly called for the execution of five black teens in New York accused of raping a white woman. The teens were later cleared by DNA evidence, and another man confessed to the crime. Trump also disclosed his racial prejudice by claiming that Obama was not a citizen of the United States and that his Harvard Law School transcript deserved scrutiny. Trump's tenure has reflected his unrestrained predilection toward bias against people of color. He practices exclusivity and pits citizens against each other for selfish, strategic gain.
Trump has emboldened racists, and the violence in Charlottesville resulted from his reckless rhetoric on the national stage.
The question now before for Americans: Can we survive his presidency without falling more deeply into a racial abyss?