John Henry Is Right. Yawkey Way Should Be Renamed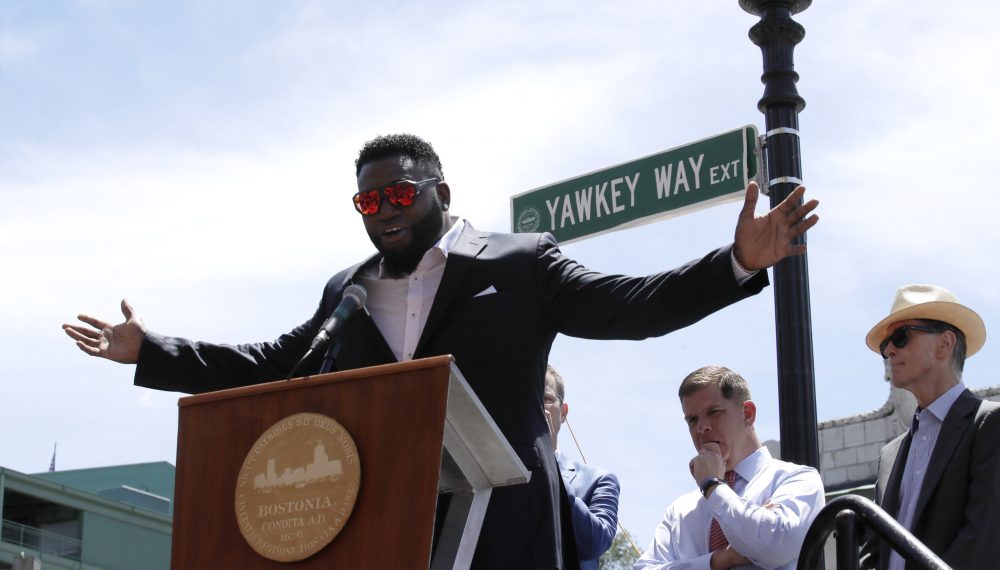 This article is more than 5 years old.
Like "Law & Order" reruns, presidential tweets and smartphones, Thomas Austin Yawkey just won't go away. The late Red Sox owner has not been an active part of the Boston baseball scene for over four decades but his baneful legacy on matters of race still lingers. How else can you account for this past week's announcement from current Sox principal owner John Henry that the team is giving serious thought to renaming Yawkey Way — the bustling street that runs parallel to the front entrance of Fenway Park.
"The Red Sox don't control the naming or renaming of streets," Henry told the Boston Herald. "But for me, personally, the street name has always been a consistent reminder that it is our job to ensure the Red Sox are not just multi-cultural, but stand for as many of the right things in our community as we can — particularly in our African-American community and in the Dominican community that has embraced us so fully…I am still haunted by what went on here a long time before [the present ownership group] arrived."
The shameful history Henry refers to deals with the team's glaring unwillingness to sign or develop ballplayers of color during the majority of Yawkey's 44-year tenure as owner.
In fact, the Sox own the dubious distinction of being the last major league team to integrate their roster with the promotion of reserve infielder Elijah Jerry "Pumpsie" Green in 1959. That's right — 1959, a full 12 years after Jackie Robinson came up with the Brooklyn Dodgers to smash the sport's color barrier. The sad irony is that Robinson could have just as easily integrated the game in a Red Sox uniform.

In 1945, the team was pressured by a Boston city councilman named Isadore Muchnick to give a tryout at Fenway Park to Robinson and fellow Negro League stars Sam Jethroe of the Cleveland Buckeyes and Marvin Williams of the Philadelphia Stars. Robinson was nothing short of spectacular. "You never saw anyone hit the wall the way Robinson did that day," Muchnick later revealed to the Boston Globe. "Bang, bang, bang — he rattled it." But there was no major league contract offers forthcoming from the Sox. That's because no one in the front office — especially Yawkey — wanted blacks on the team.
But there was no major league contract offers forthcoming from the Sox. That's because no one in the front office — especially Yawkey — wanted blacks on the team.
"We'll hear from the Red Sox like we'll hear from Adolf Hitler," Jethroe reportedly told African-American sports writer Wendell Smith afterward.
Robinson was similarly cynical. He thought the whole tryout had been a sham and he left no doubt where he thought the responsibility lay. Yawkey "is probably one of the most bigoted guys in organized baseball," Robinson said years later.
The Sox also whiffed on the opportunity of securing the exclusive signing rights to future Hall of Famer Willie Mays, arguably the greatest all-around ballplayer in history. "There's no telling what I would have been able to do in Boston," Mays later told the sports writer and author Howard Bryant. "But for that Yawkey. Everyone knew he was a racist."
For his part, Yawkey — a plantation owner in the Deep South — justified his actions or lack thereof by using a standard Three Stooges defense — he was a victim of circumstance. "I have no feeling against colored people," Yawkey commented to a Sports Illustrated reporter in 1965. "I employ a lot of them in the South. But they are clannish, and when that story got around that we didn't want Negroes they all decided to sign with some other club. Actually, we scouted them right along, but we didn't want one because he was a Negro. We wanted a ballplayer."
That's because no one in the front office -- especially Yawkey -- wanted blacks on the team.
Only when Yawkey stepped away from playing an active role in the day-to-day operation of the ballclub in the early 1960s was substantial progress made on the integration front. Newly installed general manager Dick O'Connell took over and proceeded to stock the team's roster with a number of outstanding African-American prospects such as Reggie Smith, George Scott, Cecil Cooper and Jim Rice. O'Connell also went out of his way to sign veteran Latin players like Luis Tiant, a Cuban right-hander who won a career-best 22 games for Boston in 1974.
Not coincidentally, the Sox's fortunes began to dramatically improve. The team went from being a loser on the field and at the box office to a perennial pennant contender that led the American League in attendance several times, despite Fenway Park's limited seating capacity. Indeed, without O'Connell's progressive-minded approach to running the franchise, there would have been no historic World Series coming to Boston in either 1967 or 1975. "I don't care what color a player is as long as he can play," O'Connell said.
This was a far cry from his front office predecessor — Yawkey favorite Mike "Pinky" Higgins — who once declared there would be "no n----ers on the ballclub as long as I have anything to say about it."
Yawkey, who died from leukemia in 1976, was eventually enshrined into Baseball's Hall of Fame for his contributions to the game. Rest assured none of these alleged contributions involved pioneering efforts to make the American Pastime a truly inclusive and color blind enterprise. John Henry is right. Yawkey Way should be renamed.
Jackie Robinson Way, anyone?