The Week That Was: Las Vegas Attack Reopens Gun Law Debate, Trump's Puerto Rico Trip Draws Criticism And More
Editor's Note: Every Friday, Tom Keane offers up assorted observations, conundra and miscellanea about the week that was. Here's his round-up for the week ending Oct. 6, 2017.
---
It was the week when the White House said that now is not the time to talk about gun control because the time to talk about gun control is after we've forgotten about the last mass shooting at which point, umm, we'll forget to talk about gun control.
Breakdown. The president had a disaster tour this week. First up was Puerto Rico, where he threw paper towels to the gathered crowds, insulted residents' work ethic, mocked its leaders and minimized the disaster since "only" 16 died. (The death toll has since more than doubled to 34.) Hurricane Maria wasn't "a real catastrophe like Katrina," Trump told a crowd. Then it was on to Las Vegas where his tone changed completely: he was empathetic, caring and presidential. Why the difference? Trump kept calling the U.S., "us" and Puerto Rico, "you." Like many Americans, apparently, he doesn't believe Puerto Ricans are real U.S. citizens.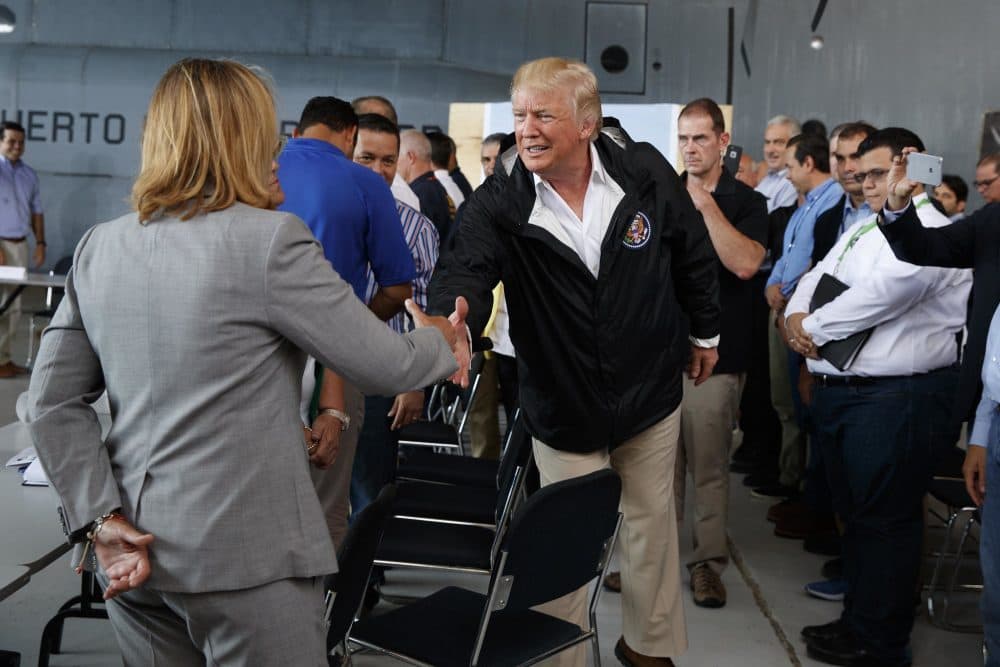 All the Wrong Reasons. In the wake of the slaughter in Las Vegas, it is reasonable to wonder why, exactly, any ordinary citizen needs 47 weapons with high-capacity magazines and armor-piercing bullets. I get that hunters want access to guns so they can, say, go deer hunting. That requires a rifle and perhaps a good scope. But what creatures in the woods require firepower sufficient to outfit a military unit?
Make It Better. Despite this not being the time to talk about gun control, the NRA issued a statement on bump fire stocks — the devices that turn semi-automatics into automatics — that seemed to indicate it might finally give a little on gun control. Don't believe it. The gun group urged the government to see if "these devices comply with federal law" and that they might need to be subject to some "additional regulations." What additional regulations? There's the rub. Here's betting the NRA's ultimate answer is: None.
It's Good to be King. In the battle between Trump and the NFL, the president won. Fewer players kneeled this week than last and owners, frantic not to alienate their fan base, searched for ways to tamp down the controversy. It's a testament to the president's power and media savvy, even when having a showdown with America's biggest sport. You take on Trump at your peril.
Even the Losers. Trump's continued baiting of everyone from the NFL to his own cabinet members is a puzzle to the conventional political world. With an unfavorability gap (the difference between his unfavorable and his favorables) of 15 percent, shouldn't he be trying to boost his popularity by reaching out to folks? Maybe, but such thinking misses the entire Trump worldview. This was a man who the day before the election had a much worse unfavorability gap — 21 percent — yet he still won. So as far as the president is concerned, he's doing better today than ever, even though, by most policy measures, his administration has been a failure. The lesson: Provocation and divisiveness work.
American Girl. Cambridge librarian Liz Phipps Soeiro is the left's worse enemy. She's the school librarian who last week rejected a gift of Dr. Seuss books from Melania Trump, claiming the books are "steeped in racist propaganda, caricatures, and harmful stereotypes" and specifically calling out "The Cat in the Hat." It then emerged that Soeiro herself, two years prior, had worn a Cat in the Hat costume to a classroom party. And let's face it, if the gift had come from Michelle Obama — a fan of Dr. Seuss — the books would never have been sent back. Overwrought political correctness. Hypocrisy. Political double standards. This is the stuff that got Trump elected in the first place.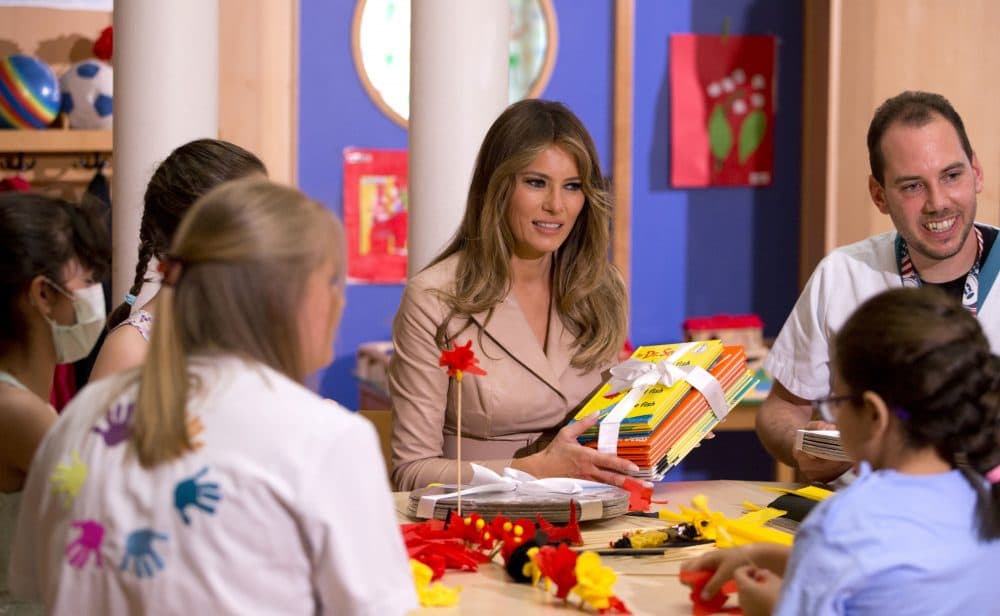 Ain't Love Strange. I completely believed this was fake news but it looks to be real: The FDA demanded that a Concord bakery stop listing "love" as an ingredient in its bread. The letter is even posted on the agency's website. Aargh. This is as knuckleheaded as the regulators who shut down kids' lemonade stands because they don't have a permit. Hey FDA! We're not that stupid! When someone says they made their bread with "love" or baked their cookies with "care" we don't actually think "love" and "care" are in our food. This is the kind of outrageous stuff Trump should be tweeting about. Where is the president when you need him? Oh yeah, busy mocking Puerto Ricans.
Yer So Bad. Trump is getting berated for not calling the Las Vegas attacks terrorism, but on this one he's right. Almost every definition of the word says it must be (per the federal government) "politically motivated violence." As far as we know, shooter Stephen Paddock had no political agenda. On the other hands, one suspects that if Paddock hadn't been a white man, the president would have been tweeting "terrorism" from day one.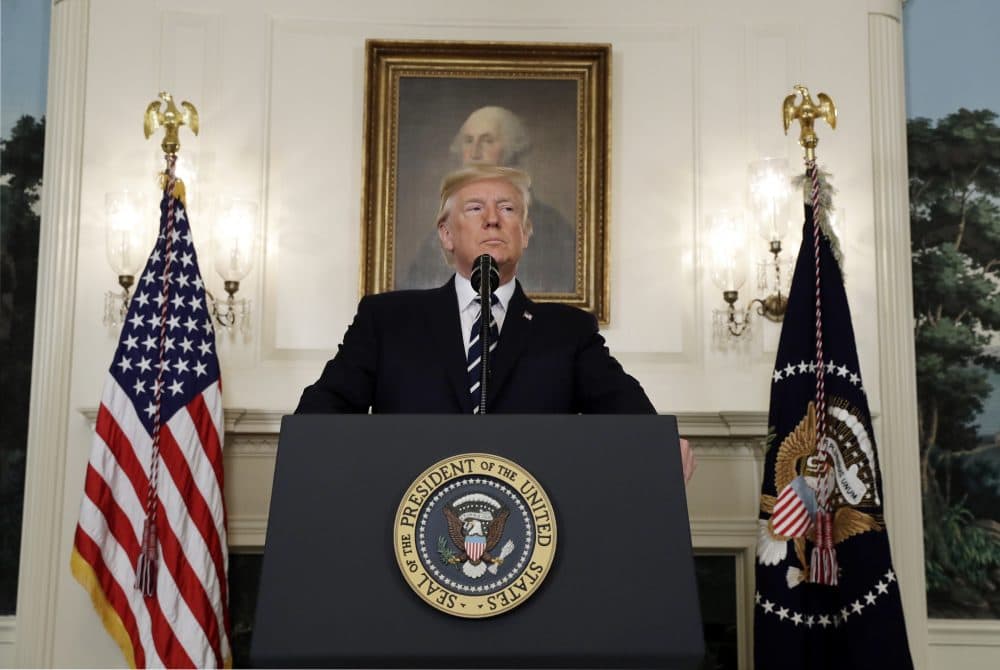 The Waiting. The Supreme Court on Monday began its new session and the agenda is full of momentous issues: gerrymandering, gays rights versus religious freedom, and cellphone privacy. Very exciting. And with Neil Gorsuch now in place, very frightening.
Don't Do Me Like That. And finally, the Boston City Council is trying to enact a rule that property owners must publicly notify the city every time they try to evict someone. Great. Now when I stiff my landlord, everyone will know.