A Rose By Any Other Name Is Still A Harasser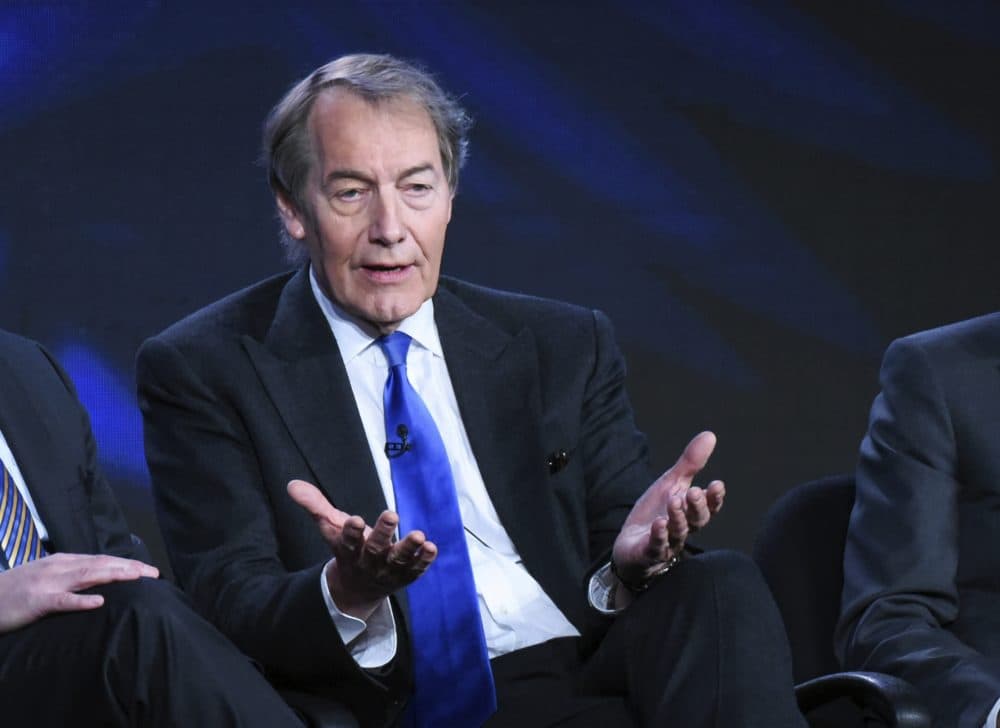 This article is more than 5 years old.
"I always thought I was pursuing shared feelings," claims Charlie Rose in defense of his behavior after multiple allegations of harassment and sexual predation emerged last week.
The women who received his advances clearly thought differently, with eight women reporting physical harassment, including groping and unwanted touching, and another eight stating that they felt uncomfortable with Rose's treatment of female employees over the years.
Having put 16 women on guard, how could Rose possibly think his predatory behavior was the result of "shared feelings"? How does one-way desire get translated in someone's mind into mutual attraction?
"Shared feelings" is at the heart of the romance plot, that classic narrative structure that lies beneath every romance novel on the neighborhood supermarket shelf. Such novels always conclude with the revelation of mutual desire on the part of two individuals. But the majority of a romance novel is actually concerned with what stands in the way of star-crossed lovers: the miscommunication, distrust, and frustration that must be overcome in order for a final union to occur.
According to scholar Pamela Regis, romance novels cannot proceed without a barrier — indeed, "the barrier drives the romance novel." This barrier may be internal — think of Elizabeth Bennet's "prejudice" toward Fitzwilliam Darcy in Jane Austen's "Pride and Prejudice." Or it may be external, as when Cora Munro and Natty Bumppo are separated by the evil Magua in James Fenimore Cooper's The "Last of the Mohicans." But the point is that the "shared feelings" of the two protagonists cannot be revealed — and the romance plot resolved — until this barrier is removed.
For Rose, it seems, the barrier between himself and the women he "pursued" was easily overcome — a squeeze of the buttocks here, a hand resting on a thigh there, and all the internal defenses of the women with whom he supposedly shared warm feelings would be breached with alacrity. Certainly Rose, in being so free with his pursuit of female colleagues over the course of many years, was not thinking about the external barriers that might be in place to prevent sexual misconduct in professional situations: laws against workplace harassment, Title IX regulations, and the everyday behavior training that CBS News president David Rhodes has just announced will be mandatory in his organization going forward.
As his self-justification makes clear, the problem for Rose — as it is for many other public figures under similar scrutiny — is in part a problem of language. By framing his behavior in terms of the language and genre of romance — the "pursuit of shared feelings" — Rose is justifying to himself and to his audience a set of actions in which barriers are meant to be overcome and resistance or shameful acquiescence is just a stumbling block on the way to final, mutually-desired union. These actions may have resonance within a certain literary context but sound very different in the contemporary social and political context of discrimination, harassment, and assault.
Our newer, harsher set of terms strips away the romance from the old plot and shows sexual misconduct for what it really is. Now, in the wake of Rose, Harvey Weinstein, and so many others, we can no longer look at their pursuit of women as romantic but as part of a hostile or intimidating workplace environment in which professional power imbalances are used for exploitative ends.
This is not to say that workplace romances are inherently wrong, or that people regardless of gender are incapable of understanding the line between consent and coercion. But as the stories about sexual misconduct in the public and professional sphere multiply, it is clear that some profound rethinking is necessary in the way we articulate, frame, and justify behavior that is actually predatory. New kinds of stories need to be — and are being — told.
In its exposé of Rose's behavior, The Washington Post quotes at length Reah Bravo, a female staff member who worked for Rose and, as reported, "endured" his physical advances for over a year. Bravo recalls "how calculated Rose's approach seemed" as he repeatedly forced her to deny that anything untoward had ever taken place, despite her current claims that it had. Rose may continue to describe himself as a misguided romantic hero, but Bravo's story reveals a colder man for whom the romance plot was ultimately nothing more than the calculated use of a well-worn ploy.