At 'Today,' Ann Curry Wasn't The Problem — But She Could Be A Great Solution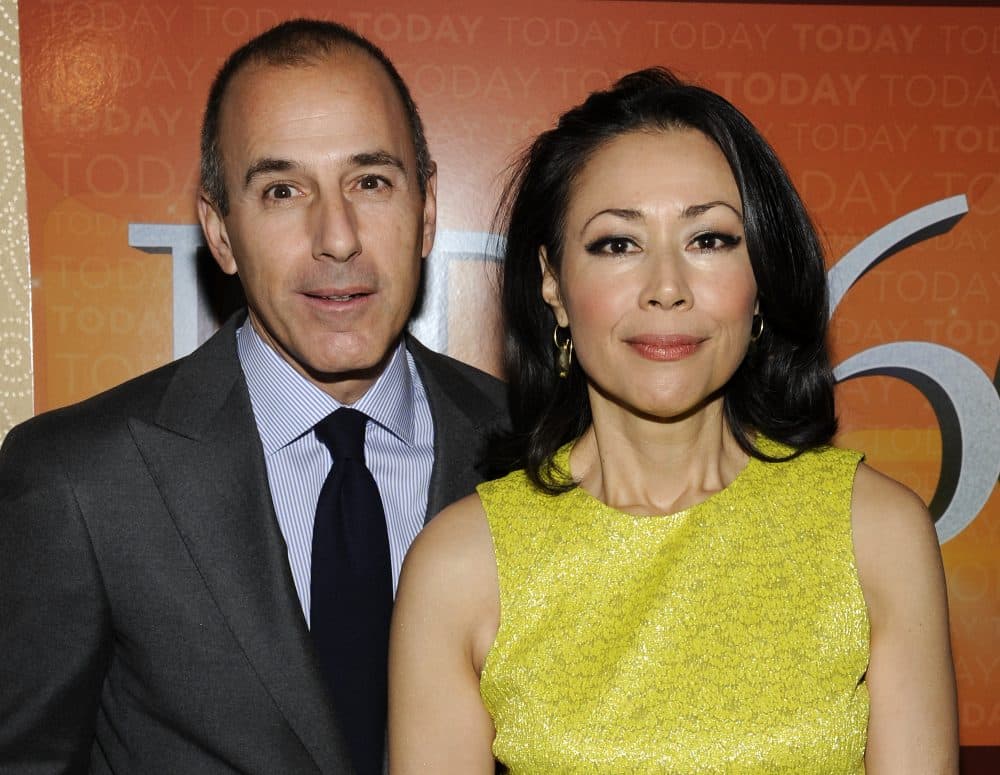 This article is more than 5 years old.
Hey, NBC, do you want to demonstrate that you understand sexual harassment is only one manifestation of the misogyny endemic to the news business?
Replace Matt Lauer with Ann Curry, the accomplished journalist booted from the "Today" show five years ago because of falling ratings Lauer blamed on his female co-host.
Remember how "Today" lost a fifth of its largely female audience and $40 million in advertising revenue in the weeks right after Curry's tearful goodbye in which she recoiled on camera from Lauer's phony stab at sympathy? Remember how "Good Morning America" then surged ahead in the ratings, knocking "Today" off the first-in-the-morning pedestal it had been preening on for 16 years?
Karma's a real bitch.
The depressing details of the sexual misconduct complaints against Lauer have started to emerge. More will likely follow. In the meantime, let's not lose too much sympathy for a very lucky guy making a reported $25 million a year who was hired to co-host the "Today" show in 1997 with news chops that consisted of lifestyle features on TV stations from Providence to Secaucus, New Jersey.
Curry, during the same period, was winning two Emmy awards for hard news reporting in Los Angeles; she would win another in 2007 for her reporting from Darfur on "NBC Nightly News." But, hey, reporting on genocide in Sudan can't compete with such cutting-edge work as "Today's" popular feature "Where in the World is Matt Lauer?"
We certainly knew where he was last year.
During a presidential forum, the unprepared anchorman was so flummoxed by Donald Trump that he let pass several glaring misstatements of fact, including the Republican candidate's insistence that he had "always" opposed the war in Iraq when Trump's initial support for the invasion was well documented.
Hillary Clinton, on the other hand, was not allowed by Lauer to finish an answer, interrupted so often by her imperious interrogator that his pathetic performance dominated the next day's headlines.
Lauer's conspicuous lack of "gravitas" has never been an impediment to his career advancement. Not so for Katie Couric, his former "Today" co-host who assumed the anchor chair at "CBS Evening News" in 2006, dogged by speculation -- mostly by male media critics -- that Americans would never accept a daily news diet of war, international strife and Washington politics from "America's sweetheart." Katie was just too warm and fuzzy. Who would take her seriously? A question no one at NBC apparently asked about Lauer before he embarrassed the network during that presidential forum last year. (Couric, by contrast, conducted one of the sharpest on-air interviews of the 2008 presidential campaign when she sat down with Republican vice presidential candidate Sarah Palin.)
Curry lasted only a year at "Today" before Lauer and the boys in charge of that set decided she was responsible for the show's falling ratings. She was too serious, not soft enough. Her clothes were all wrong. She didn't project that girl-next-door chemistry Lauer likes in an on-camera partner. She had to go.
Tackle the systemic sexism that allowed a self-important man of questionable talent to derail the career of an accomplished female journalist, NBC News chairman Andrew Lack, and we might take seriously your statement that "our highest priority is to create a workplace environment where everyone feels safe and protected."