Franken's Out, But It's No Victory For Women
On Wednesday, the dam finally burst.
It began when six female Democratic senators — including two rumored 2020 presidential contenders — issued statements calling for Sen. Al Franken to resign over multiple allegations of sexual misconduct. One by one, their liberal Senate colleagues added their voices to the motion. By lunchtime, Franken's office declared that the Minnesota senator would make an announcement about his political career the following day.
So here we are. Franken is gone. The Senate Ethics Committee will never be able to finish its investigation of Franken and the charges leveled against him.
This story was already a huge disappointment. Now, it's a tragedy. The Democratic lawmakers who forced Franken's resignation might think they're courageously and selflessly standing up for women who've endured mistreatment at the hands of men in office. They're not.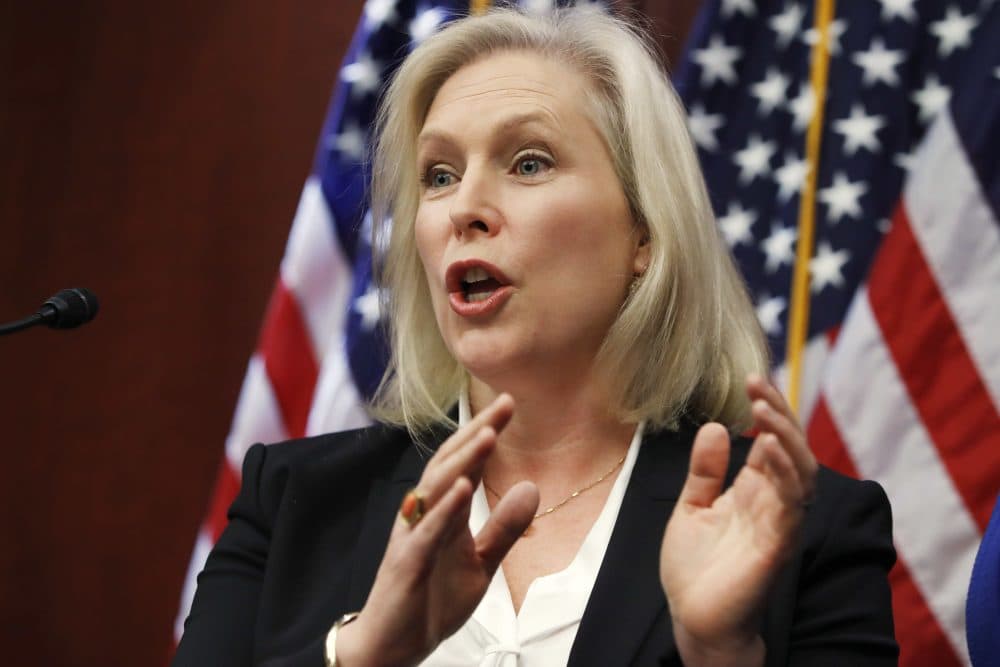 What the Democrats just did will make it even harder for mistreated women to hold their elected abusers accountable. For all the righteous liberal cheer and back-patting over Franken's exit, the Democratic Party has failed to use this scandal to establish a protocol for investigating and punishing public officials who are accused of impropriety.
Franken, for all his faults, tried to steer the scandal in a direction that would end more fruitfully for almost everyone — even if that resolution included his stepping down. By summoning the Senate Ethics Committee and essentially saying, "come at me," Franken set the stage for a procedure that would have determined the veracity of the charges against him, the severity of his transgressions and the proportional consequence for each of those transgressions. An accountability procedure like this has never existed in Congress. And now, thanks to the Democratic senators who decided to pull the plug on the Franken investigation, we'll have to wait even longer for Washington to establish any sort of procedure for situations like this one.
Some will push back against the notion that sexual harassment or assault accusations against men like Franken need to be investigated. To examine any sort of accusation is to at least entertain the possibility the accuser might not be telling the truth. The #MeToo movement, which inspired and amplified the wave of charges against Franken, is a long-overdue rebellion against a male-centric culture that too often disbelieves and marginalizes women who have gut-wrenching stories to tell. The act of simply believing women is a pillar of the movement.
The Democratic Party has failed to use this scandal to establish a protocol for investigating and punishing public officials who are accused of impropriety
But belief only gets society so far. What happens next? That's the question the Franken scandal posed to America, and unfortunately, the abrupt resolution of that scandal has brought us nowhere close to finding an answer. This is not only a disservice to women, but an early Christmas gift to unrepentant sexual predators who have not been scrutinized or banished from office. That includes men like Alabama Senate candidate Roy Moore, Texas Rep. Blake Farenthold and President Trump. Their alleged transgressions, which range from lewd comments to rape to pedophilia, will likely go unpunished because America still doesn't know how to hold lawmakers accountable for any one of those acts.
The Democrats had an opportunity to reverse America's tradition of letting powerful men get away with abusing women, and they blew it.
In the short-term, the lawmakers who demanded Franken's resignation will score political points from the "progressives" who've been shouting loudest for Franken's head since the first charges went public. This might be enough to boost a liberal senator's national profile. But when the next legislator is called out by the #MeToo movement, there will be no blueprint for what to do. And without that blueprint, it will be easier for someone with malicious intent to plant fabricated charges against a standing politician. Project Veritas, a right-wing attack group, recently tried to do just that, only to be foiled by The Washington Post. Sooner or later, someone will try to do it again and succeed. When that happens — as soon as those charges are revealed as fake — the #MeToo movement's political moment will be over. Women brave enough to come forward and name predatory lawmakers will be laughed and intimidated into silence.
Men like Roy Moore will have that last, bitter laugh.