The Patriots' Superficial Secret Weapon
The New England Patriots are going to the Super Bowl! Again! For the third time in four years! For the eighth time in 17 years! Perhaps you've heard about this development?
Sports writers, pundits, the mailman, your dog walker — it feels like everyone is offering some explanation for the Patriots' consistent success.
Many will claim it's the coaching staff. Bill Belichick is considered a genius and a Hall of Fame shoo-in. Belichick's two deputies — offensive coordinator Josh McDaniels and defensive coordinator Matt Patricia — have for years been considered to have the ability to coach their own NFL teams; both men are reported to have a chance to do just that next season. There's also the perpetual mystery of "football research director," Ernie Adams -- no one knows what he does.
Others will credit the players. Although, for the casual fan, it's hard to name a player on this year's Patriots defense. On offense, there are some stars, but last season the Pats proved they could win the Super Bowl without Rob Gronkowski and this year they're going to the big game even after Julian Edelman suffered an injury that kept him out for the season.
So that leaves quarterback Tom Brady. Clearly a great athlete, pliable, smart at reading opposing defenses and with the rare gift of having 17 seasons of high caliber NFL experience. All important factors.
But the real secret to the Patriot's success? Tom Brady is good-looking.
This is something that even the casual fan knows. It may be the only fact that everyone in America agrees on.
Tom Brady is good-looking ... It may be the only fact that everyone in America agrees on.
It's not hard to find studies about the advantages good-looking people have in life, but how does that help in sports, especially in football, where everyone is covered up in a helmet? To answer that question we need to take a detour into sports economics.
NFL teams have a salary cap; each team is basically given the same budget to pay their players. The cap was put in place to create parity — the idea was to make sure every team has a chance to compete. This is different from Major League Baseball where powerhouse teams spend three to four times as much on their players as the also-rans.
Tom Brady is underpaid. By his choice. At the start of last season, he signed a contract for $41 million for two seasons. $20.5 million a year is a lot of money, but Matt Stafford of the Detroit Lions has a five-year contract that pays him $27 million a season. (I'm no Ernie Adams, but that's a lot more money for a guy who has never won a playoff game.)
Brady takes less money so his team can use its budget to pay for players like Gronk, Edelman or Danny Amendola. As Gisele pointed out, Tom can throw the ball, but he needs someone else to catch it.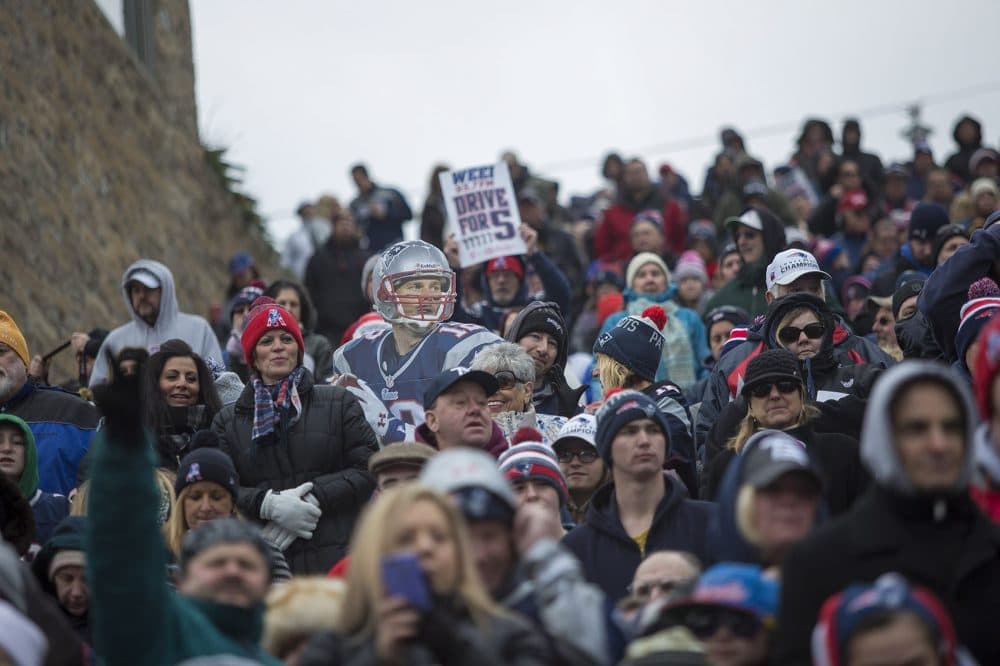 What does all this have to do with Tom's good looks?
Well, any QB with a half-decent sense of humor can make insurance commercials (here's looking at you Peyton and Aaron). But you need cheekbones and facial symmetry to pull down big bucks doing print ads for Tag Heuer, Under Armour, Uggs and more, including local spots for Shields MRI. In fact, Forbes magazine estimates Brady's endorsements earn him $8 million a year — and that's without any reports on how much Facebook is paying him for the docu-series, "Tom vs Time." Who needs Matt Stafford money, when you can make up the difference by having your photo taken?
Not fair!, people cry. A talented athlete who also has model good looks!
What's really not fair is that Brady's not the only good-looking player on the Patriots roster. In the Pats' AFC Conference Championship against the Jacksonville Jaguars a couple of weeks ago, Brady didn't seem to have anyone to throw to until he finally found Amendola for some big plays in the fourth quarter.
The Dynasty Built On a Chin Dimple seems unbeatable, on the field or on the catwalk.
Did you know Amendola has taken the strange step of reducing his salary every year for the past three years? Clearly there are advantages to staying with the Pats: he doesn't need to relocate and learn a new team's system, and yes, his reduced salary is still a seven-digit number. But we can't overlook that Amendola became the first NFL player to sign a contract with Ford Models during the offseason last year. Patriots players use football to get into the fashion industry.
As unlikely as it seems, the Patriots owe their success to being the best-looking team in football. Without Brady and Amendola taking pay cuts, we'd lose between one and four major contributors to the team — a Malcolm Butler, James White, Trey Flowers or David Andrews, none of whom make more than $4 million a year and all of whom made significant plays this season. Without Brady's cheekbones, the Patriots would not be facing the Eagles in Super Bowl LII this Sunday. The Dynasty Built On a Chin Dimple seems unbeatable, on the field or on the catwalk.
Although ... I understand that some people think the 49ers' new quarterback, Jimmy Garoppolo, is better-looking than Brady.