Why Siding With Wall Street Is A Losing Strategy For Senate Democrats
This article is more than 5 years old.
In theory, deregulating banks should be a cardinal sin of Democratic Party orthodoxy. The finance sector has been a rhetorical nemesis frequently cited by popular liberal leaders like Sens. Elizabeth Warren and Sherrod Brown. Even Hillary Clinton, a moderate, campaigned on expanding the protections of the Dodd-Frank Act — the legislation that established Warren's brainchild, the Consumer Financial Protection Bureau.
So it might surprise you to learn that today, nearly a third of Senate Democrats are expected to vote yes on a bill that would declaw Dodd-Frank and shield certain banks from regulatory oversight.
And yet, that's exactly what's happening in Washington.
The charge that the Republican Party has leveled at Dodd-Frank since its inception is that it's too aggressive. (Big surprise.) Efforts to roll back pieces of the law have come and gone since Barack Obama signed the bill, but now, with Trump and the GOP controlling all three branches of the government, one of those efforts has metastasized into a new bill that has bipartisan support. Authored by Mike Crapo (R-Idaho), The Economic Growth, Regulatory Relief and Consumer Protection Act is being pitched as a commonsense means of loosening the bonds on banks with less than $250 billion of assets.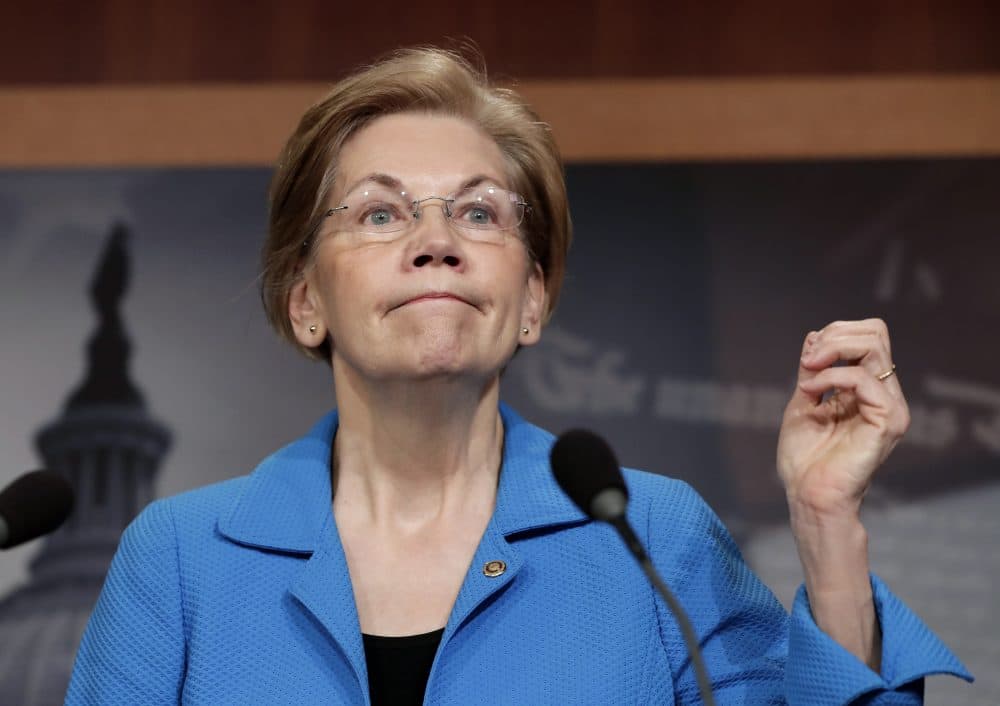 What would this look like? Here's one example: Under the Crapo bill, smaller regional banks like Citizens Bank and First Republic would no longer be subject to federal oversight tests to gauge how well — or poorly — they could weather an economic disaster like the 2007 housing market implosion. And while that might sound reasonable, it's worth noting that if just a few of these smaller banks failed, the scope of the damage to consumers could quickly become comparable to the nuclear crater that institutions like Bear Stearns and Lehman Brothers left behind.
So why are some Democrats supporting a bill that could leave consumers (and especially mortgage owners) a lot more exposed to the ravages of another economic recession?
It's complicated.
Most of the Democratic senators who've voiced support for the Crapo bill hail from purple states where there is a near even number of liberal and conservative voters. And since even a slight pendulum swing could reverse the fortunes of a sitting senator in any one of these states, the urgency of appearing bipartisan — of pleasing everyone — often guides the hands of these lawmakers. Last year, when senators like Joe Manchin, a Democrat from West Virginia, and Tim Kaine, a Democrat from Virginia, confirmed most of President Trump's cabinet nominees, it was less a declaration of their ideologies and more of a peace offering to the millions of constituents in their respective states who voted for Trump.
Nobody knows what would happen if a new wave of Democratic candidates took on the moderate incumbents.
Naturally, this strategy of placating conservative voters at the expense of Democratic Party ideals has drawn the ire of the liberal base. The current Senate attempt to deregulate banks is firing up calls for primarying "blue dog" Democrats like Manchin and Heidi Heitkamp of North Dakota. (Both are on board with the Crapo bill, of course.) But would challenging these moderate Democrats produce dividends for liberals such as uniform Democratic support for laws like Dodd-Frank? Or would it jeopardize the party's long-term goals by splitting the Democratic vote and allowing a Republican candidate to usurp a currently blue seat?
That's the $6 million question that moderates and liberals have been wrestling with for decades. And here's the thing: Nobody knows what would happen if a new wave of Democratic candidates took on the moderate incumbents. The markers are decidedly mixed.
In West Virginia, Paula Swearengin's progressive campaign to unseat Manchin hasn't caught fire, while the recent teacher strike — a movement decidedly aligned with liberal values — has blown up into a national story. Of course, one has to wonder how nationwide support for the strike compares to what West Virginians think of the whole thing. And yet, when you recall that Bernie Sanders managed to win the state's Democratic primary in 2016, the possibility that West Virginia might be amenable to someone more liberal than Manchin becomes tangible.
Democratic leaders have a tough choice: Keep playing electoral politics by the old rules, or test run new strategies on the campaign trail. The latter might seem impractically risky, given the Democrats' weakened minority status, but it's also worth considering how the Democrats became so weak — how they lost hundreds of seats in every level of government across America in the last decade. Did they forfeit those seats by standing on platforms that were too heavy-handed and liberal for a majority of Democratic voters?
Or did they lose by standing for nothing but winning?