Striking Teachers. Marching Students. A Perfect Storm Of Activism?
On Tuesday, thousands of Oklahoma teachers converged in the state capitol to protest their abysmal wages and the fact that public school teachers in Oklahoma haven't had a raise in more than a decade.
The strike, which officially began on Monday, was inspired by the West Virginia teachers who walked out of school and didn't return until the state legislature grudgingly greenlit the 5 percent pay raise that the teachers had called for.
And it doesn't stop there.
A similar teacher and public worker strike is also underway in Kentucky, where lawmakers are weighing a bill that would hack the state's public pension system into little pieces.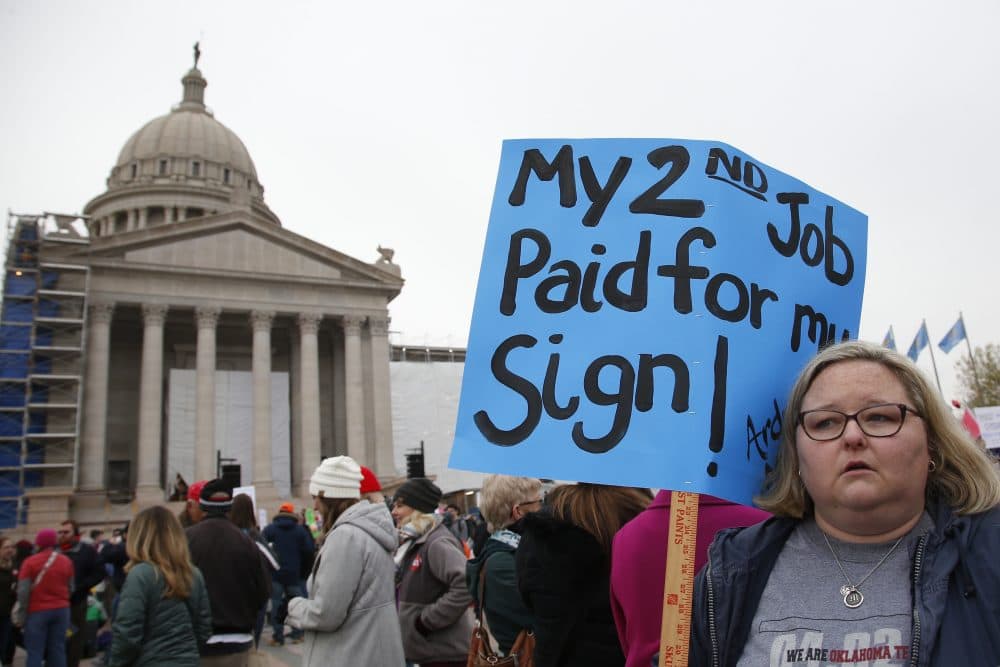 Looking at how things played out in West Virginia, we can expect a similar sequence of events in Oklahoma and Kentucky: indefinitely shuttered schools, indignant lawmakers, support from activist groups within and beyond state lines, and — assuming the teachers stand their ground — a profound change. It will either be increased educational spending, or a Reagan-style mass firing.
It's not hard to understand why these strikes are happening in states with Republican leaders. Tax cuts — the holy grail of today's Republican Party — have to be paid for with spending cuts. And when elected officials like Oklahoma Gov. Mary Fallin (or our own Charlie Baker) are leading the thought process on what their respective state budgets should prioritize, education routinely gets the shaft.
The Oklahoma and Kentucky teacher strikes are what happens when lawmakers steamroll their way over a disenfranchised demographic that's actually quite powerful in numbers and in its capacity for committing civil disobedience. These strikes represent a breaking point where teachers are willing to walk out of school and create tactical chaos to achieve their legislative demands.
Does that sound familiar?
Do these strikes remind you of any other events that have happened recently?
We're living through an exciting and arguably cathartic moment in modern U.S. history when both teachers and students are waging their own movements to fix long-neglected problems. The kids are marching in the streets for better gun control laws. The adults tasked with educating those kids are striking for better education spending laws. Both movements are garnering mass coverage and support from allies across the United States, and they're upending the day-to-day routine for parents, superintendents and politicians. So here's the big question.
Could these parallel movements merge and create a perfect storm?
At a glance, the answer would appear to be "no" because the students and the teachers appear to have different legislative goals. It's feasible that some of the teachers who are currently on strike in Oklahoma and Kentucky oppose banning weapons like the AR-15 assault rifle, in the same way that a portion of the students calling for beefed-up gun control may be less than sympathetic to the grievances of underpaid teachers. But movements are more than legislative goals: There's the tangible objective — an outcome that's noticeable in everyday life — and then there's the idealistic bedrock that shapes and sustains the movement. And that is the common ground between America's teachers and student protesters.
It's as if both groups are saying, "You don't get to ignore us anymore."
What both movements are about, on a broad level, is government being more responsive to the needs of people who have been marginalized.
The Parkland students and Black Lives Matter activists are making waves by calling out NRA-funded politicians who routinely shoot down gun control measures that the majority of Americans want.
The teachers in Oklahoma and Kentucky are striking and risking their jobs because politicians don't respect their profession and its economic indignities.
The warning that these students and many of their teachers are issuing to elected officials is simple and politically foreboding. It's as if both groups are saying, "You don't get to ignore us anymore."
If there's anything capable of bringing people and movements together at a time of heightened political polarity, it's the feeling of being overlooked, disrespected and bruised by the powerful. And while that feeling is capable of sparking all manner of political action — from progressive reforms, to the rise of authoritarian leaders — the fact that students and teachers already enjoy a working relationship with mutual interests is enough to inspire hope that their respective movements may coalesce into something even bigger.
Between their contempt for arrogant elected officials and their desire to share safe and healthy learning environments, today's students and teachers are already marching and striking their way into the same uncharted political territory.
They have every reason to hitch their wagons.