Making Russia Great Again
This article is more than 4 years old.
As we've learned over the past couple of years, Donald Trump isn't afraid to attack anyone. His self-assigned adversaries include the family of slain Army Captain Humayun Khan, former POW John McCain, his own justice department, any judge who dares to rule against him, any celebrity who dares to diss him, Amazon and our free press.
The one person Trump appears terrified of insulting is Vladimir Putin, the former KGB-spy-turned-autocrat who now rules Russia, and whose most vocal critics often wind up dead.
According to every American intelligence agency, as well as every congressional probe, Putin directed an effort to subvert the 2016 election to help Trump win.
Trump's suspiciously servile behavior at their joint summit in Helsinki has raised anew old questions about whether Putin has compromising information on Trump, in the form of an illicit video and/or evidence of shady financial dealings with Russians.
In what ways are Trump's behaviors aligned with Putin's interests?
Observers all across the political spectrum are now openly wondering whether the president of the United States is a puppet controlled by his chief foreign adversary — a de facto Russian asset.
Special Counsel Robert Mueller's investigation — which has resulted in dozens of indictments, most recently of 12 Russian nationals — may shed light on this question, as well as whether Trump and/or his campaign staff colluded with the Russians.
But there's an easier way to understand what's happening right now, one that requires no speculation at all. Simply ask: In what ways are Trump's behaviors aligned with Putin's interests?
When Trump refuses to condemn Russia's invasion of Crimea, or his military intervention in Ukraine, or his support of murderous Syrian dictator Bashar al-Assad, is he serving the interests of America or of Putin?
When Trump derides our European allies and threatens to withdraw from NATO, is he serving the interests of America or of Putin?
When Trump calls Putin's proposal that Russians be able to interrogate American citizens for fabricated crimes "an incredible offer" is he serving the interests of America or of Putin?
Certainly, it would be helpful to understand what's motivating our president — whether it's his fragile ego or fear of criminal exposure or his admiration of authoritarian leaders. But what matters, ultimately, is that he's doing Putin's bidding right before our eyes.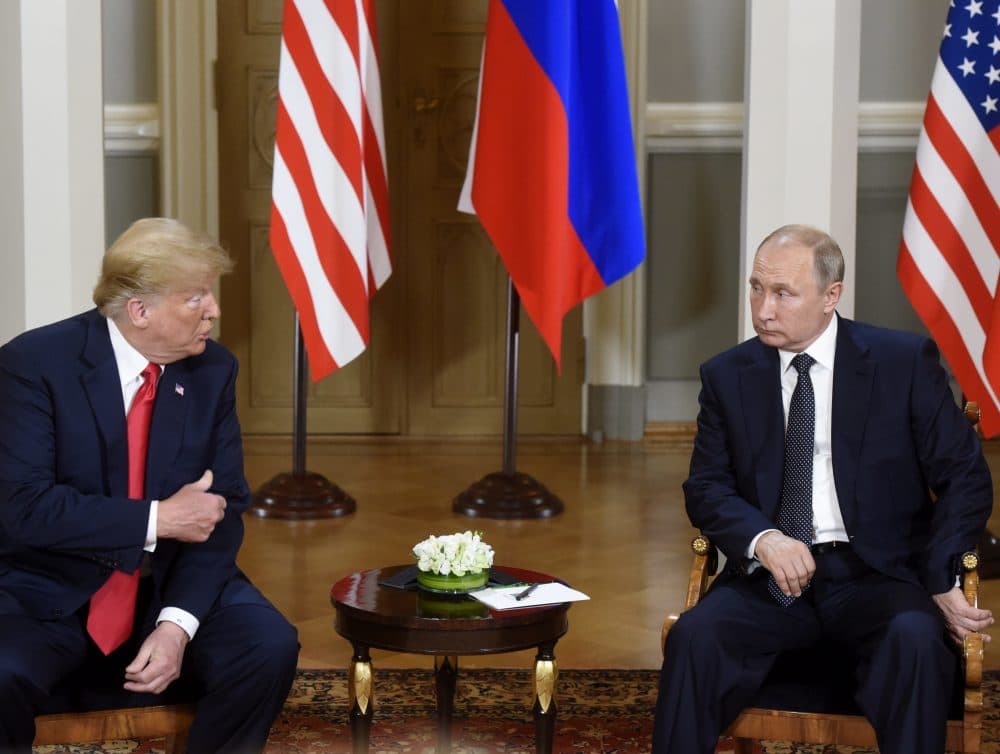 Putin, after all, has been waging war against democracy for more than a decade. This began with attacking democratic movements in Russian satellite states, and has spread to Europe and the Middle East.
His goal, in every case, has been to promote autocracy by attacking the pillars of liberal democracy: free and fair elections, the rule of law, an independent judiciary, and a vigorous Fourth Estate.
This is what Trump does every single day he's in office. Like any demagogue, he's ultimately animated not by tedious business of governing, but by a desperate need to hang on to his audience share.
He derives political power, in other words, from dividing Americans, by attacking the institutions that might hold him to account, by degrading our reputation on the global stage, and by undermining our faith, as citizens, in the democratic experiment.
Whether or not they ever shook on some dim backroom deal isn't the point. The point is what our president does in broad daylight: every day, our patriotic leader is helping his pal Vlad make Russia Great Again.