Life In The Trump Era: If Everything Is A Big Deal, Nothing Is A Big Deal
When I was invited to write a think piece about the current wave of news, I had to laugh. Think? Who can think anymore? For over three years, I've been ingesting the political news daily — online, in print and on network and cable TV. I've been past the point of satiation for months now, edging into total mental overload.
But I must know, I must stay tuned: What's the latest revelation? Who was accused or indicted or implicated or convicted or granted immunity? What is their relationship to one another? How do the pieces fit together? Will this revelation be the one that topples the increasingly fragile White House of cards?
I'm so tired.
And when I'm tired, I can't think. And when I can't think, it's hard to discern what matters and what doesn't.
But last week's developments have shaken me out of my confusion and into a modicum of clarity.
If everything is a big deal, how are we to discern which are the waves merely lapping against the shore and which are the ones foretelling the tsunami?
On the night of the double-barreled announcement of Paul Manafort's guilt and Michael Cohen's plea, my admittedly boomer-heavy, liberal-leaning social network lit up:
"This is it!"
"The beginning of the end!"
"It's over!"
"Could someone please save a hard copy of tomorrow's New York Times for my archives?"
It felt big all right. Donald Trump implicated directly for the first time. Please, please, I prayed, and I know I wasn't alone. Let him be held accountable for once in his blatantly felonious yet Teflon-coated life. Let this end. Soon.
But by the next morning, my mood changed. When I got to work, I asked a millennial colleague what he thought. He squinted his eyes, as if straining to remember: "Oh yeah. Some guys in Washington were found guilty or something? What was that about? Is it important?"
"Important? Is it important?!" I wanted to scream. "What world are you living in? Are you paying any attention at all?"
I get it. He tuned out long ago, perhaps out of self-preservation. He probably has more fun than I do.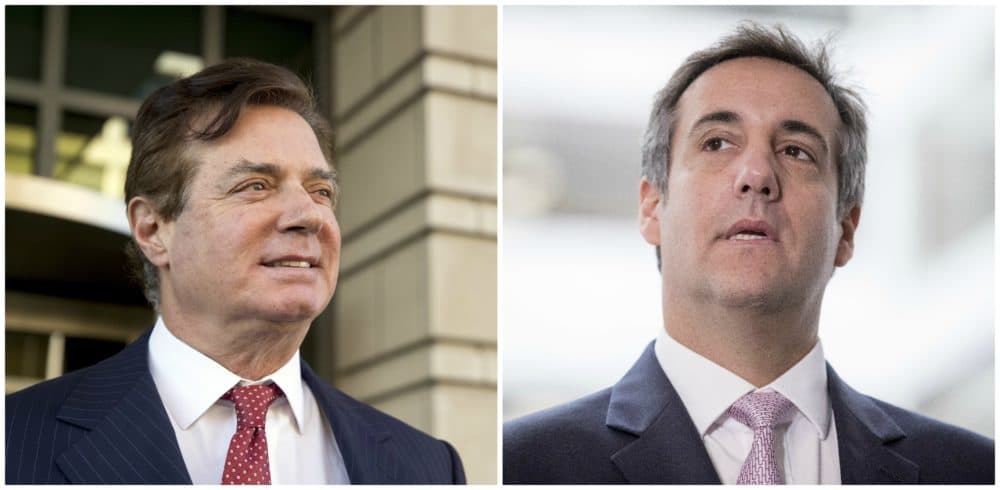 If everything is a big deal, how are we to discern which are the waves merely lapping against the shore and which are the ones foretelling the tsunami? They all look alike, heralded in blazing banners of "Breaking News." And then while we're watching the breaking news, more news breaks. We need life jackets just to stay afloat.
I've always been a news junkie. I know it's not good for my mental health, but it's a compulsion. I remember being glued to the TV for the Watergate hearings, followed by the near-daily immersion in the details, the players, the crimes, the cover-ups, the arraignments and the climactic moment of Nixon's resignation.
But back then, the pace was controlled. No 24 by 7 coverage. No internet. No cable news. Only a few trusted pundits — experienced journalists, with proven credibility. Less risk of overdose or so-called "Outrage Fatigue." More time to digest, mull, react, feel. Discern.
Now, again, I feel compelled to pay attention until the end. I lie awake in the middle of the night wondering what will be left in the wake of the tidal wave. Will justice be served or are we doomed to the total dissolution of democracy, with no checks and balances? The further legitimization and acceptance of authoritarianism? And, ye olde trope, how did we get here in the first place?
As I write this column, breaking news just traveled across the transom — the Trump Organization's longtime CFO, Allen Weisselberg, has been granted immunity. Now that's big. How big?
I leapt onto Facebook:
"Bingo!" said one friend.
"Walls closing in!" said another.
And, "Impossible to overstate just how huge this is."
But perhaps one friend, Lawrence R. Gelber, a New York litigation attorney, said it best: "This one is very very very meaningful; maybe even seven or eight verys worth."
It's so very, he didn't even pause for punctuation.
So, while we anticipate the endgame, whenever it is and whatever it yields, maybe the answer is to count the verys, and wait for next headline.