An Anonymous Op-Ed Won't Save Us. We Need To Be The 'Adults In The Room'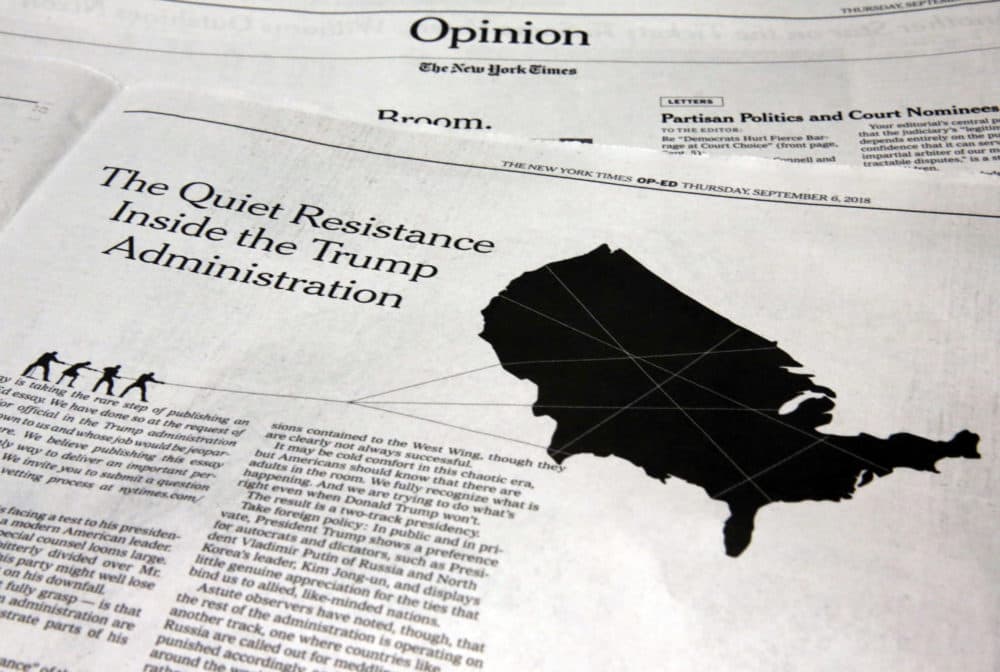 This article is more than 4 years old.
I've read this anonymous New York Times op-ed several times now, and I'm still perplexed.
A senior Trump administration official claims to be heroically saving the country, but from what? A president whose policies the writer mostly likes, but sometimes doesn't? A mean guy whose Twitter eruptions have made everyone else a little meaner, too? A grumpy boss with an "impetuous, adversarial, petty" leadership style?
Whatever the big concern, the writer reports that, among the good people hiding inside the administration, the 25th Amendment has been considered, but abandoned. Instead, we need to rely on these the self-appointed "adults in the room" to save us from the guy whom enough Americans elected to be in charge. They will step in, we are assured, on their own timetable, and on matters of their choosing. So don't worry, America. The chances of horrible trade wars or nuclear conflagration or whatever are pretty slim.
... there will be no checks or balances on the presidency that don't come directly from the voters.
What's the purpose of dropping this vaguely-incoherent mix of self-aggrandizement and self-described weakness? It might be good for the writer's conscience, and for Bob Woodward's credibility. It's probably good for Mike Pence. It's certainly good for New York Times traffic numbers. But for the rest of us, it's an empty plate. Nobody's going to save us from the insanity of the Trump Administration except ourselves.
This is the lesson that the public should be taking — and in many cases, has — from these long 20 months in "Crazytown": there will be no checks or balances on the presidency that don't come directly from the voters. Nothing that Donald Trump does — the race-baiting, the sexism, the attacks on the free press, the immigration policies that crash against our national identity — weren't utterly predictable before the last election, and Trump won anyway.

Republicans in Congress, their eyes on policy prizes, have given nothing but lip service to every new outrage. (Our last, best hope was John McCain, who cast contrarian Senate votes and then planned his own funeral as a public scolding to the president.) The Supreme Court, already more partisan than ever, might grow even more so if, or when, Brett Kavanaugh is confirmed. Waiting for Bob Mueller to emerge with an indictment, or for Democrats to get serious about impeachment, is no guarantee of anything but more intense partisan rancor. The die-hards in Trump's base aren't likely to accept the "facts" from anyone but their trusted pro-Trump sources.
What the president's opponents need is a mandate, and that needs to come from elections. It needs to come from Democrats who can craft clear, winning messages that highlight, not just the dangers of Trump, but a vision for moving forward. It needs to come from Democratic voters who come out to the polls in higher numbers, and won't sit out an election if the choice is less than perfect. It needs to come, crucially, from Republican voters willing to sacrifice some policy desires for a greater good. It needs to come from Republican candidates who stop fearing the base and start drawing lines.
Voting. It's an old-fashioned, pre-Twitter way to make a statement that actually has meaning.
This year's Congressional primary results — including Tuesday's in Massachusetts — suggest that people are getting that message. Across the country, newcomers ran for Congress, and ambitious local politicians didn't hang back from taking their pitches to the next level. The huge margin of Ayanna Pressley's victory over Mike Capuano in the 7th Congressional District race suggests that she drew more people out to vote, on a steamy Tuesday right after Labor Day, than we're used to seeing at the polls during off-year primaries. If the same thing happens in November, maybe we can give that op-ed writer a break from the exhausting task of holding Trump back with puny arms, a half-baked conscience, and an ego.
Voting. It's an old-fashioned, pre-Twitter way to make a statement that actually has meaning. The adults in the room are going to have to be us.
Joanna Weiss is the editor of Experience Magazine, published by Northeastern University.