America's Harvest Of Shame: Food-Insecure Families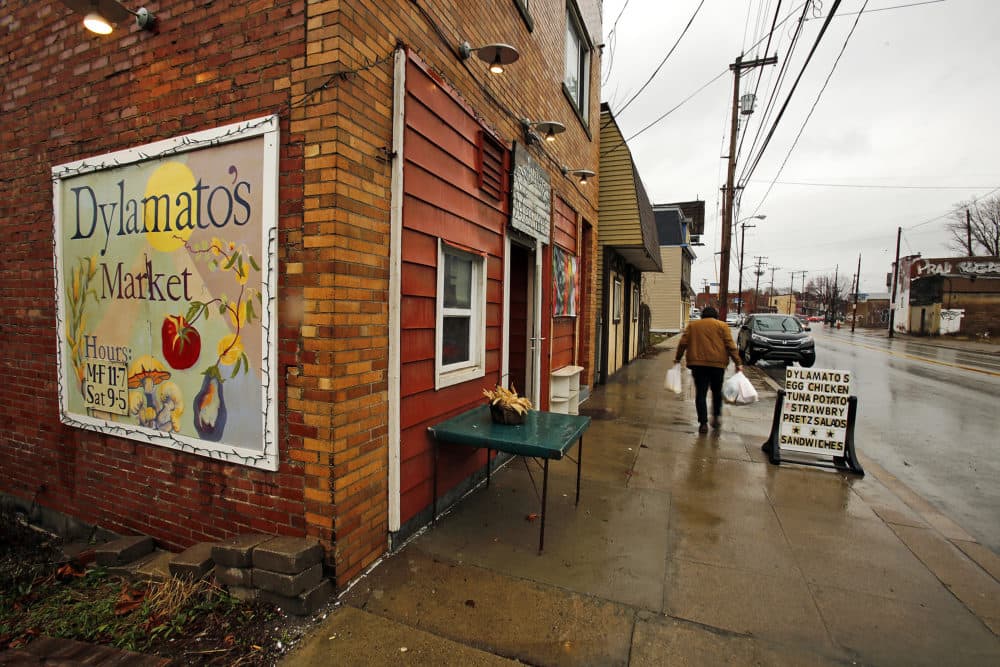 This article is more than 2 years old.
The fall harvest makes my stomach growl with visions of good eating: roasted cauliflower with a bit of melted cheese on top, broccoli stir-fried in teriyaki sauce, salad greens, and, of course, pumpkins for that Thanksgiving pie.
But while autumn's bounty is as certain as the sunrise, enjoying the cornucopia — or knowing where your next full meal is coming from, at any time of the year — isn't a sure thing for too many Americans.
More than one in 10 households suffers at some point of the year from food insecurity — inconsistent access to food due to budget constraints. Among households with children, the food insecurity rate is closer to two of every 10.
This information comes from the Census Bureau, which at the end of each year surveys a sampling of Americans about whether they've had smaller or missed meals or gone a day without food because money was tight. Reviewing the data, the Brookings Institution's Hamilton Project finds some good news, in that we've reduced the percentage of insecure households from its recession high of almost 15 percent.
The bad news is that we're still above the pre-recession level of 11 percent, and even that's too many families and kids who can't be assured of square meals throughout the year.
In a country that boasts of its genius at creating prosperity, this is unacceptable, and not just because Malthusian food scarcity was a problem we licked long ago. It's true that food insecurity is different from actual hunger, defined by a government panel as a possible consequence of insecurity involving "discomfort, illness, weakness, or pain that goes beyond the usual uneasy sensation."
But Hamilton's folks unfurl study after study showing that children in families with food insecurity suffer nonetheless, from:
*lower physical and psychosocial function;
*higher rates of asthma, which like insecurity is associated with poverty;
*greater likelihood of being anemic, a condition that itself is linked to stunted cognitive, motor and emotional development;
*and increased likelihood of behavioral problems as preschoolers.
Hamilton says this is all avoidable, if only we'd bolster the Supplemental Nutrition Assistance Program formerly known as food stamps. SNAP reduces food insecurity and its attendant health and economic detriments. Hamilton suggests spending more to increase the program's purchasing power and/or adding extra money to buy food during the summer, when poor students don't get subsidized school breakfasts and lunches.
When the federal Agriculture Department piloted a program in 2011-13 that gave families an extra $60 during each summer month for food, the number of food-insecure households dropped by one third.
But Donald Trump has professed an interest in cutting SNAP. (Of course he has.) So I'd suggest we see the president and raise him. By all means, let's run a small-scale test in which we abolish SNAP and other poverty programs — but then use the savings to pay for cash grants to poor families, enabling them to buy food and the other necessities of life.
If the grants reduced food insecurity and other aspects of poverty (replicating Brazil's stunning success with this approach), they could replace our current safety net for all poor Americans. We should also press upon Trump another budget cut: abolishing farm subsidies, currently a form of corporate welfare, and routing some of the savings to support healthy-food farms and farmers markets in poor neighborhoods that lack nutritious food stores.
Of course, the president and Republican leaders have shown no interest in these steps. They are unaware of or indifferent to evidence that the 1960s anti-poverty crusade actually succeeded in reducing want. When Ronald Reagan declared that "we fought a war on poverty, and poverty won," he was wrong, unless he held the utopian notion that poverty can be eradicated completely, which even Jesus rejected.
The Nazarene did believe in caring for the poor, according to scripture, and especially feeding them. Obviously, the Bible study Trump's team attends doesn't take, so perhaps thwarting any SNAP reductions, rather than bold experimentation with a basic income for the poor, is the best we can hope for.
It's up to voters this fall to elect representatives who really believe in feeding the hungry.