The First Drafts Of The Women's March
This article is more than 4 years old.
For the past few weeks, I've been revising the novel that took me just over two years to write. During that same time, I was considering whether and why to attend the controversy-ridden 2019 Women's March. I ended up choosing to go, and this past Saturday, standing in a sizeable crowd of shivering but spirited women and men, I realized how seamlessly these two mental tracks had converged.
As any writer will tell you — at least any writer who doesn't begin with an outline and then relentlessly stick to it — the first draft of a book is more of an exploration than a purposeful journey. We may have a few key plot points in mind, an initial sense of who the central characters are, a knowledge of the title or the tantalizing beginning or the killer ending. But we are driven by urgency and ambition, and charge ahead without a clear itinerary. We discover where the book needs to go as we create it. We learn to tolerate false starts and dead ends, and in the face of them, muster the determination to just keep going and fix all that we know is wrong later. As E.L. Doctorow famously said, writing a novel is "like driving a car at night. You never see further than your headlights, but you can make the whole trip that way."
In contrast, the act of revision is quite literally the process of re-seeing. Once the first draft is done, we can see the arc of what we've created. Characters that we thought were central turn out to be peripheral; minor players, we discover, should be major ones. What we'd thought would be the climax turns out to be merely prequel; the pivotal moment of epiphany, we realize, is far less significant than the trail of small insights that precede and follow it. The art lies in the far more focused, intentional, systematic work of applying what we now understand, and of reshaping what we've already produced.
Shaping this movement is a process of editing out the noise ... If we do, we'll create a powerful, durable story.
I think the same is true of mass political movements like The Women's March, which began as an organic howl of rage and resistance, and only formally recruited a leadership team after grassroots organizing efforts were already underway. As was inevitable when erecting such a big tent, this loose organization was fraught with emotional and ideological conflicts from the outset. Could a feminist also be a Zionist? Should anti-choice or Trump-supporting women be welcome? Was it too white? Too cis-gendered? Was it sufficiently intersectional? And what did "intersectional" mean anyhow? Some white boomer feminists felt disrespected. Some younger women of color felt unseen and disregarded.
But in the desperation of that moment — and in the scarcity of organizing time between the election and Trump's Inauguration — the urgency to act superseded all of these divisions. For the millions of people who marched in 2017 — whether newcomers to political action or veterans of the civil rights, anti-war, and/or second wave feminist movements — the imperative was to demonstrate to Trump that not only had he lost the popular vote, but that he did not have a mandate to implement his sexist, racist, classist and xenophobic agenda. In what is reported to be the largest single-day protest in American history, four-to-five million people showed up to say "no." We had no specific program beyond that, no legislative agenda, just fierce energy to move the country somewhere other than back to the repressive past where the new government wanted it to go. Whether fleeing the present or envisioning a vague destination, we were driving in the dark.
In the subsequent two years, some of the nascent divisions within the Women's March leadership blossomed. Serious questions and competing stories about the political affiliations and fiscal ethics of the steering committee — most notably, the alleged anti-Semitism of Tamika Mallory as manifested in her apparent loyalty to Louis Farrakhan — led some people, myself included, to question whether we could, in good conscience,  continue to participate in the organization's activities. But based on the greater threat to Jews and every other minority posed by the rise in white supremacy, motivated by all that the movement has accomplished and all that remains to be done, I chose to attend this year's march.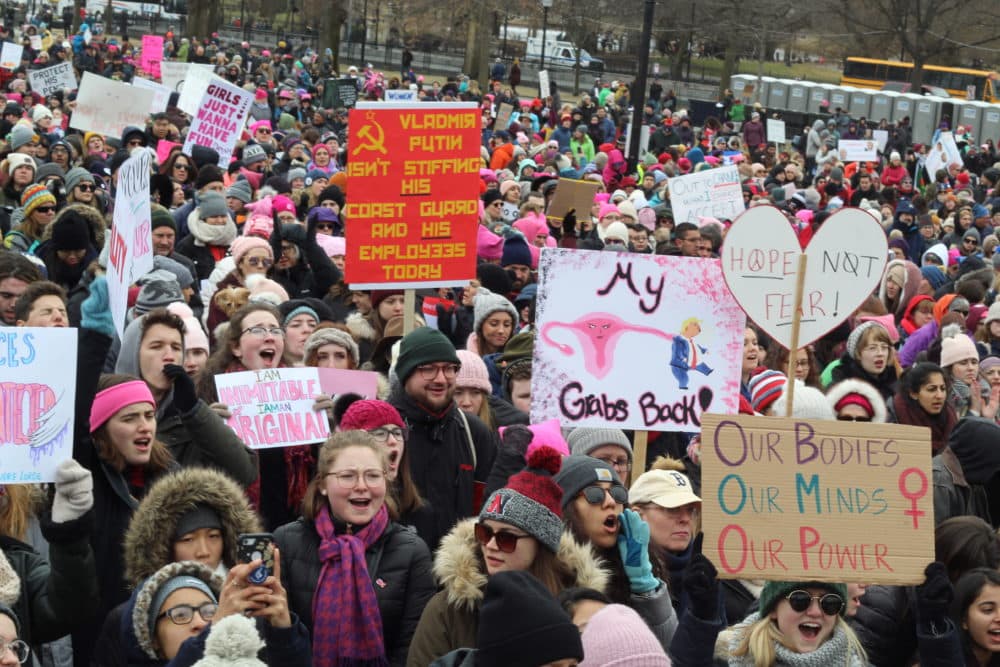 And standing on the Boston Common among thousands of other cold-cheeked, numb-nosed, but spirited protestors, I realized that we are in the crucial revision phase of this movement. The media-savvy leaders of the Women's March turn out to matter far less than the rank-and-file people who found in it a sense of purpose and possibility. Once secondary characters, the myriad activist coalitions that have emerged in the past few years — groups like Swing Left, Indivisible and SURJ -- have and will continue to be major players, having enormous impact as the 2020 elections approach. The progress that we have made — not just in defining what we're against, but in formulating the positive policies, economy and culture we need if we're to survive — all of these advances are the result of incremental learning, not grand epiphanies.
Shaping this movement is a process of editing out the noise, expanding our recognition of the people who matter and finding the through-line that lends coherence and intentionality to our daily actions. If we do, we'll create a powerful, durable story.