We Need A Humanitarian Intervention To Protect The Health — And Lives — Of Venezuelans
This article is more than 4 years old.
The crisis in Venezuela surpasses any political interest. It's a humanitarian emergency.
That was illustrated in haunting detail Thursday, when Human Rights Watch concluded that the country's health system is in "utter collapse." A shocking 80 percent of Venezuelan households do not have a reliable source of food, about one-fifth of pregnant women are malnourished and maternal mortality rose 65 percent, according to the group's report. Hospitals across the country document significant increases in the number of children admitted with acute malnutrition.
This "complex humanitarian emergency" in a county immersed in political and economic crisis requires a "full-fledged response" by the United Nations, Human Rights Watch declared. Many Venezuelans, including me — I'm a journalist in Boston — had already been calling for an international military coalition to activate emergency aid in safe zones along our borders. This is the only way to guarantee that the aid reaches the people who need it most.
Life inside Venezuela continues to be chaotic, as it has been long before the U.S. economic sanctions in January. In the past three weeks, five massive blackouts left 90 percent of the country without electricity, so I couldn't communicate with my family in Caracas for several days. A dear family friend died of appendicitis in the emergency room because the power outages prevented doctors from treating him. There is no running water in many cities and towns, so people are carrying it from the dirtiest rivers. They are feeding themselves from garbage cans.
Venezuela once had one of the best health systems in South America. Now, some serious illnesses that had long since been eradicated, such as diphtheria and malaria, are resurging. Venezuela is the only country in the world where large numbers of HIV patients have been forced to discontinue their treatment because there are not enough antiretrovirals.
Hyperinflation and crime have also made life difficult for Venezuelans. The minimum monthly salary is $6, not enough to buy a dozen eggs. The Venezuelan non-governmental organization Observatory of Violence called the country the most murderous nation in Latin America in 2018, with nearly 22,000 violent deaths. More than 3.4 million people have left the country in recent years, causing serious problems in neighboring countries that are unprepared for so many refugees.
Venezuelans have tried every conceivable non-violent route to oust Nicolás Maduro. They are not only fighting an authoritarian, militarized government that is ready to do anything to remain in power, including blocking humanitarian aid; the country is also affected by other groups exerting influence.
Vast areas of territory are controlled by members of the ELN Colombian guerrilla, as well as local paramilitary groups called "colectivos" who are making a living from criminal activities such as drug and human trafficking, illegal gold-mining and extortion. Cuban agents have for years infiltrated many vital areas of the country and monitored the Venezuelan army, ensuring that any dissenting member is arrested or tortured. In other words, an invasion has already happened.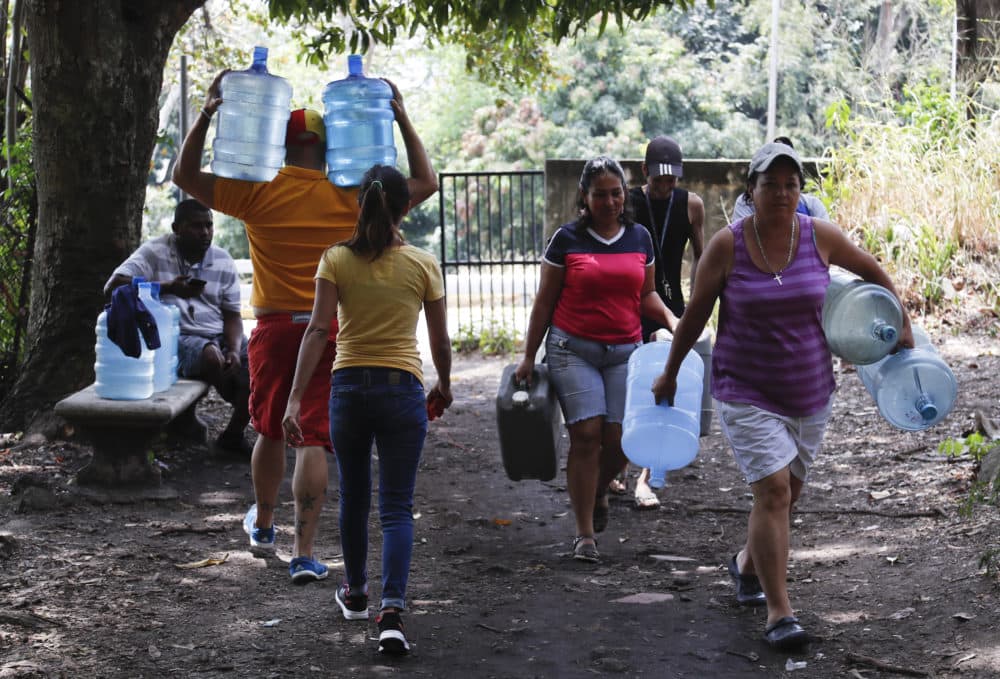 The Venezuelan National Assembly could legally request that the U.N. deploy "peace forces," but Russia and China would likely block the proposal. Another option: Willing partners could provide boots on the ground to offer the assistance. Juan Guaido, as the legitimate interim president recognized by over 50 countries, can request help from a coalition of governments such as the U.S., Brazil, Colombia or Canada. This would not be a military operation to remove Maduro. It would be a corridor of humanitarian aid.
Although it is important to acknowledge the mixed results of previous U.S. interventions in Latin America, we must also understand the urgency of the present moment, listen to Venezuelans, and think pragmatically about the right thing to do.
Time is running out and we are witnessing the slow genocide of Venezuelans, who wonder every day whether this tragedy can get any worse.
Is it reasonable to ask hostages to rescue themselves?