US Citizenship Isn't Only For People Who Can Afford It
On every Constitution and Citizenship Day since my first year as mayor, the city of Boston proudly celebrates the signing of the U.S. Constitution on Sept. 17, 1787, by helping hundreds of people apply for citizenship.
But this year, I am not celebrating. Instead, I am calling on the U.S. District Court to stop a new federal rule that mocks the values America was founded on, a rule that would make citizenship a privilege only for those who can afford it and impossible for the millions who cannot.
On Oct. 2, the U. S. Citizenship and Immigration Services (USCIS) is nearly doubling the cost of applying for naturalization — from $725 to $1,200 — and eliminating the fee waiver for almost all low-income residents. USCIS is also increasing the application fee for people seeking permanent residence (a green card) and creating a new application fee for those requesting asylum. The United States would become one of only four countries to charge people who are fleeing persecution and hoping to find safety.
These changes are destructive and I am asking the federal court to halt them immediately. That's why the city of Boston — together with 33 other American cities and counties, the United States Conference of Mayors and the Metropolitan Area Planning Council — is submitting an amicus brief today in the Project Citizenship lawsuit against the Department of Homeland Security to block the new rule.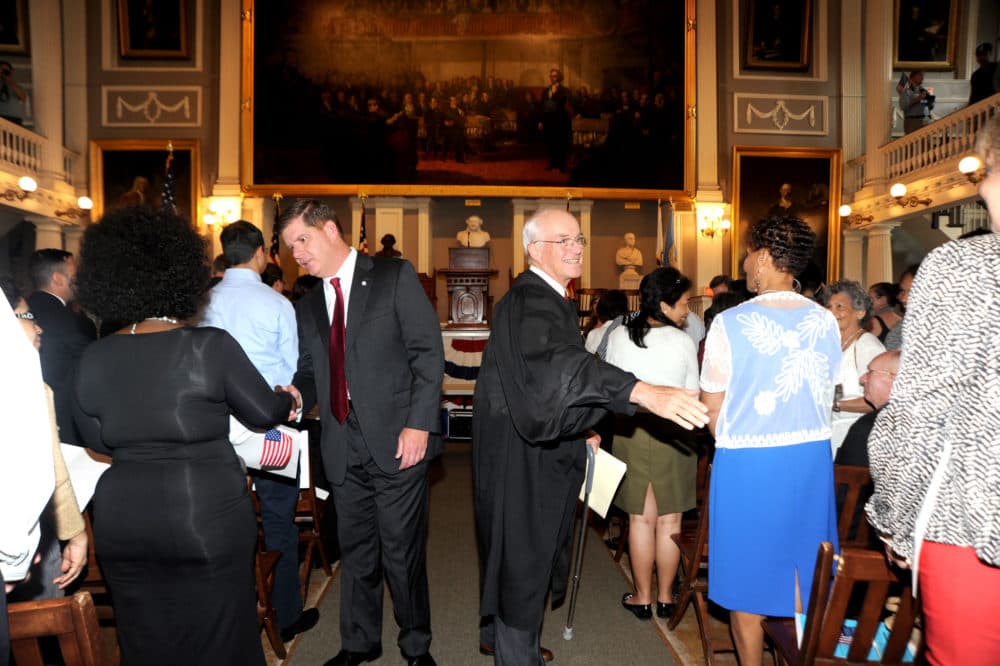 Right now, about 9 million people across the country are eligible for U.S. citizenship. In Boston, that number is more than 30,000 residents. Citizenship is important because not only are people able to assume their full rights and responsibilities in this country, but research also suggests that naturalized citizens earn between 5% and 15% more than non-citizens, boosting our economy and generating more tax revenue to invest in our communities. Becoming a U.S. citizen means making a commitment to America, choosing this country for future generations and finding a place of belonging in our communities. That commitment is a fundamental engine of our country's existence and success.
This opportunity should not be reserved for those who can afford it. I am committed to making sure Boston will always be a welcoming city for people seeking better lives for themselves and their families.
That is my family's experience, and it's why I'm mayor today. My parents came to Boston in the late 1950s from Ireland, carrying very little with them except a desire for opportunity. Boston gave them the chance they needed to start a family and contribute to their community." I will never forget the excitement around my mother's citizenship ceremony at the State House in 1992. It was a profound moment that capped off our family's long journey and our commitment to this country. I'm grateful every day that American citizenship was available and affordable to us.
That is why, since my first year as mayor in 2014, the City has celebrated U.S. Constitution and Citizenship Day by partnering with Project Citizenship for the largest annual citizenship workshop in New England, when more than 400 community volunteers, law students and pro bono attorneys help hundreds of people with their citizenship application for free. Last year, we helped 440 people, and nearly 60% of them were low-income and qualified for the fee waiver.
Because of the coronavirus pandemic, Citizenship Day must be virtual this year, and because of the USCIS rule change, I am encouraging eligible residents to apply for citizenship now before the Oct. 2 fee increase. But the court must act, because citizenship is a bipartisan issue that is fundamental to America's survival. The idea of America, while not always met in practice, is a country built by everyone who believes in it, no matter their race, gender, place of birth or socioeconomic status. That is an idea worth fighting for.
And in Boston, we will always stand with those who proudly call America home.