What to do about grocery store plastic
It started, as so many things do, with my 6-year-old wanting to become a superhero. He'd been reciting the same incantation on stars and birthday candles for as long as he'd been able to speak: "I wish to become a superhero."
But when he announced it as his new year's resolution, I did something new. I offered my help.
He probably couldn't get powers like invisibility or superhuman strength, I admitted, but the main thing about superheroes is that when they notice a problem, they don't ignore it. They try to save the day. So, I told him that if he came up with a problem, I would take him to the library to research how to solve it. He settled on cleaning the planet, and we ended up with a book called "Kids Fight Plastic."
Everything was fine and dandy until the chapter on plastic in the kitchen.
"Who runs the kitchen in your house?," the chapter began. Uh oh. The kitchen is my domain. "If you are really going to fight plastic in the kitchen, you might need to stage a kitchen takeover."
This overt threat to the legitimacy of my power got my attention.
The book urged young readers to prepare a meal using fresh ingredients that don't come in plastic. I didn't just nod in agreement; I brazenly offered to make a zero-plastic meal the very next night.
I had less than 24 hours to plan and execute this no-plastic dinner. And some ingredients would be off-limits, especially on short notice.
No herbs, for example. (We don't have an herb garden and I couldn't arrange for an emergency CSA delivery or farm stand visit.) Pasta was also off limits (yes, it comes in cardboard boxes, but there's that little plastic window for noodle-shape visibility). Spinach, once sold in twisty-tied bunches caked in dirt, now comes triple-washed in plastic bags. The list goes on.
In the early 2000s, the amount of plastic generated increased more in a single decade than it had in the previous 40 years.
I was nonetheless pleased with my menu: sausage, acorn squash and salad. I'd go to the butcher for sausage wrapped in paper. And acorn squash has a hard outer shell, nature's sturdy packaging. The salad, however, proved tricky. Technically it's possible to make a salad without packaged goods, but my favorite toppings are grapes (sold in plastic), almond slivers (sold in plastic), and feta cheese (sold in plastic). I wandered around the produce aisle searching for alternatives, but left with only apples. So that's what we ate.
No shame in sliced apples as a side dish, but all the strategizing and creative meal planning required to keep just one dinner — a simple one at that — plastic-free? It was a depressing revelation.
I've started to listen when I reach the conveyor belt at the grocery store. There's a veritable symphony of crinkling plastic all around me. We've become more aware of the need for reusable bags at checkout, but what about the stuff we put inside those bags?
For help understanding the problem, I called Jenny Gilitz, the director of solutions to plastic-based pollution for the Vermont-based organization Beyond Plastics.
Gilitz lives in the Berkshires, where she shops at a Price Chopper-owned grocery store for most of her food. It's more expensive than some of the other stores, but she can at least get things like broccoli plastic free. But the way plastic abounds in every grocery store, including hers, still astounds her. "My boss likes to show a slide with all the cut-up fruit that comes in plastic containers," Gilitz says. "It's like we as a nation all forgot how to cut fruit."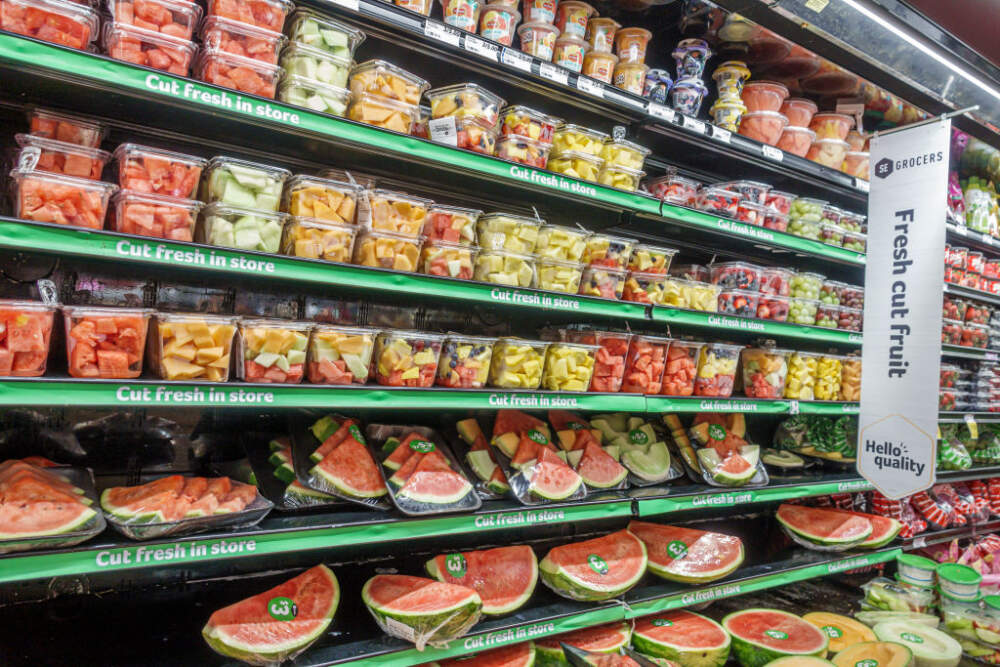 It's a joke, but she might be on to something. In the early 2000s, the amount of plastic generated increased more in a single decade than it had in the previous 40 years. Packaging is now responsible for more plastic production worldwide than any other sector — more than consumer products, electronics, industrial machinery, textiles, or construction.
I showed Gilitz a list put out by Greenpeace ranking major supermarket chains on their plastic reduction efforts. I wanted to apply the information to the options in Boston, to make more informed decisions about where to shop. But Gilitz suggested I might have been missing the point.
"The thing that's important to realize is, all of these supermarkets received failing scores," she said. "I'm looking at Aldi, number two here, and it's got a 30 out of 100. Last I checked, that's a failing grade."
Massachusetts has an abundance of farmer's markets and CSAs. You can get food without grocery stores. But sourcing everything you once got on a single errand from multiple farms and vendors feels overwhelming.
My search for a small first step brought me to Supply Bulk Foods. The local online retailer sells grains, beans, nuts, dried fruit, snacks and spices by weight. Owner Alys Myers meets customers with their orders at pickup locations once a week (less often for locations further from town). The crucial detail here is: all of the products come in plastic-free packaging.
I figure, if I plan my orders strategically, I can stock up on my shelf-stable items sans plastic. I just have to learn to order pasta and nuts by the pound. How many pounds of rigatoni does it take to feed a family of three? How many pounds of walnuts do we sprinkle on our oatmeal every week? I'm used to eyeballing quantities at the store. I want to get it right so I don't run out of things, landing right back in the grocery store, anyway.
Myers tells me most people place "dating orders" — first orders where new customers are trying to figure out how this works, what they like, and how much they need. These orders are easy to spot: they include a lot of different items, at a half pound each. She thinks I should place a dating order, knowing that it's mostly for intel purposes. I'll start backing away from the grocery store with order #2.
The questions people typically call Myers to ask have to do with whether she accepts SNAP (she does) and how pickup works. "You have to be a little bit organized," she explains. "The deadline to get orders in is about a day and a half before pickup." In other words, you can't wait until you run out of something to place the order. It's not the same as making a quick run to the store.
These are minor inconveniences. The tradeoff — not feeling totally complicit at the grocery store — is worth it to me. Of course, that's not the same as solving the problem. By the time consumers enter the picture, lots of choices have already been made, and we can't do much to reverse them.
Real solutions need to come from higher up the chain. Jenny Gilitz drives that point home. She says that Beyond Plastics is pushing for legislation that — if adopted by states — would require companies selling products in those states to meet new packaging standards, as well as paying cities a fee based on the weight of packaging on their products; that's intended to offset the cost of running recycling programs.
"What the plastics industry has tried to do over the last three decades is make people feel like it's their individual responsibility to fix this," Gilitz says. "They're saying, 'People should recycle more. They should stop littering.' Both are true, by the way. But the emphasis on individual responsibility distracts from the much more impactful corporate responsibility."
My goal is no longer to become an anti-plastic superhero — capes aren't a good look on me, anyway. I'm not going to lay that burden on my son, either. He and I will simply do what we can. And that includes pushing people in positions of real power to do what they can, too.