Patient Empowerment: Why Angelina Jolie's Menopause Matters
This article is more than 5 years old.
You've probably never linked Angelina Jolie Pitt and menopause in a single thought before.
But there they were, connected on the opinion page of The New York Times Tuesday: The actress and filmmaker whose fecund family life and sexy beauty seem to embody female fertility, and the hormonal changes that mark female fertility's end.
Jolie Pitt, 39, explained in her piece that because she carries a genetic cancer mutation and a strong family history of fatal ovarian cancer, she decided to get preventative surgery — the removal of her fallopian tubes and ovaries — to reduce her cancer risk. (Jolie Pitt previously underwent a preventive double mastectomy to lower her risk of developing breast cancer.)
Due the recent surgery, she writes: "I am now in menopause. I will not be able to have any more children, and I expect some physical changes. But I feel at ease with whatever will come, not because I am strong but because this is a part of life. It is nothing to be feared."
Needless to say, the Times piece has triggered a media storm of opinion ("Hollywood will finally have to start talking about menopause") and praise (for her "eye-watering courage"), including a thoughtful medical discussion on Here & Now.
Here, an expert on sexual health after cancer weighs in. Sharon Bober, Ph.D. is the director of the Sexual Health Program at the Dana-Farber Cancer Institute and assistant professor of psychology in the Department of Psychiatry at Harvard Medical School. She writes about the need for more education and frank talk about how patients can have a healthy sexual life after cancer and cancer-related surgeries:
Angelina Jolie Pitt has issued a resounding call for women at high risk for hereditary breast/ovarian cancer to learn about their options, "take control" and make decisions to manage their cancer risk. Jolie carries a mutation and has strong family history of this lethal disease. Because there is no effective screening for ovarian cancer, she has decided to follow her doctors' recommendation to remove her ovaries at the age of 39.

But, as Jolie Pitt explained in her New York Times editorial, this blunt instrument of cancer risk-reduction comes with a high cost: immediate surgery-induced menopause.

One of the primary reasons that many high risk women do not move ahead with the same recommendation to remove their ovaries is fear of menopause and worry about quality of life.

Young women are understandably distressed about losing their sex life, their sense of femininity and are worried about the impact of these changes on dating or relationships. Unfortunately, these fears often go unaddressed and women assume that profound side effects are part of the high cost they must pay for undergoing potentially life-saving surgery.

In fact, for both high-risk women contemplating risk-reducing surgery like Jolie, as well as for young women who have been treated for cancer, it has been shown that sexual health is one of the most common and distressing treatment-related concerns. And yet, women's sexual health is rarely discussed in most treatment settings.

Jolie Pitt declares that knowledge is power and I agree. I believe strongly that all women should have the information and education needed to address the side effects of treatment-induced menopause including how to manage changes in sexual health. For example, Jolie's decision to use a regimen of hormone replacement to manage the shift into menopause makes sense for her but it is not a course of action that would be recommended for women who previously had breast cancer. However, breast cancer survivors struggle with treatment-induced changes like vaginal dryness, atrophy and loss of libido.

I recently worked with a 40-year-old breast cancer survivor who had been having painful sex with for 4 years and had no idea that help was available. Her first comment was that because no one ever spoke about it, she assumed this problem was supposed to get better on its own and when things got worse, she concluded that nothing could be done.

After engaging in a course of sexual rehab that improved her vaginal health, including working with a pelvic floor physical therapist, enhanced mind/body awareness and delivered counseling to address issues around body image and low libido, sexuality once again became life enhancing rather than something to be avoided at all cost.

My colleagues and I recently concluded a sexual health intervention study for young high-risk women like Jolie Pitt who had all undergone removal of their ovaries and were suffering from menopause-related sexual problems. The intervention combined sexual health education, pelvic floor exercise and mindfulness-based cognitive therapy. After the intervention, women not only reported fewer sexual problems and greater sexual satisfaction, but they also felt more empowered to manage these issues.

Whether a woman is contemplating risk reducing surgery or women being treated for cancer, upfront discussions that acknowledge potential sexual and psychological side effects are critically needed. Information about vaginal health, sexual health, and educational resources should be routinely provided and integrated into treatment from the beginning of the treatment process.

When Jolie says that women need to tackle issues "head-on", I think this includes voicing concerns or questions about sexual health even if providers are not asking about it.

The good news is that there are medical, psychological and behavioral strategies that can really improve and renew women's sexual health after surgery and cancer treatment. The challenge is that not enough women know about them. I applaud Angelina Jolie Pitt for sharing her very personal experience in order to encourage and empower other women.

It seems to me that like Jolie Pitt, all women deserve the resources, support and education to manage the treatment-related side effects that come with these challenging and potentially life-saving treatments.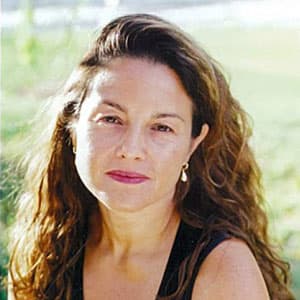 Rachel Zimmerman Health Reporter
Rachel Zimmerman previously reported on health and the intersection of health and business for Bostonomix.