Find The Uninsured Rate In Your Mass. Town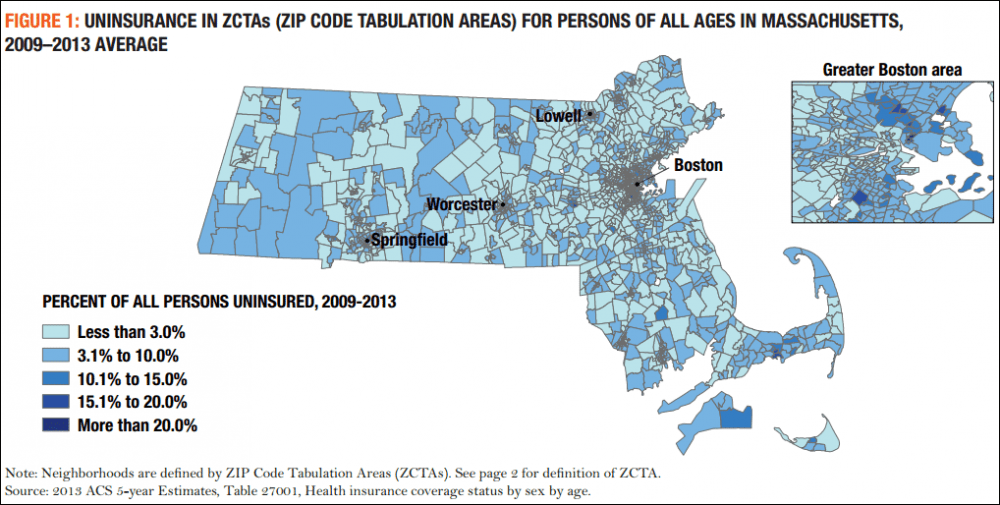 This article is more than 6 years old.
Among states, Massachusetts has the lowest rate of residents lacking health insurance. We know that. But beneath the topline state figure, there's significant variation on a more local level.
For instance: Suffolk County's uninsured rate (5.7 percent) is more than double the rate for Norfolk County (2.5 percent). Drilling down further, there's more variation among municipalities: Take Boston's 5.3 percent uninsured rate, compared with next-door Chelsea's 10.8 percent rate.
The figures come from an analysis released Thursday by the Blue Cross Blue Shield of Massachusetts Foundation and the Urban Institute. The brief, titled "The Geography of Uninsurance in Massachusetts, 2009-2013," is based on census data over the five years.
The data doesn't stop at municipality borders, either. You can also look up uninsured rates by ZIP code or census tract. This allows you to see that some parts of the city of Boston — like East Boston — have uninsured rates over 20 percent — far above the city's overall 5.3 percent rate.
Look up your uninsured rate — by county, town, census tract, etc. — on spreadsheets here.