Commentary: Despite Doubts Raised On Theranos, Great Need For Quick Diagnoses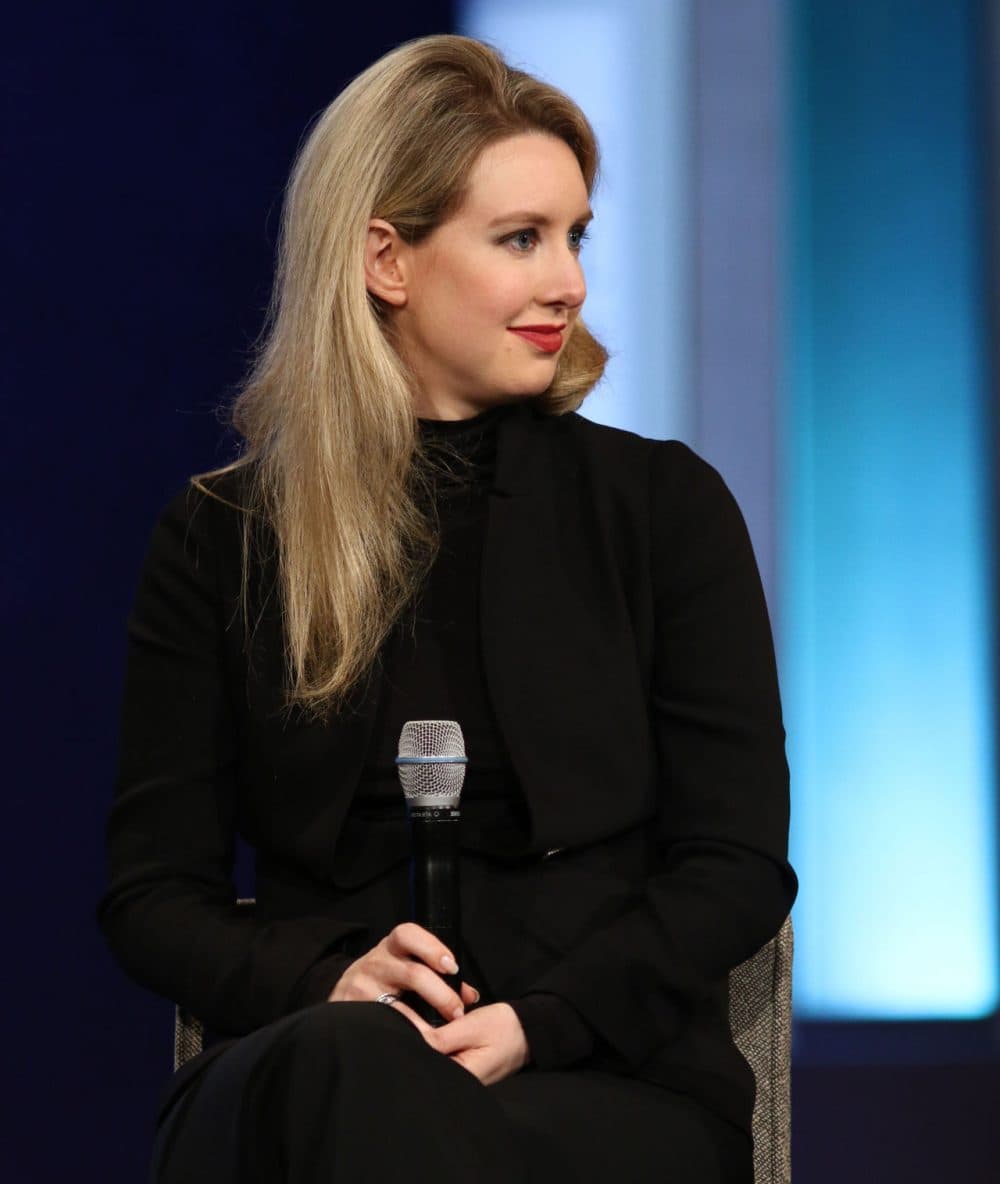 This article is more than 4 years old.
It may be the most dramatic story to emerge yet from the booming biotech sector: the young billionaire in the black, Jobs-like turtleneck who was first touted as the "$9-billion woman" but has come under increasing fire recently for indications that her mysterious technology is not all she cracked it up to be.
In particular, The Wall Street Journal last week raised new doubts about Elizabeth Holmes' company, Theranos, in a major investigative piece — prompting the company to respond that the story was "factually and scientifically erroneous."
In the guest commentary below, three experts comment on the Theranos story as a reflection of the burgeoning field of "point-of-care" diagnostics. To understand how Theranos became so hot so fast, they write, it helps to understand the tremendous need for quick, on-the-spot tests for diseases from Ebola to strep throat.
---
By Drs. Catherine Klapperich, Charlotte Gaydos and John Parrish
Guest contributors

The recent news that the multibillion-dollar health care startup Theranos has potentially been overselling its ability to perform fast, "point-of-care" diagnostic testing using only a drop of a patient's blood is disappointing to many test developers and health care providers.
Part of the reason CEO Elizabeth Holmes was able to raise an astonishing $400 million of investment money was due to the escalating demand from both health care providers and consumers for fast and reliable diagnostic testing that could be used in doctor's offices, in the field, or even at home by patients themselves.
Simple-to-use cartridges, like today's drugstore pregnancy tests, could be engineered to test for and monitor a variety of different conditions at much lower prices than similar tests that require samples to be sent off to a central lab with expensive equipment and highly skilled staff.
What if a colonoscopy or a mammogram could be replaced by a diagnostic blood test?
Technologies like these, often called point-of-care technologies, have the potential to revolutionize how we practice health care, both in this country and around the world.
In the United States, health care costs are rising, and expensive and overused clinical tests are often high-cost culprits. The effective use of point-of-care testing has the potential to lower these costs and to improve patient outcomes.
What if a colonoscopy or a mammogram could be replaced by a diagnostic blood test? The CDC reported in 2013 that more than 30 percent of adults in the U.S. aged 50-75 had not been tested for colorectal cancer as recommended. Imagine the office visits, patient inconvenience and human resources that could be saved if such a test were reliable, simple and routine.
Certainly, screening rates for colon cancer would go up if testing could be done simply in a primary care physician's office instead of the endoscopy suite. Studies have shown that colonoscopies can be a huge driver of high health care costs on one hand, since they have high per test costs, but are underutilized.
On a smaller scale, imagine if parents could test their children at home for strep throat and then only make a pediatrician's appointment if the test was positive or inconclusive. Similarly, if clinicians could test and treat sexually transmitted infections in one office visit, prompt treatment could prevent spread of the infections to partners during the time now required for the results of the laboratory test to come in. Turnaround times are several days to weeks depending on the test.
Point-of-care tests also have the potential to reduce the use of unnecessary antibiotics by avoiding the treatment of viral infections with drugs that will not cure them — and stem the evolution of antibiotic resistant organisms.
In many cases, these tests already exist, but are underused by health care providers and systems. We can already use available, FDA-cleared point-of-care tests for diagnosing HIV, syphilis and trichomonas. With 110 million new sexually transmitted infections every year in the United States, and as many as one-fourth of HIV infections undiagnosed, why wouldn't we demand the routine use of simple point-of-care tests that are proven accurate in clinical trials as judged by our highest national authority, the FDA?
In the developing world, point-of-care testing has the potential to provide diagnostic power to patients and clinicians in settings where none currently exist. The Ebola outbreak last year in West Africa brought the need for fast and simple testing into stark relief: The first cases of the disease were not confirmed until clinical samples were sent to France for laboratory-based testing. The turn around time was several days.
Patients sick with Ebola do not have several days to await a diagnosis, and delaying diagnosis endangers everyone with whom they come in contact, including health care providers. In addition, such testing methods will be required for surveillance if we ever hope to eradicate such diseases as malaria or the measles.
Fortunately, there are several groups making investments and commitments to point-of-care testing. However, a major shift toward simpler diagnostic testing has not yet occurred.
One of the major barriers to getting these tests into the clinic is the difficulty of gaining the trust and changing the workflow of current health care providers and systems. Another is a lack of funding available for the important work moving a new test from an initial prototype to meaningful clinical testing. There are many new technologies in academic labs and smaller, less flashy startups that have promising preliminary data and are waiting for the right investors to help them get these tests to market.
We hope that the Theranos episode will not reflect poorly on the teams hard at work in this important area of science.
We hope that the Theranos episode will not reflect poorly on the teams hard at work in this important area of science. Perhaps some of the support extended to Theranos will find its way to some of these laboratories. The money and media attention received by Theranos is a direct reflection of the public demand for these technologies.
The Bill and Melinda Gates Foundation was a pioneer in this area and remains committed to making point-of-care testing for HIV, tuberculosis and malaria a reality in the developing world.
The National Institutes of Health, through the Point of Care Technology Research Network, has been funding the development of these technologies for infectious disease, primary care and cancer screening since 2007. The network is focused on helping academic scientists and small companies get point-of-care technologies out of the laboratory and into the hands of clinicians.
This research is difficult and requires teams of experts, including scientists, engineers, economists and health care providers. Certainly there are huge technical challenges, but many thoughtful people are working hard to make point-of-care testing a reality.
Rigorous testing of new, sophisticated technologies has been yielding promising results in this field. We hope that the media, investors, foundations and the government will not be discouraged by the failure of Theranos to deliver on its own highly publicized and over-marketed promises. Point-of-care diagnostics should continue to be a research priority because they are in the unique position to reduce health care costs, to make care more convenient and to improve patient outcomes.
Dr. Catherine Klapperich is a Boston University professor of biomedical engineering; Dr. Charlotte Gaydos is a professor of medicine at Johns Hopkins University; Dr John Parrish is CEO of the Consortia for Improving Medicine with Innovation and Technology.

Further reading:
-- Theranos Trouble: A First-Person Account
-- A comprehensive guide to Theranos's trouble and what it means to you