Sudders: Combating Mass. Opioid Crisis 'Is Going To Take Us Time,' Even With New Law
04:36
Play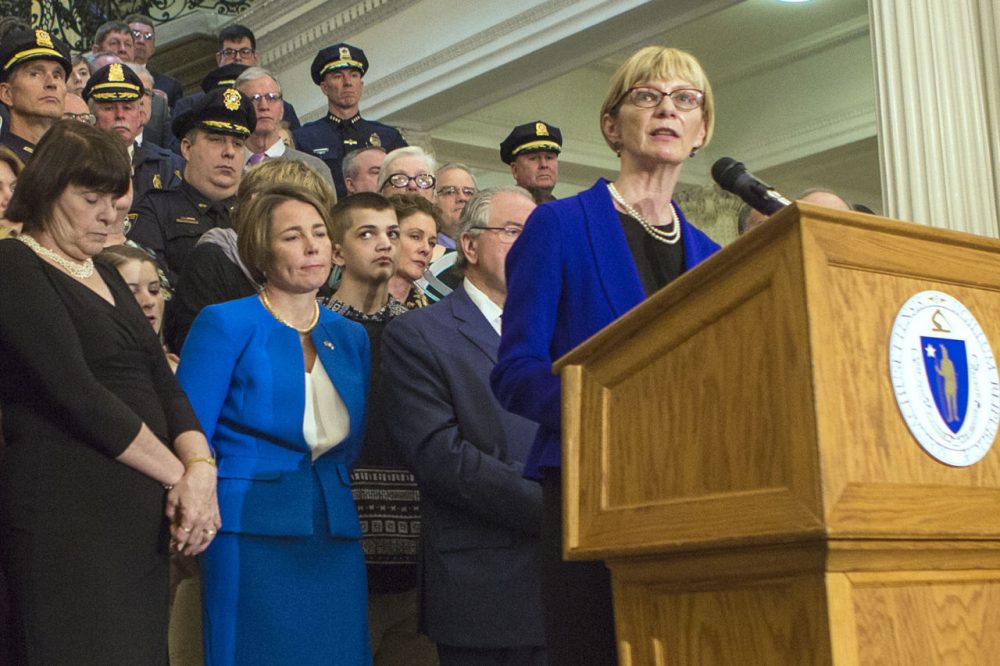 This article is more than 5 years old.
A new law designed to stem the deadly opioid drug abuse crisis in Massachusetts was signed into law Monday by Gov. Charlie Baker. On Tuesday, the governor will also meet with his opioid working group to discuss implementing the new law.
Massachusetts Health and Human Services Secretary Mary Lou Sudders is part of that group and joined Morning Edition to discuss the new law.
---
Interview Highlights
On what aspects of the new law take effect immediately:
Several [aspects of the law] are effective as of yesterday, when the governor signed the law. So one is in fact the 7-day limit on opioid prescriptions for adults and always for minors — so that's one. And the other is partial fills. So if you were to receive a prescription for say, 30 days, and went to your pharmacy to pick it up, you could actually get fewer than the 30-day supply or whatever the supply was.
On why it was important to reduce the number of opioids leaving drug stores:
I'm sure you've heard the statistic: In 2014, there were 4.4 million prescriptions written in the commonwealth of Massachusetts, yielding 240 million opioids. That's a lot of opioids in our cabinets, on the streets, with the potential for misuse and addiction.
On when we might see a pay off in the form of fewer overdoses
The tragedy is that I do not believe that we have crested this epidemic in the commonwealth of Massachusetts. We will monitor this very, very carefully. There are 1,100 people who died last year from opioid deaths — that's four every day. These are the measures, this law now gives us good tools. But I am very measured in what I say, which is: This is going to take us time to really wrap our arms around this deadly disease.
On what aspects of the new opioid law will take longer to implement
"There are 1,100 people who died last year from opioid deaths -- that's four every day."

Mary Lou Sudders
Come July, anyone who has overdosed and is transported to an emergency room will be required to have an assessment for a period up to 24 hours in an emergency room, and the law requires that they be referred to treatment. Now, as you and I know, a person might not accept the treatment. But it really provides a critical juncture for an intervention.
We will also be rolling out in schools or as people refer to it as SBIRT — Brief Screening, Brief Intervention and Treatment — in all schools across the commonwealth, and that's effective schoolyear '17-'18. This law really focuses a lot on prevention and targeting youth, families and practitioners and prescribers.
It takes time to bend the trend of what has been an epidemic in the commonwealth of Massachusetts. This administration and all of our communities, law enforcement, medical practitioners, we're all in this. It's very personal to all of us.
This post was updated at 10:21 a.m. on Tuesday, March 15.
This article was originally published on March 15, 2016.