'I've Never Felt Constrained': After Parkinson's Diagnosis, Chestnut Hill Man Turns To Drumming
04:21
Play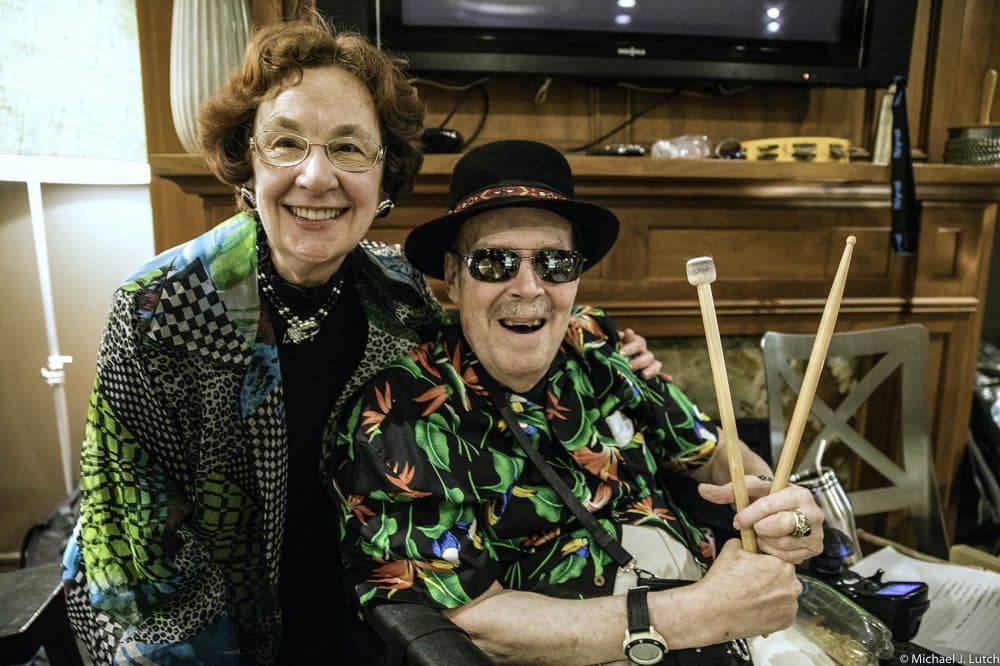 This article is more than 4 years old.
Editor's Note: WBUR learned on Monday, after the story aired on Morning Edition and was published here, that Tony Swartz-Lloyd passed away over the weekend. Our condolences go out to Tony's family. Our story as it originally appeared:
For many, a diagnosis of Parkinson's disease spells the end of new things and the beginning of a series of losses.
But for Tony Swartz-Lloyd, of Chestnut Hill, Parkinson's disease led him to a new hobby and to focus on what he's still able to do.
Swartz-Lloyd is 79 years old. He started learning how to play the drums at 74. He'd been living with Parkinson's disease for 12 years at that point.
His Parkinson's led to physical challenges including drumming, but Swartz-Lloyd is a lifelong music fan and the disease didn't dampen his enthusiasm for trying new things.
"I've never felt constrained," Swartz-Lloyd said. "Having that kind of direction or stimulation and pleasure and fun is just great."
He sought out a drumming group for people diagnosed with Parkinson's at Beth Israel Deaconess Medical Center. That's where he used to work as a vice president of corporate communications.
In the drumming group, the goal is to meet everyone at their ability level. Those who are physically able to play rhythmically and musically do. But for those who have trouble controlling their movements, instructor Monique Morimoto says the goal is simply to play.
"Because a lot of people who have Parkinson's disease are limited in their mobility, even the faintest hitting of the drum is a success," Morimoto said.
The aim is to help people with Parkinson's maintain some mobility by practicing the motions they're still able to perform.
Dr. Clifford Saper, Swartz-Lloyd's neurologist and the chief of neurology at Beth Israel, says Parkinson's patients often retain the ability to do rhythmic, symmetrical and repetitive motions — the kind required in drumming. Other motions are tougher.
"For example, playing basketball would be very hard to do, because they are one of a kind, sudden jerky movements," Saper explained. "But people with Parkinson's disease are remarkably able to ride a bicycle."
Researchers believe most of the symptoms of Parkinson's occur when the brain cells that produce the neurotransmitter dopamine degenerate. Not having enough dopamine means the brain has difficulty coordinating the body's muscle function.
Saper says it's not clear why some movements are less affected by Parkinson's, but it has to do with what are called pattern generators. They're rhythmic motions that have become ingrained in the brain over the course of human evolution.
"If you take an infant newborn and you hold it up so its foot rests on the top of the table, it will start stepping in rhythm even though the baby has never walked," Saper said. "The brain and the nervous system has pattern generators built into it that are probably millions of years old in their design."
The fact that Swartz-Lloyd is able to play drums at all is a source of joy for both him and his wife Marilyn. She says living with Parkinson's has been a series of adjustments. They love traveling together, but Parkinson's means Tony can't travel anymore. They've had to give up the future they imagined for themselves.
"You have to figure out how you're going to have fun and when you're going to have fun and make a place for it and work at it, because it really isn't at all easy," Marilyn Swartz-Lloyd said. "But the one thing we did learn is that it also doesn't have to be totally devastating."
Now, Marilyn Swartz-Lloyd says they appreciate what they can do. Playing the drums is enough.
This article was originally published on August 15, 2016.
This segment aired on August 15, 2016.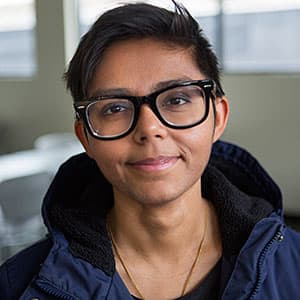 Qainat Khan Producer/Reporter
Qainat Khan is a freelance producer and reporter.