IBM Uses Supercomputer Watson Technology To Track — And Fight — Cancer
04:39
Play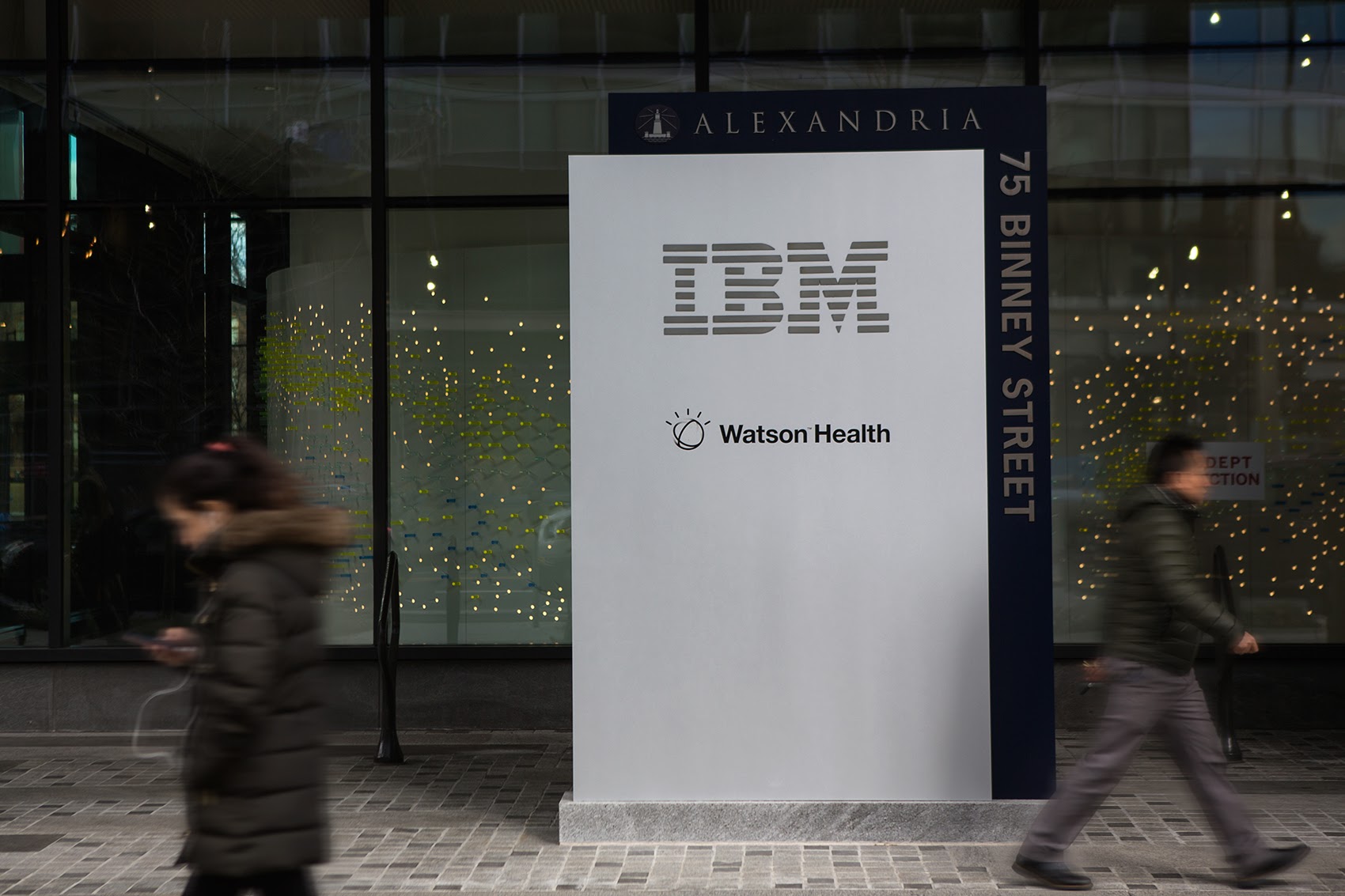 This article is more than 3 years old.
This story is part of our "This Moment In Cancer" series.
In 2011, trivia geeks watched in amazement as two of their all-time greats were destroyed in TV competition by an underdog. The challenger was a computer system developed by IBM, named Watson.
Years after Watson's debut on "Jeopardy," IBM is using its technology and the promise of big data to take on a much tougher competitor: cancer.
The real Watson is a global team of engineers and programmers who write code that simulates the human thought process. The Watson team calls it the world's first commercially available "cognitive computing system."
And now, IBM is using that technology to explore the human body.
The Cambridge company recently started a five-year, $50 million partnership with the Broad Institute of Harvard and MIT to study drug-resistant cancers.
The Broad Institute has gathered data from 10,000 patients who agreed to have their DNA and their cancers' DNA genetically-sequenced.
Watson will analyze and interpret the data, actually reasoning and providing insight as it goes to try to anticipate cancer's next move — sort of like a chess grandmaster.
"What if you could actually test somebody at the very beginning of their cancer journey and understand that path — the chess moves that the cancer was going to make?" said Kathy McGroddy-Goetz, vice president of Partnerships & Solutions for IBM's Watson health division.
"Perhaps you would then start the treatment regimen a little bit different," she said. "You might stay a few steps ahead of what the cancer's gonna try to do. You might be able to detect what's gonna happen next and switch them to the appropriate regimen."
So Watson would provide the analysis and predictions, but the doctor working with a patient would prescribe the treatment.
McGroddy-Goetz said IBM's machines won't be practicing medicine.
"Really the way to think of them is kind of like augmented intelligence as opposed to artificial intelligence — being able to augment the capabilities and the things that people are good at," she explained.
But how do we know big data can lead not only to predicting how cancers progress, but to actual advances in medical treatments?
Isaac Kohane, a professor of biomedical informatics at Harvard Medical School, said he sees big data by itself as only moderately useful.
"But, because of basic science and genomics — which in itself is a big data endeavor — we've had breakthroughs in the therapies, and we have had a profusion of those therapies," he said.
Every year, 1.5 million people are diagnosed with cancer in the U.S. About 60 percent are at risk of having their cancer become resistant to treatment.
The people at IBM believe Watson's analysis could help prevent that.
"If someone had said that five years ago, I would [have said] that was wildly optimistic," Kohane said. "However, what we have seen in the revolution — that is only begun — we've seen so many impressive gains, that I am actually optimistic. I don't know when that will come to fruition. But if someone said they thought it would happen within 10 years, I would say that's plausible."
After decades of the war against cancer, IBM's McGroddy-Goetz said Watson can help us reach a stalemate. We may not kill cancer, but it won't kill us either.
"What if we could be proactive and manage it more like an ongoing chronic disease, where they may not be completely cancer-free, but they're stable, and they're not getting any worse," she said.
Along with IBM and the Broad Institute, tech giants Google, Facebook and Microsoft have entered the race to develop new cancer treatments with the help of technology.
The Veterans Health Administration has the largest data set of cancer patients and plans to give it to researchers.
The next step? Information sharing among the various projects to give oncologists even more tools to keep cancer in check.
Do you have a question about cancer research, treatment or care that'd you like us to investigate? Ask it here.
This segment aired on February 1, 2017.