DEA Agent: 'Insidious Disease' Of Addiction And Cheap Costs Of Heroin, Fentanyl Fuel Overdose Deaths In Mass.
04:40
Play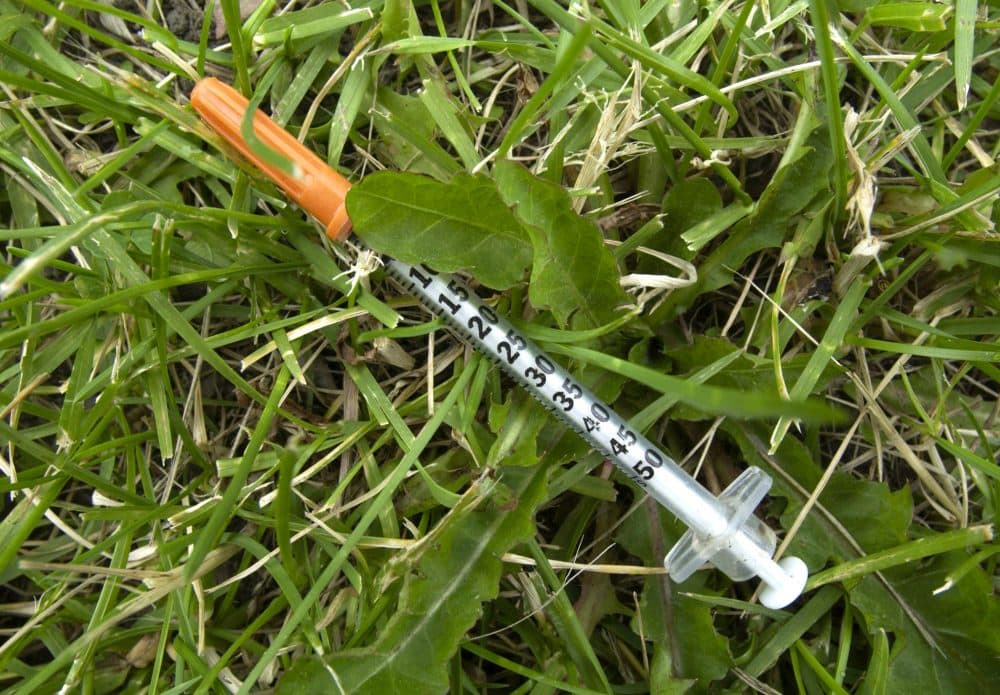 This article is more than 4 years old.
New figures from state health officials show about six Massachusetts residents now die every day of an opioid-related overdose.
And the vast majority of those deaths are linked to the powerful synthetic opioid fentanyl that is frequently added to heroin.
To find out how fentanyl gets to Massachusetts, we spoke with Michael Ferguson, the special agent in charge of the Drug Enforcement Agency's New England division.
---
Interview Highlights:
Michael Ferguson: You have the Mexican cartels producing heroin, and then they're obtaining the precursor chemicals from China and making fentanyl. And what they do is they lace fentanyl in with the heroin in order to boost the potency. Oftentimes the kilogram quantities of heroin and kilogram quantities of fentanyl are then smuggled across the vast southwest border, and they're brought through whether via hidden in tractor trailer trucks or passenger vehicles, and then through the interstate highway system the fentanyl and heroin makes its way to the New England area.
What's the thinking on why Massachusetts has such particularly high numbers?
This is not a problem that's unique to Massachusetts. It is a problem all over New England and all six New England states and throughout most of the country. I do think that this area historically had many folks that were dealing with a substance use disorder in regards to prescription pain meds being abused. And I think that has fed into our current heroin and fentanyl problem.
Is there any evidence that you folks have seen of fentanyl manufacturing here in our area, in New England?
None whatsoever. What we have found in New England is what we refer to as 'stash' or 'mill' houses, where drug trafficking organizations that are located throughout New England, primarily in our major urban cities, where they're taking kilograms of heroin and powdered form of fentanyl and they're actually mixing it up themselves, because they can increase the potency of the heroin. These drug traffickers care about one thing and that's making money. And they don't care — to them, people overdosing and dying is just collateral damage, and it's part of doing business. We've found that in some cities or towns where we've had had folks unfortunately die of heroin or fentanyl overdose, other individuals will flock to that area because they want to get higher potency heroin or fentanyl. That's how insidious this disease is, and it really makes you think so irrationally.
What's the range of a price of a bag of heroin or fentanyl in Massachusetts?
A bag of heroin and fentanyl can be bought for as low as two to three dollars a bag, and would be one amount that would go into a syringe, for example, and an individual would inject into their body.

So the street level cost is part of the problem because it makes it accessible and unfortunately attractive to drug users.
It is. But we have to think about the longer-term approach on this, because you know we have to change people's behaviors. We have to stop the demand. We need to have treatment, recovery, prevention and education all working in concert with enforcement.
Well, do you see that working yet?
If you go back a year or two, the education piece is definitely improving. Our enforcement efforts are improving. But this is a problem that's going to be with us for a while. It is so entrenched and it's going to take a lot of time to do that and it's really trying to to get rid of the stigma that's attached to all this. To let folks know that if they have a substance use disorder, there's help out there. There's support out there.
This segment aired on May 11, 2017.