Nurses And Tufts Medical Center Agree On Contract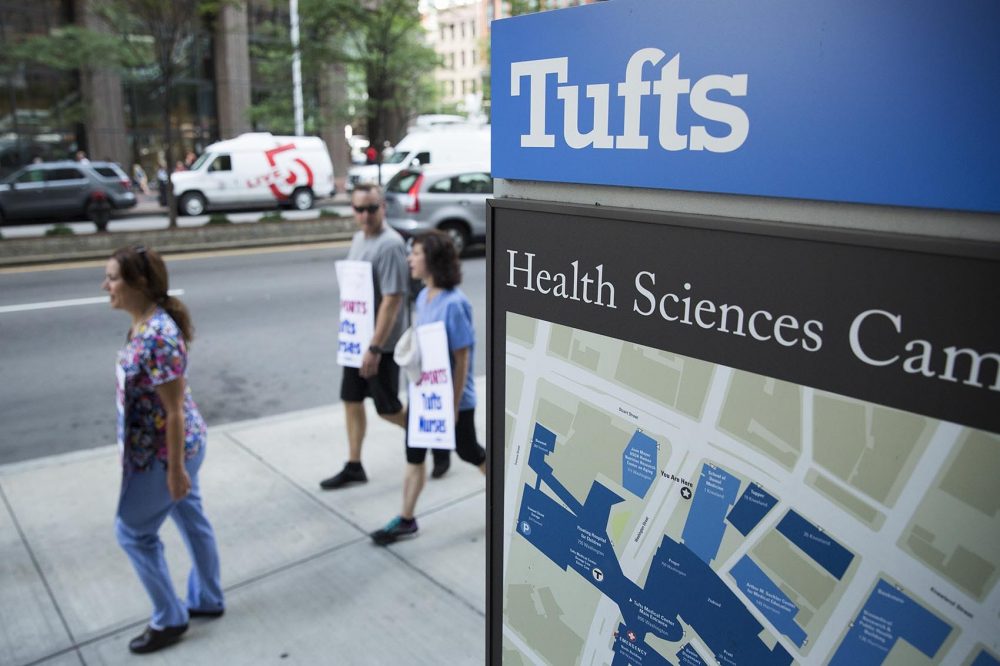 This article is more than 3 years old.
After nearly two years of negotiations, with a strike and lockout last summer, Tufts Medical Center and its unionized nurses have tentatively agreed on a new contract.
The hospital announced Monday evening that it had finalized negotiations with the Massachusetts Nurses Association, which represents 1,200 nurses at Tufts and the Floating Hospital for Children. Union members will vote on the contract, which would run through September 2021, on Jan. 3.
During a strike in July of this year, nurses on the picket line said they were protesting wages that were lower than other Boston hospitals', staffing issues and changing retirement plans. After their one-day strike, the hospital locked out the nurses, and they were were not allowed back to work for four more days.
According to a statement from the nurses union, the tentative agreement "addresses all of their outstanding issues, including staffing, wages, and pension." The contract would include across-the-board pay increases, and language guaranteeing staffing resources.
Dr. Michael Wagner, president and CEO of Tufts Medical Center, said in a statement that the contract "includes competitive pay increases and strong retirement benefits that will allow us to recruit and retain the very best nurses, while also ensuring that we remain economically viable and able to reinvest in the organization."
Wagner said the debate had been contentious at time, but praised the "skilled and dedicated" nursing staff.
Mary Havlicek Cornacchia, who's worked as a registered nurse at Tufts for 29 years, said the proposed contract's length will bring better harmony to the hospital.
"It will allow a good deal of time that we need to begin the healing process. It's been a little bit of a rough road," she said in an interview.
In his statement, Wagner, also thanked Boston Mayor Marty Walsh, who let the two sides use his office for negotiations.
"Mayor Walsh cares deeply about the world-class healthcare provided in Boston and his involvement today is evidence of that," he said.
With additional reporting from WBUR's Newscast unit