As The Flu Spikes In Mass., Here Are 10 Things You May Not Know About It
As cases of influenza-like illness spike in Massachusetts, we called the state epidemiologist to ask what we can share that might help reverse the direction of that scary red line above.
Here are some things you may not know, some guidance and some myth-busting facts from Dr. Al DeMaria at the Massachusetts Department of Public Health.
1. Cough into your sleeve, just do it. DeMaria, who rides the T to work every day, says most people still cough into their hands. "Your sleeve will hold those secretions," he says, "whereas your hand is a good way of moving those secretions all over the place."
Picture it, what are the three surfaces you touched after you coughed into your hand? Go wipe them down.
2. You are infectious before you start to cough, sneeze or otherwise feel lousy. "You can be infectious for a day before symptoms," DeMaria says. "You're an order of magnitude less infectious than when you're coughing and sneezing and blowing secretions around the room, but if you're in close contact with someone there is a risk of transmission."
3. The flu shot is a pretty good match for the strains showing up in Massachusetts. "It looks like they should be an excellent match in the test tube," DeMaria says. But he acknowledges that something about the way the virus presents in the body isn't working the same way it does in the test tube.
Still, he says the vaccine is "the best we have, and can provide some level of protection against the complications, if not preventing you from getting the flu."
4. More people are getting tested for flu this season, but if your test is negative, don't assume you are cleared for school or work. "Tests shouldn't be used for that because they often show a false negative," DeMaria says, "the rapid tests are not sensitive enough."
5. Because more people are being tested, lots of other viruses that produce flu-like symptoms are showing up. The most common, says DeMaria, are respiratory syncytial viruses, parainfluenza and adenovirus.
6. There are "spot shortages" of Tamiflu but it is still available. "The delivery system for Tamiflu is not used to this kind of demand," DeMaria says, "and we live in a 'just in time' economy. As far as we can tell, that's the basis for reports of shortage." DeMaria's advice: If your pharmacy is out, there's a good chance the one down the street still has the drug.
7. Flu is not spreading evenly across Massachusetts. The relative increase in cases is more modest in central Massachusetts than in most other parts of the state. Boston proper may also not be as done and out as the regions that are bright red: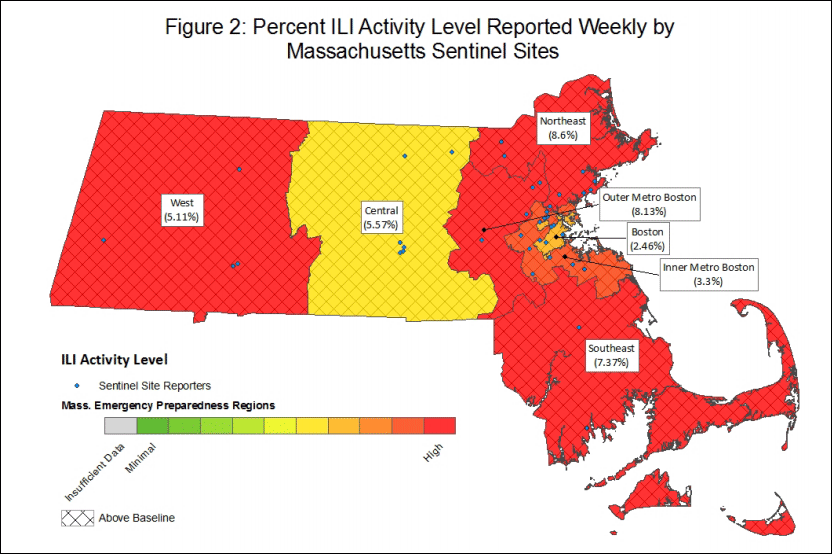 But...
8. Even though we're seeing a spike in flu-like illness, we don't know how many people have the flu. "We're not measuring actual flu with any of these measures because most people with flu don't get care and don't get tested. Most people stay home and get better," DeMaria says.
9. It's impossible to say how many people die from the flu. "Most people die as a result of the complications," DeMaria says. "Influenza is not even noticed because everything else going on is so much more severe." Pneumonia, he adds, is the most common complication.
DeMaria has found that the obituary section of the newspaper is an accurate barometer. "When the Globe death notices get to be five pages, you know you're in flu season," he says.
10. There's no way to tell if the flu season has peaked, so keep coughing into your sleeve and get a flu shot if you haven't yet. "I predicted the peak a few weeks ago, I don't want to do that again," laughs DeMaria. He says he was swayed by an earlier-than-usual start to the flu season and a drop in cases mid-January. "But everyone came back after the holidays and it's just been getting worse," he says.
DeMaria's takeaway message: This is a bad season, but every year is bad.
"If you are worried about flu this year, then worry about it next October," he says.
Get a flu shot and remind yourself and others to cough into your sleeve. Those are the best ways to protect yourself and those at high risk -- the elderly and children — whom you might infect.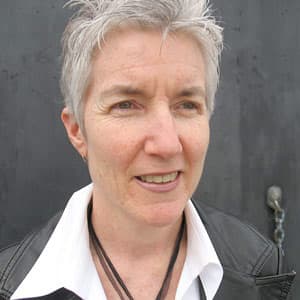 Martha Bebinger Reporter
Martha Bebinger covers health care and other general assignments for WBUR.