Family Caregivers, Whose Labor Is Valued At $500B, Are Finally Gaining More Formal Notice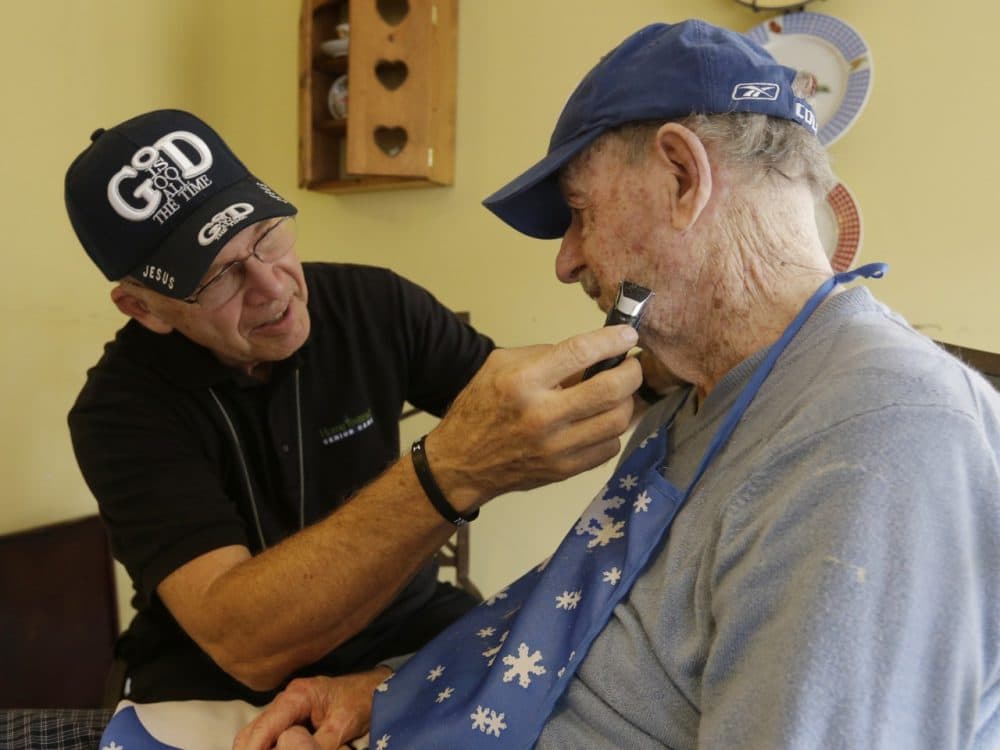 This article is more than 3 years old.
My Aunt Nora is dying. She will pass away — not today, perhaps not tomorrow, but any time at all — with little warning.
Nora is 92, and she has been a second mother to me, though not in a strictly maternal sense; she teased me mercilessly when I was young. As I grew older, I came to appreciate that this banter was well-intentioned, designed to toughen my skin.
Sadly, in the past few years, the teasing has stopped, a somewhat curious harbinger of what is to come. Recently, Nora's health is increasingly fragile, and she now needs around-the-clock monitoring and assistance.
Four of us — my sister, cousin, wife and I — constitute the part-time caregiving team for Nora. A cadre of physicians, home health aides and nurses, along with us, form Nora's extended care team.
As family caregivers, each of us has settled into a specific role and, with relatively little conflict, goes about our business, managing through each day, awaiting the arrival of the next crisis — a fall, a precipitous drop in blood pressure, the need for a transfusion — each of which results in a hospitalization and the dread that this is "the one."
As a family, we are not at all unique. The four of us are among tens of millions of family caregivers across America, including over 1 million here in Massachusetts, who provide the foundation for our country's health care system. Together, we are the "caregiver nation."
This nation includes over 40 million people — most of them family members — who provide care to loved ones that is valued at half a trillion dollars each year, nearly on par with what the federal government spends on Medicare or Medicaid.
The informal, non-professional care we give accounts for as much as 80 percent of the total value of "long-term services and supports" for older adults, a category that includes assistance with routine daily activities. Two-thirds of older adults with disabilities who receive long-term support at home get their care exclusively from a family member.
One would think that numbers like these would mean that the "caregiver nation" is well understood and valued. But no, most family caregivers toil in uncompensated, unrecognized silence, often victims of the isolation that comes with caring for a loved one with complex chronic disease.
Even as they save our health care system billions each year, there is little awareness of the cost to the caregivers themselves. Recent studies have suggested that they are not only compromised financially, as they often put careers on hold, they are also sicker than their non-caregiver counterparts, accessing the health care system with greater frequency. Due to demands on their time and because of the tasks they are asked to perform, they are at greater risk for anxiety and depression.
Despite these headwinds, caregivers willingly fill the gaps in our health care system so that increasingly scarce medical resources can be allocated across a rapidly aging population. They are resolved to keep mom or dad — or aunt — at home, and this is what drives them each day.
Thankfully, people are starting to notice the caregiver nation. It recently gained major validation from the U.S. government: The RAISE Family Caregivers Act was signed into law by President Trump in January. The act calls for "bringing together public and private sectors to recommend actions that communities, government, providers and others can take to make it easier for caregivers to coordinate care and receive information, referrals and resources."
The U.S. secretary of health and human services now has 18 months to develop a strategy to comply with the act. This encouraging progress comes after dozens of state legislatures, including in Massachusetts, have passed versions of a companion piece of legislation, the CARE Act, which requires hospitals to include family caregivers in discharge planning.
Legislative recognition is welcome, but it is only an initial step. Health care providers will play a key role as well. Recently, as certain providers and health plans have begun to shift from a fee-for-service to a value-based care model, we have begun to see more acknowledgment of family caregivers and their role in the health of patients.
By including caregivers in care planning -- indeed, considering them a key partner in providing care -- these organizations have elevated and, in some cases, formalized the role of family caregivers, resulting in improved outcomes for patients. By formally acknowledging family caregivers for their talents, health plans and provider groups are able offer them coaching and emotional support.
For decades, Medicare and Medicaid were responsible for 100 percent of the cost of care for the people they covered. Recently, policies have been put in place to share that financial risk with the private entities that manage and deliver care. As risk for long-term care continues to privatize, new models that engage family caregivers will increasingly be required to manage complex patients in the community.
Caregivers are the hyper-local case managers for these organizations, providing intelligence from inside the home that helps professionals understand emerging risk and intervene in a more timely manner.
Aunt Nora wants nothing more than to live out the rest of her days at home; she frequently reminds us of her intent in this regard. As a family, we are doing our level best to help make Nora's wish come true.
We are fortunate. With four of us on the team, all available and willing to work in concert, we're able to manage Nora's care even as her health declines. It hasn't been easy -- there have been some exceedingly difficult conversations and stressful emergencies -- but we all feel grateful that we are able to play our parts.
For millions of others, the road is not as smooth. Many who make up caregiver nation toil with less help than they'd like, and with fewer resources. We must encourage more action from our leaders in government and in health care, ranging from local communities and doctors to large health systems and up to the highest levels of government.
Readers who are caregivers: Did you know about these new laws? Will they help? 
Tom Riley is a member of Gov. Charlie Baker's Council on Aging and the president and CEO of Seniorlink.