5 Takeaways From The First Ever 'Cancer In Boston' Report
Massachusetts is one of 22 states where cancer regularly beats out heart disease as the leading cause of death. In Boston, cancer actually causes more deaths than stroke and heart disease combined — a trend that holds across all races and ethnicities.
These are just some of the findings from the Boston Public Health Commission's  first-ever special report on cancer, a 110-page in-depth analysis of cancer data from 1999 to 2013. According to the report, one in four Bostonians died from cancer in 2013.
Here are five takeaways from the report:
1. Overall, cancer in Boston is declining 
Both new cases and deaths tied to cancer saw a significant decline between 1999 and 2013. New cases dropped by 11 percent and deaths decreased by 22 percent. The report attributes this progress to "a combination of factors," including greater support for healthy lifestyles, increased access to health-care coverage, decreased out-of-pocket expenses due to the Affordable Care Act (ACA), and improvements in cancer care
2. But liver cancer is rising
Of the five cancers highlighted in the report (lung, colorectal, female breast, prostate, and liver), liver cancer is the only type in Boston with rising rates of both new cases and related deaths. Between 1999 to 2013, liver cancer rates (adjusted by age) rose by 52 percent, and death rates rose by 34 percent.

The rise in deaths from liver cancer can be attributed to white males, the only group that saw an increase in the death rate. Asian residents still have twice the rates of liver cancer incidence and death as white residents. A likely factor: disparate rates of hepatitis B infection, a risk factor for liver cancer, which in 2013 was more than 15 times higher for Asian people than white people.
3. Boston cancer-related deaths are still above the national average
In 2013, Boston had higher rates of death from cancer than both Massachusetts and the U.S. in general. Death rates from liver, colorectal and prostate cancers were all above the national numbers.
According to the 2016-2017 Health of Boston report, the overall cancer death rate in Boston was 162.6 deaths per 100,000 residents in 2015 — still higher than both Massachusetts (152.9) and the U.S. (158.5). Neither report provides an explanation for Boston's higher rates, but it appears to be in line with higher cancer rates in other Northeastern metropolitan areas.
4. Despite progress, large disparities loom
While Asian and Latino residents had lower rates of new cases and deaths from cancer than white residents, progress stagnated for most demographics. While white residents saw the rate of new cancer cases drop 14 percent, black, Latino and Asian Bostonians saw no change.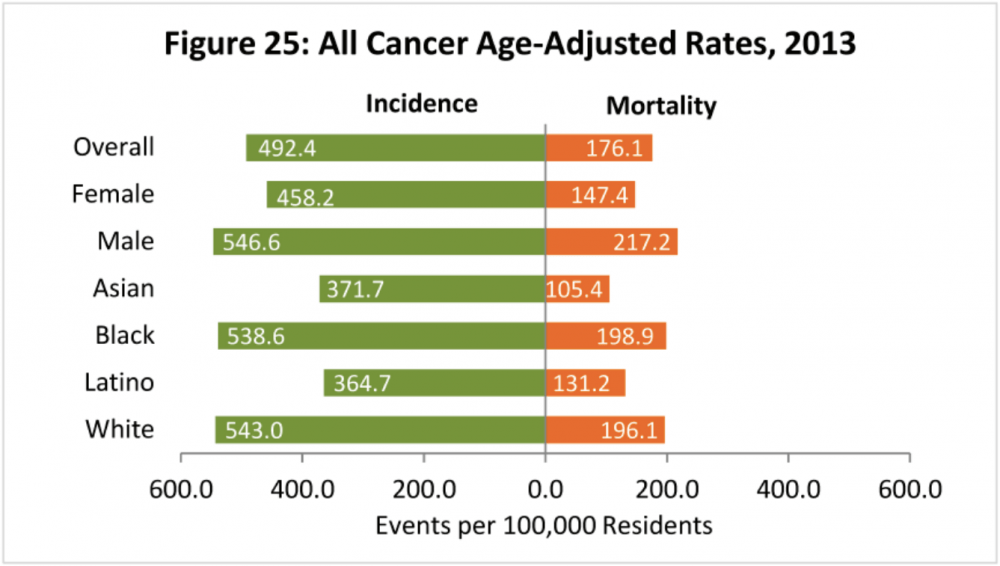 Other disparities:
In 2013, men experienced higher mortality and incidence rates for all cancers than women.
The Health of Boston report shows that in 2015, cancer-related deaths among black residents (191.8 per 100,000 residents) remains above that of white (184.3), Asian (119.6), and Latino (117.7) residents, though it is decreasing.
Even though breast cancer death rates for black and white women were similar, "the premature mortality rate (death rate for women under age 65) for black female residents was 78 percent higher than for white female residents."
5. Areas for improvement
The report notes that "while the most significant [cancer] risk factors are behavioral (tobacco use, diet, physical activity levels, and alcohol consumption), individual behavior is significantly influenced by the broader environment." The report authors therefore suggest Boston cancer prevention efforts take a "comprehensive approach," from programs to help people quit smoking tobacco and drinking alcohol, to making more healthy foods available to residents.
In order to combat disparities in cancer outcomes, the authors also stress Boston must "develop culturally and linguistically appropriate community-based survivor support networks," especially in underserved areas and communities of color. That could mean programming in languages like Spanish and Portuguese, in the neighborhoods where at-risk residents live.
The report should serve "as a call to action for us all," says Nancy Gaulin, Executive Director of the Brighton-based nonprofit Facing Cancer Together, which provides free cancer support services to people with cancer and their family members.
Justin Kaplan CommonHealth Fellow
Justin Kaplan is a summer fellow at WBUR, covering science and health for CommonHealth.