Sister Who Wrote Viral Opioids Obit, Burlington Police Chief: 'Shame' And 'Stigma' Are Barriers To Help For Those Addicted
09:09
Play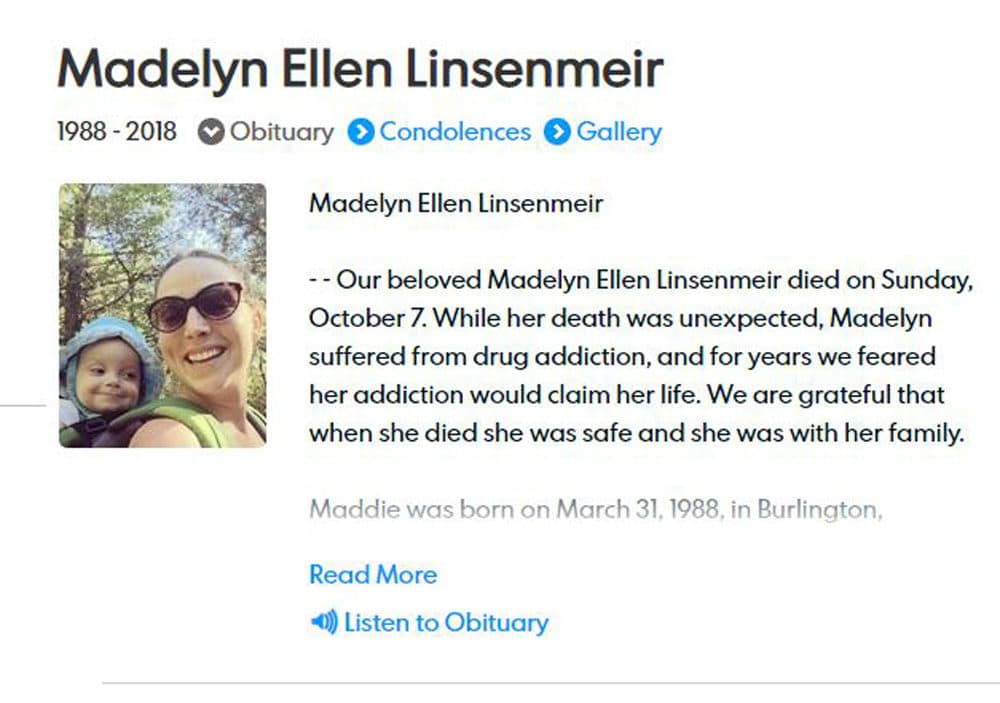 This article is more than 2 years old.
An obituary for a 30-year-old Vermont woman who died from complications of opioid addiction is generating a big response. First, the obituary went viral on social media. Then it got picked up by national and local news outlets. And then, the police chief in the woman's hometown of Burlington responded to it.
The woman was Madelyn "Maddie" Linsenmeir. She died earlier this month. The obituary was written by her sister, Kate O'Neil. O'Neil told the story of Maddie's talent as a singer, her love for her family — especially her young son — and how hard she tried to stop using drugs.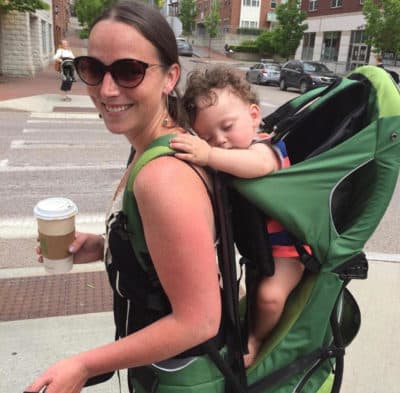 "It is impossible to capture a person in an obituary, and especially someone whose adult life was largely defined by drug addiction," the obituary reads. "To some, Maddie was just a junkie — when they saw her addiction they stopped seeing her. And what a loss for them. Because Maddie was hilarious, and warm, and fearless, and resilient. She could and would talk to anyone, and when you were in her company you wanted to stay."
After the obituary went viral, Brandon del Pozo, the police chief in Burlington, wrote a response on social media. He had some thoughts on what the response to Linsenmeir's obituary should tell us all.
"Why did it take a grieving relative with a good literary sense to get people to pay attention for a moment and shed a tear when nearly a quarter of a million people have already died in the same way as Maddie as this epidemic grew?" del Pozo wrote. "Did readers think this was the first time a beautiful, young, beloved mother from a pastoral state got addicted to Oxy and died from the descent it wrought? And what about the rest of the victims, who weren't as beautiful and lived in downtrodden cities or the rust belt? They too had mothers who cried for them and blamed themselves."
O'Neil and del Pozo spoke with WBUR's All Things Considered host Lisa Mullins.
Interview highlights:
Kate O'Neil:  I remember [Maddie] being hospitalized at one point and a specialist coming in and asking a question about her health history. And when I told him that she was, you know, an IV drug user, the look passed his face, I mean, it was openly disdainful. And he clearly was making a judgment in that moment. And actually, in that same moment, there was a photograph on the wall that my mom had hung up of Maddie when she was healthy, and the attending physician pointed to that photograph and said, 'That's her right there. That beautiful girl right there is the person in that bed.' So there are both sides of it. But the lack of compassion and the judgment for people with this disease is palpable. And so the shame around it is incredible. And that shame and that stigma are huge barriers to getting help.
Chief Brandon del Pozo: When I said I had a problem with the obituary, it was precisely that ironically it had gone so viral because it was a beautiful and well written obituary that told the truth about a human life, and that that was in fact what it took for places like People magazine to have difficult discussions and pay attention to this. I wrote that we need to earn the feelings of pity and compassion it inspired in us, because we should have had them years ago.
Kate O'Neil: I think it's very difficult for people to get medication assisted treatment, which is the kind of treatment that has been shown through evidence works the best in reducing overdose and just addiction-related deaths. And it's incredibly hard to get them. Maddie had a lot of difficulty getting those treatments. Making people stand in line at a methadone clinic every day makes it very hard for them to have jobs and go about their normal lives of raising children and doing all that. And I think we are failing people way before that. This shouldn't be a law enforcement issue. This is a public health issue.
Chief Brandon del Pozo: When I look at the opioid crisis, I think that if chiefs of police handled crime as ineffectively as our society has handled the opioid crisis, we'd be run out of town and fired. And that would probably be the fate that we deserve, because there are so many clear evidence-based strategies that show how medicine and access to medicine — whether you're in prison or at a needle exchange or in an emergency department or just walking into your primary care physician — saves lives and reduces overdoses. And it doesn't fix your life, and it doesn't mean that you'll completely recover, but it will reduce fatalities and enable you to get back to your family and your work more readily. And as a government and as medical institutions, we've just sort of ignored that.
This segment aired on October 19, 2018.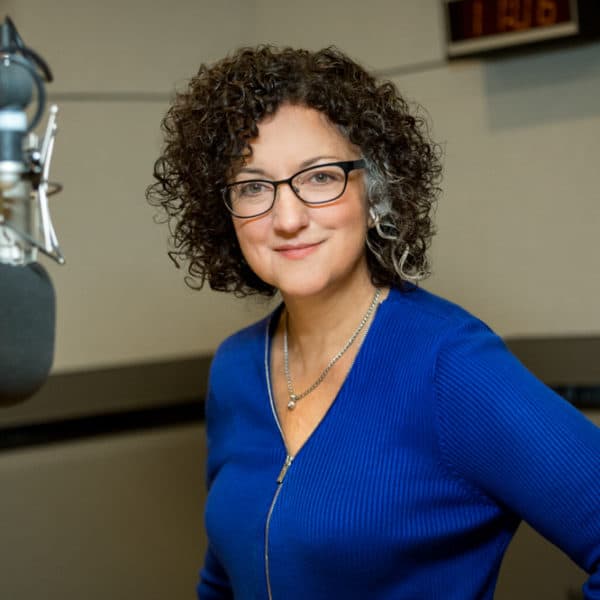 Lisa Mullins Host, All Things Considered
Lisa Mullins is the voice of WBUR's All Things Considered. She anchors the program, conducts interviews and reports from the field.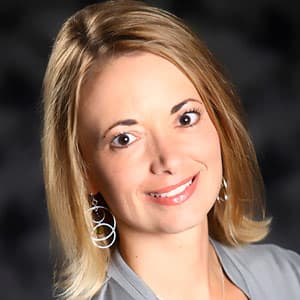 Lynn Jolicoeur Producer/Reporter
Lynn Jolicoeur is the field producer for WBUR's All Things Considered. She also reports for the station's various local news broadcasts.