'Can We Avoid A Big Spike In Cases?' Mayor Marty Walsh Discusses Reopening City Of Boston
06:04
Play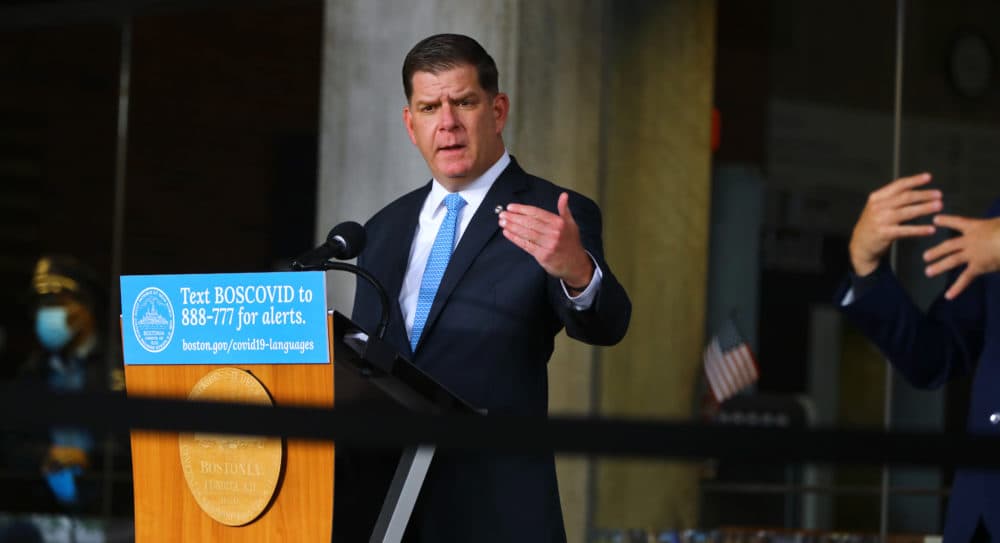 Massachusetts is cautiously reopening for business, as new cases of the coronavirus and deaths related to COVID-19 continue to trend gradually downward. But Boston's reopening may be the most cautious of all.
Mayor Marty Walsh joined WBUR's Morning Edition to discuss reopening the city and what life might look like in the upcoming months.
Interview Highlights
On the mayor's cautious approach to re-opening Boston
Walsh: "We're definitely working with the state on a gradual, phased in approach to reopening, but we want to make sure our economy and society come back safely. I feel that moving too quickly could cause a spike in cases that would harm both our health and our economy.
"We want to make sure that we continue to provide input to the state's plan in the next phases. Putting in place — you know, not our own plan — but we're working on our own guidelines here in the city. And a lot of them mirror the state's guidelines."
On what to expect this summer 
Walsh: "I think it's still too early to tell. What I find, and I've said this before — in a week, things change drastically. We've seen some good reductions in numbers; we're seeing space in our hospitals, which are all good signs. But that's all due to the fact that people's have done such a great job with social and physical distancing.
"Now, the really complicated part — the tricky part — is as we reopen society, can we do the same thing? Can we avoid a big spike in cases? ... So as people start to go back into the office space and construction sites and retail shops and restaurants, how do we prevent a large spread of the virus from occurring?
"That's going to [involve] both physical and social distancing. It's gonna be wearing masks, constantly washing hands and washing down surfaces. That's really how we keep these numbers down."
Will bars and restaurants open for business this summer?
Walsh: "I think we'll see restaurants, obviously. I'm not sure we're going to see the bar scene as far as what we're used to. ... The city has spent a lot of time talking to restaurants and restaurant associations. I know that the state governor and lieutenant governor are working on a plan as well. We're working collaboratively on that, along with other cities and towns across the commonwealth.
"They're a large employer ... they're an important addition to our economy and ... they also attract people to the city. And I think that ultimately we want to see people coming back to the city of Boston and coming back to our cities and towns."
Will there be a summer jobs program for Boston teenagers?
Walsh: "We're working on the summer job program right now. ... we have, you know, kind of a three-phased approach. Many of our kids are working in hospitals. Some of our kids are working in private industry — a lot of them are, actually; the majority. And then we have kids working directly for the city.
"So we're working now with the private industry to see what companies are still going to be accepting kids and having them work for them this summer. And then also some companies that have offered to pay the kids who they employ, but they have no real physical jobs for them. So we're working right now on a plan in the city to be creative with our kids. Some of it's going to be virtual work. Some of it's going to be physical work. And we'll be rolling that out as we move forward here."
What about students returning to campuses in the fall?
Walsh: "I hope they can. And I hope we can have school again. I mean, I think that in this 'world of coronavirus' that is a lifetime away. And we have to really think about how do we open up schools with precautions and safety. We're going to look at that with our own public school system here in Boston. And I know that colleges, universities are planning on trying to move forward.
"As I said earlier, we don't know what the situation will be in August and September. I'm hoping that we're in a better situation, but we won't know for some time to come. Testing and tracing are going to be key to moving forward here."
A final message from the mayor
Walsh: "I just ask people to continue to be very diligent on social distancing, physical distancing, wearing masks. ... We're in this place [where] a lot of people — mostly everybody — want ... to get back to work and reopen our economy, and the way we do that is by not spreading the virus. And I think that by doing all of those things — washing hands and cleaning surfaces down — that's going to keep not only you and your family safe, it's also going to allow the opportunity to open the economy safely. ... We have a beautiful weekend coming, so I want everyone to do that.
"And number two, this is Memorial Day weekend. So I want to ask that you keep in your minds and your prayers this weekend all the fallen military that fought so bravely for our country."
This article was originally published on May 21, 2020.
This segment aired on May 21, 2020.