As Virus Cases Tick Up, 27 More Mass. Communities Cross Highest Risk Threshold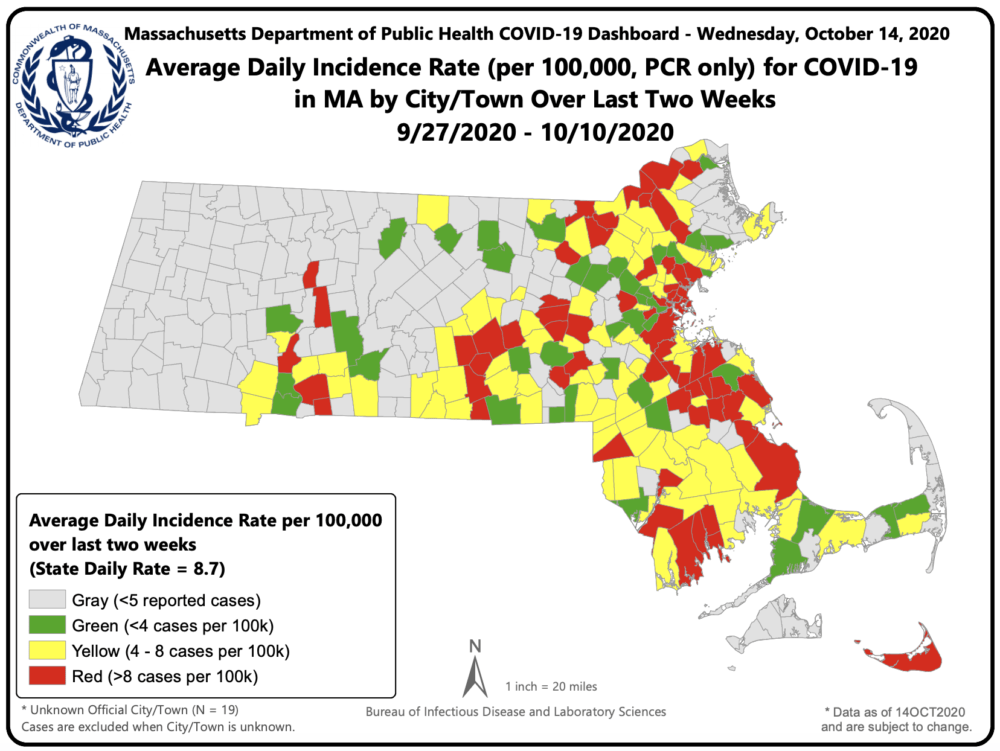 Under the color-coded risk designations the Department of Public Health uses to reflect incidence rates of COVID-19 infections in cities and towns, Massachusetts as a whole would fall into the highest-risk category as of Wednesday.
The statewide average daily case rate over the past 14 days climbed to 8.7 cases per 100,000 residents in the weekly update published Wednesday, crossing the eight-case threshold that moves municipalities from yellow, or "moderate risk," to red, or "higher risk," on the department's scale.
Meanwhile, health authorities added 27 more cities and towns to the highest-risk category on Wednesday after increases in their local incidence rates: Abington, Auburn, Berkley, Canton, East Bridgewater, East Longmeadow, Fairhaven, Fall River, Hanover, Hanson, Hingham, Holbrook, Holliston, Littleton, Marshfield, Milford, Milton, Oxford, Pembroke, Rockland, Saugus, Shrewsbury, Somerville, Tyngsborough, Wakefield, West Newbury and Weymouth.
They join 36 other communities that were already in the red: Acushnet, Amherst, Attleboro, Boston, Brockton, Chelmsford, Chelsea, Dartmouth, Everett, Framingham, Haverhill, Holyoke, Hudson, Kingston, Lawrence, Leicester, Lowell, Lynn, Malden, Marlborough, Methuen, Middleton, Nantucket, New Bedford, North Andover, Plymouth, Randolph, Revere, Southborough, Springfield, Sunderland, Waltham, Webster, Winthrop, Woburn and Worcester.
The highest rate by far is in Middleton, whose 105.2 average daily incidences per 100,000 people is more than double the second-highest rate of 41.9 in Lawrence.
Communities that fall into the riskiest category cannot proceed into phase three, step two of the economic reopening the Baker administration outlined until they land in the grey, green or yellow for three consecutive reporting periods.
Four towns that had been in the red last week were upgraded in Wednesday's report: Avon, Dracut, Dudley and Southbridge.
In Wednesday's daily report, DPH announced another 518 confirmed COVID-19 cases and 16 deaths among confirmed patients. Both measures of the positivity rate — one calculating how many individuals have tested positive and the other counting how many tests, including repeat samples of the same person, come back positive — continued to tick upward.