Join Us For Dear Sugar Radio LIVE!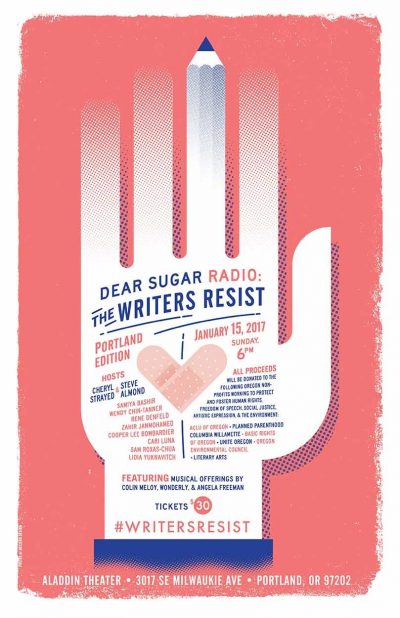 The Sugars are coming to the Aladdin Theater in Portland, Oregon, on January 15th, 2017, for Dear Sugar Radio: The Writers Resist, Portland Edition.
Writers Resist is a multi-city event organized by writers and activists across the nation seeking to "re-inaugurate" a shared commitment to the spirit of compassion, equality, free speech and the fundamental ideals of democracy.
The Sugars will be joined by some of their favorite Portland-based writers, including Samiya Bashir, Wendy Chin-Tanner, Rene Denfeld, Zahir Janmohamed, Cooper Lee Bombardier, Cari Luna, Sam Roxas-Chua and Lidia Yuknavitch. They'll also be taking your questions about how to move forward as a nation during this time of tremendous division and uncertainty.
Plus, music from Colin Meloy of The Decemberists, Wonderly and Angela Freeman.
Tickets available HERE. We hope to see you there!