Colleges Predict No Change On Campuses As Marijuana Becomes Legal In Mass.
04:28
Play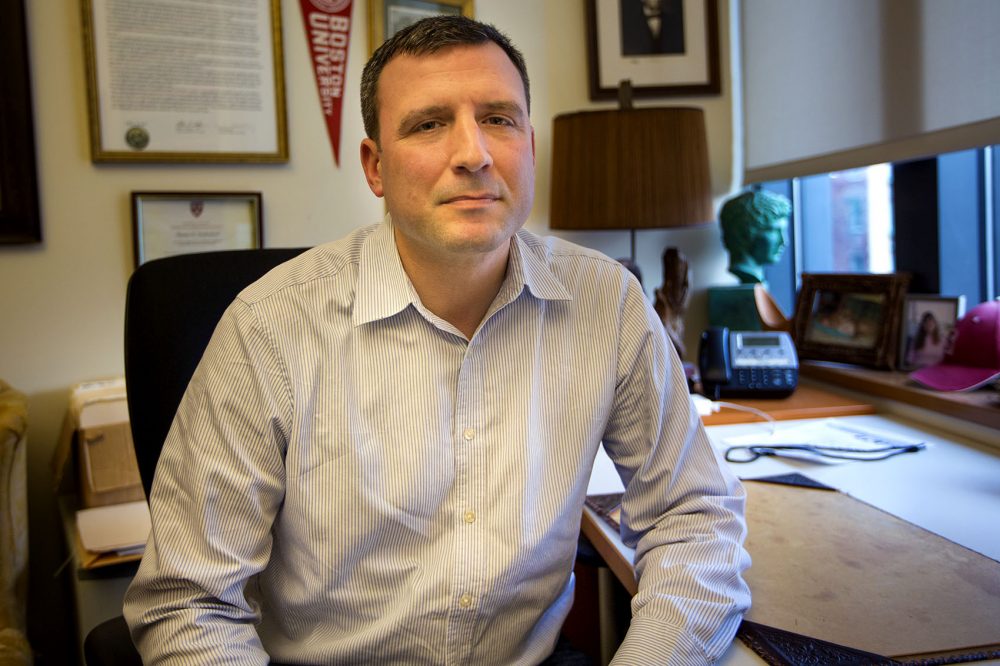 This article is more than 4 years old.
Universities in Massachusetts are telling their students not to expect any changes as a result of the legalization of marijuana Thursday.
'Nothing's Going To Change' For Students On Campus
Seth Blumenthal teaches a course at Boston University on marijuana called "marijuana in U.S. history."
"And the students ask me: 'So what's going to happen? Is it going to be crazy?' " Blumenthal said. "And I have to explain to them that there are still a lot of laws that they need to understand, and the first thing is that you have to be 21 years old, right? So I ask them: 'What's the law on alcohol?' It all applies. 'Would you walk down the street with a beer?' No."
Blumenthal is concerned students will start growing marijuana in off-campus housing.
"And so I worry about growing and those situations where you have overcrowding and just dangerous situations for fire," Blumenthal said.
He's concerned students will build elaborate indoor setups that require huge amounts of electricity. But he pointed out that for the next two years, while growing marijuana will be legal, it will still be illegal to sell it.
Blumenthal said there's really one message to students: "The story I should be telling the students is really nothing's going to change, and I think that that's important for them to understand on a lot of levels."
And that's the message all colleges and universities have been sending their students.
"The possession, use, consumption, manufacturing, sale or distribution of drugs on our campus is illegal," said Jack Dunn, the spokesman for Boston College.
Dunn explained that colleges are bound by federal law.
"Which requires us to certify that we've adopted and implemented a program to prevent the unlawful possession, use or distribution of drugs or alcohol by students," Dunn said. "So that policy will remain in effect."
Back at BU, Detective Lieutenant Peter DiDomenica predicts his fellow officers' response to marijuana will pretty much remain the same. The university has the right to continue prohibiting marijuana on campus.
"Just because there's a law that authorizes people over 21 to possess and use marijuana doesn't mean you have to let them on your property to do it," DiDomenica says.
That prohibition, DiDomenica explained, also extends to medical marijuana.
"If it's that important to you, and you have a medical marijuana card, and you feel you need to have this, you'll have to live off campus," DiDomenica said.
DiDomenica said in the two years medical marijuana has been legal in Massachusetts, BU police officers have not encountered anyone with it on university property.
Nothing 'Dramatically Different' On Colorado Campuses
All marijuana has been legal in Colorado since 2012.
"We haven't noticed anything dramatically different than what we had before marijuana was legalized for recreation use in 2012," said Ryan Huff, the spokesman for the University of Colorado at Boulder. "Our student body of 32,000 students, more than half of them are under the age of 21 anyway, so this law does not affect them."
Those 21 or over can buy marijuana.
"But you can't smoke it on campus," Huff said. "You can't smoke it in public anywhere in the state. You can still face a ticket for that. So we really have not noticed any dramatic spike in tickets or disciplinary referrals, I think because of the age restriction, mainly."
Huff said the university is not sure if marijuana use has gone up.
"Hard to tell usage, because we're not everywhere, but one of the things that we have boosted is our education on marijuana," Huff said.
Marijuana policy seems to be a sensitive subject for colleges and universities in Massachusetts. Neither the University of Massachusetts, MIT, Northeastern nor Tufts would make anyone available to talk about the issue. All of them issued statements saying essentially the same thing: There will be no change in university policy regarding the use, possession or cultivation of marijuana on university property.
At Harvard College, the situation is a little more nuanced. Whether there will be a new policy depends on decisions by the faculty of Arts and Sciences, but like all other universities, Harvard, too, is constrained by federal law.
This segment aired on December 14, 2016.