Darrell Anane's Rookie Year: Learning The Limits Of A Teacher's Control
04:35
Play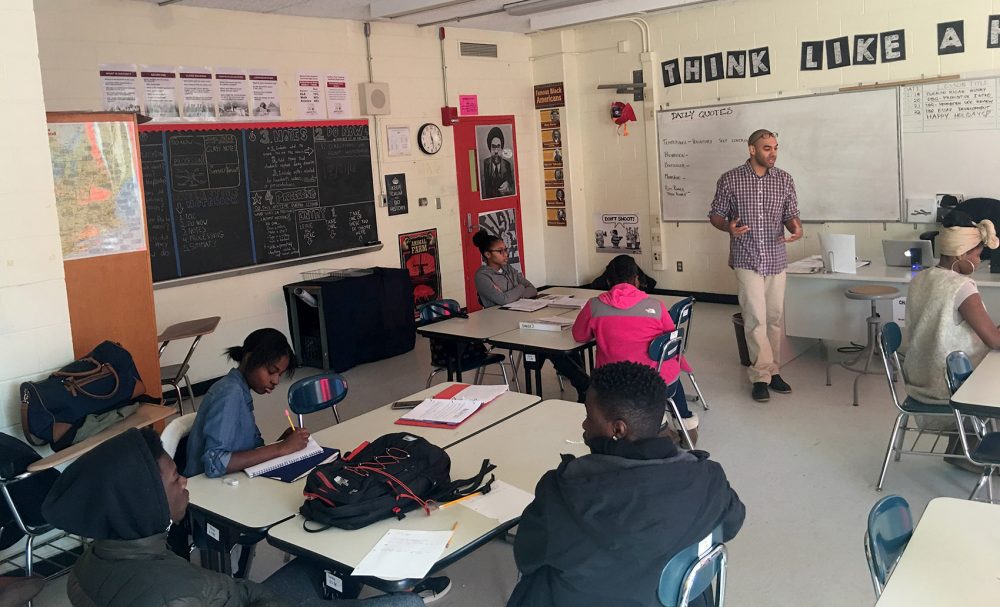 This article is more than 3 years old.
First-year history teacher Darrell Anane hangs out at the door to his classroom, greeting students as they enter at the start of class.
Sophomore Axel Bazquez sneaks by and throws his backpack onto an empty table -- then, without saying a word, picks up a piece of chalk and writes the date on the board.
Anane looks over and gives Bazquez a nod of affirmation.
"I don't ever write the date on my board, because I know that's one of Axel's things," Anane tells me. "And part of his comfort level in the class, to share and hopefully enjoy the class, is to know that he has space to do that."
Anane knows his students need to feel that comfort in order to learn. It's one of the things he's been learning himself, in his rookie year as a teacher at Madison Park Technical Vocational High School.
On this day, it's a bit harder than usual to keep the whole room at ease. Some of Anane's brightest students got in a fight, and they've been suspended. Their absence affects not just them, but the whole class.
Bazquez, who's 16, loves to share that he's a proud Puerto Rican, and that his mom and older brother also went to Madison Park. He's quiet right now, though.
As he does every day, Bazquez sits at a table by himself. When Anane leads the class in a discussion of Prohibition and women's suffrage, Bazquez listens without saying much. But his eyes light up when I ask how he would describe Anane's class.
"You can learn a lot of stuff in here," he says. "You can learn a lot of stuff."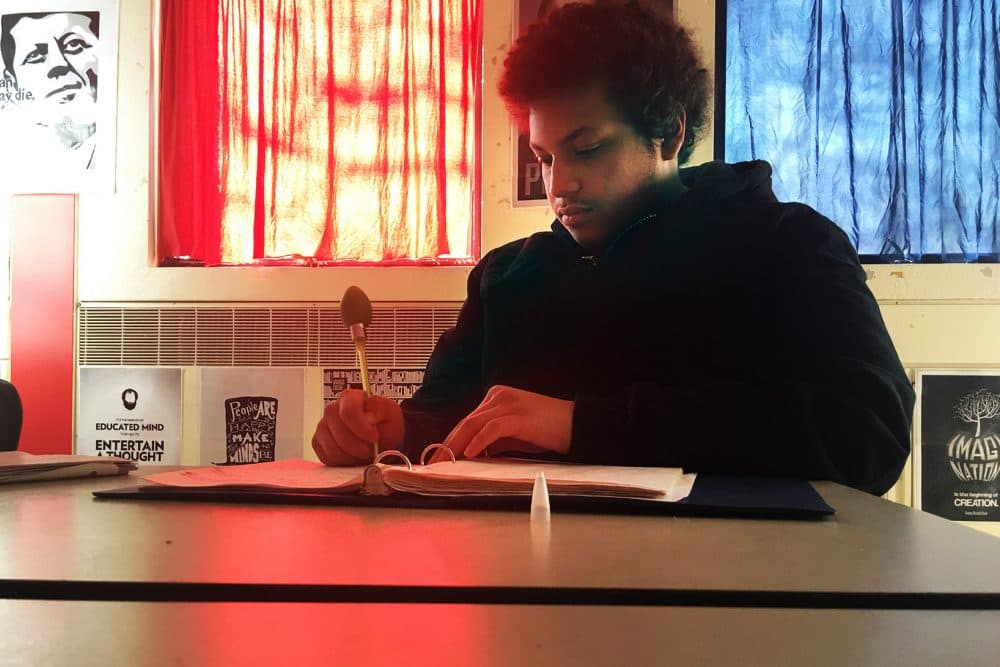 Anane can feel a difference in the class today, though. The students who were suspended, he says, are the "glue" that binds this class together. Their absence leaves a hole -- especially for Bazquez.
"It changes everything, because Axel is one of the more reserved," Anane says. "I mean, he sits at his own table every day, when they have the choice to sit where they want, and he's not that open to share his ideas and stuff in class unless he has that support."
Support not just from his teacher -- but from his fellow students.
"One of the students that isn't in today is really important for him to be encouraged to participate," Anane says. "She's one of his most vocal supporters, so having her out, the dynamic changes with Axel as well."
And it's not just Bazquez.
"There are a number of students that sort of use each other as springboards to take their own ideas and express themselves," Anane says, "so when one is out, it really does change the dynamic for everyone that is in that day."
Anane knows Bazquez is a good kid -- but he's reserved, and he could easily get lost in the shuffle in a class that requires participation.
So Anane nudges Bazquez along, by sitting down with him and discussing the questions one on one.
"What was going on with World War I? Why did we want Prohibition?" he asks.
"They thought they were going to have less crime, but it did not work -- it was a total backfire, and it created more crimes back then," Bazquez says.
"Yep," Anane responds. "That's totally the crime reason."
'You Can't Control What Happens Outside'
The recent fight, and the suspensions that resulted from it, reinforced the biggest lesson Anane is learning in his rookie year: "You can't control what happens outside of the classroom."
That lesson surfaced again in the talk he had the other day with a student who was being disruptive.
"I said, 'You know, I'm going to have to call home,' " Anane recalls. "And the response was like 'Well, go ahead, because I'm in a foster home as of today, so I don't know who you're going to reach if you call that number, and I don't think who you do reach is really going to change anything right now.' And that's just some of the reality of some of the students."
And part of his own reality is learning to accept these limits to his role.
"I can be present here, and that's sort of the limitations that I have," Anane says. "And that ties also into some of the frustration that I have of people's perceptions of Madison Park. It's so much judged upon what happens in the school, when there are so many things that contribute and relate to what happens in the school that relate to what happens outside of the school."
And that's part of the reason Anane chose to teach at Madison Park.
While it is among the lowest-achieving schools in the state, Anane thinks he can make a difference. So does Kevin McCaskill, the school's executive director.
"I think just his mere presence, and the way he carries himself and the way he articulates himself and the way he articulates a message, has just been tremendous for us," McCaskill says.
That positive presence is what the school needs more of, he adds.
"We have to do a better job of getting folks understanding that our narrative is not who we are now," McCaskill says. "I know it's been decades of despair. We're not all about the bad headlines. But it's going to be improving as time goes on."
Anane already has a few personal milestones in this first year to celebrate as well. For one, he's made it through the first term.
"I just wanted to make it until December," he says. "Now I feel like I've gotten my groove, and I'm feeling great about that."
And then there's the student, an English Language Learner, who came to him at the beginning of the year to explain that he had trouble recalling information and needed to hear lessons more than once in order to grasp them.
"He made me aware of that, so I was able to tailor things a little and approach things a little differently," Anane says.
Just recently, Anane graded that student on an assessment that covered much of the fall term's work.
"The fact that he was able to recall things that he had heard from week two," Anane says, "not only meant a lot for his progression in my class but for my strategies in adjusting my work for him."
And the student's grade? A perfect 100.
"That was huge for me," Anane says.
At the end of the day's history class, Axel Bazquez walks over to the chalkboard again, this time to write a plea: to bring back his classmate, the one suspended for fighting. Anane responds the best way he knows how.
"I want her back too. Great student," Anane says. "We are not in control of these things."
It's a message not only to his students but also to himself, as he strives to be the teacher his students need and want him to be, in this first year at Madison Park.
This is the second in a series that follows teacher Darrell Anane's first year.
This segment aired on January 6, 2017.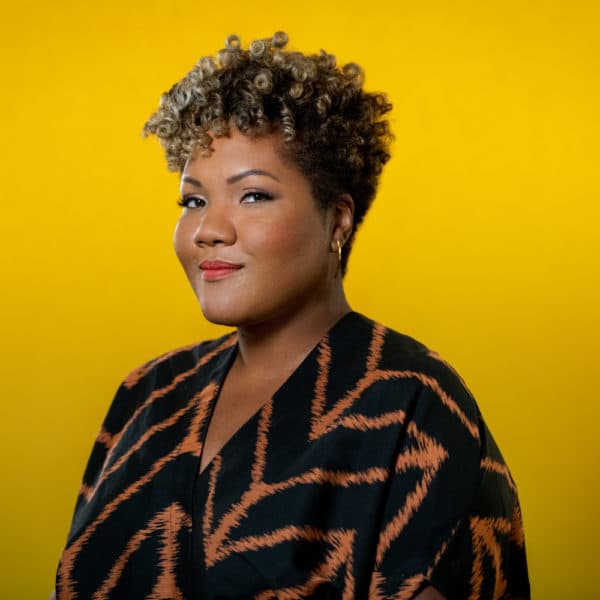 Tonya Mosley Co-host, Here & Now
Tonya Mosley is the third co-host of Here & Now, based in Los Angeles.