UMass Boston Administrators Cut Projected Budget Deficit
02:37
Play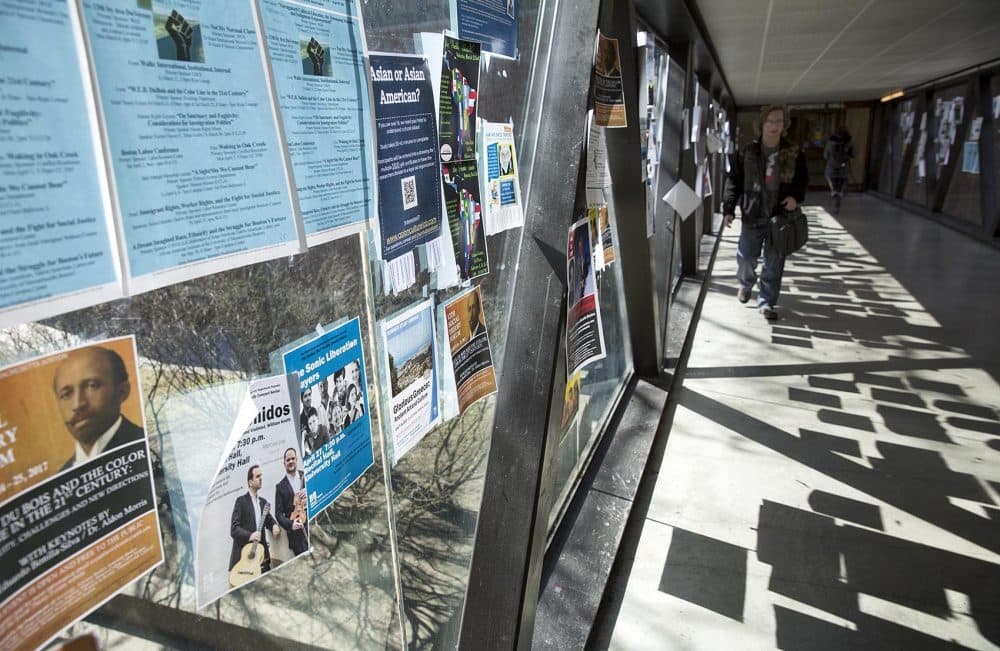 This article is more than 4 years old.
The troubled finances of UMass Boston dominated trustee meetings Tuesday.
Trustees heard from Deputy Chancellor Barry Mills that he predicts the campus' budget deficit will be less than half what was feared just a few weeks ago.
Less than half, Mills said, because he's been able to identify enough cuts and potential revenue that the predicted deficit for this fiscal year — projected to be $15 million at the beginning of the year — should instead be around $6 million or $7 million.
"I've been on the job four weeks," Mills pointed out. "Four weeks. So I don't have all the answers. And I don't know all the problems, and frankly, every day, there's a new problem that has a lot of zeroes."
Mills, a former Bowdoin College president, was brought in to right UMass Boston's finances. He warned trustees that it will take much more than a year to fix the campus' structural deficits. Construction, unrealistic projections for growth in the student body and rapid growth in academic departments have caused those deficits.
But Mills, who takes over as interim chancellor in July, said he also wants to concentrate on the university's strengths, keep the excellent departments, improve those that could be excellent, and drop the rest. He acknowledged that in higher education, it's almost impossible to cut anything.
For the first time, Chancellor Keith Motley, who is stepping down at the end of the academic year, addressed the burgeoning financial problems at UMass Boston.
Motley told the board that he took part in the decision to bring his successor to campus. And he insisted the trustees are not to blame for the financial crisis.
"When we talk about the fact that the trustees have something to do with it, my framing on that has been what it's always been to you," Motley told trustees. "Thank you for allowing us to have the vision we had."
There's one place where there won't big cuts, at least this year, according to UMass President Marty Meehan, and that's in the number of classes offered.
"I think that those issues have been corrected," Meehan said. "I talked to Barry Mills about it this morning, and they are making the adjustments they need to make. When a university looks to make cuts, a university ought to look to the nonacademic side of the institution. There are plenty of opportunities — low-hanging fruit. if you will — that need to be looked at."
But UMass Boston will have to fix its problems without the help of the campuses in the system.
Meehan said he opposes using reserves built up at other campuses to subsidize UMass Boston.
This segment aired on April 12, 2017.