Big Mass. Universities Report An 'Unexpected' Increase In International Students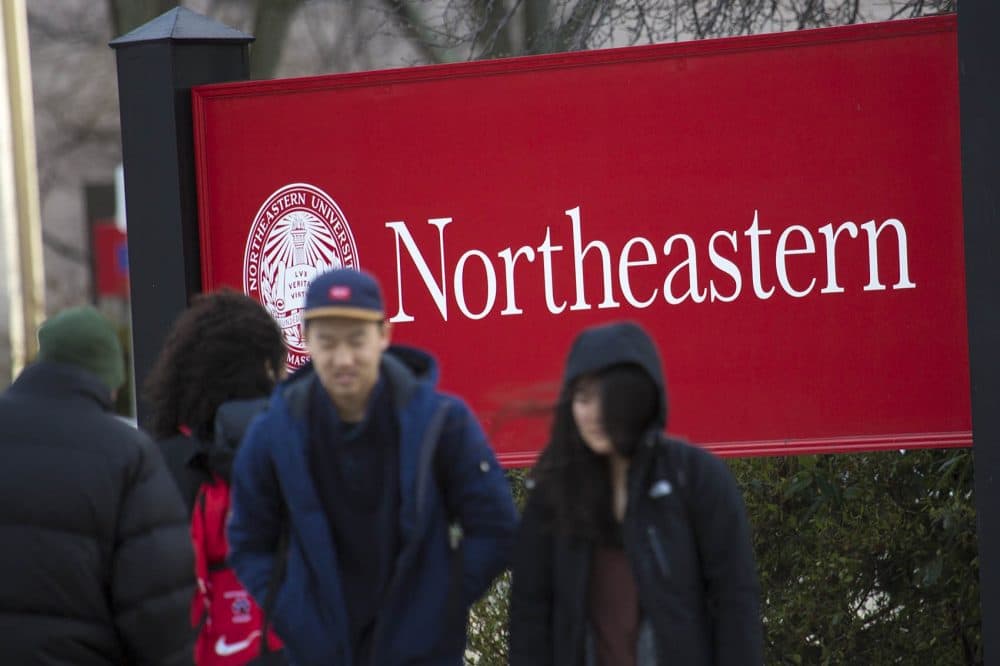 This article is more than 4 years old.
Anti-immigration political sentiment appears not to be tarnishing the appeal of the United States among international students who want to study in Massachusetts.
Despite two presidential executive orders attempting to limit arrivals from several countries — both held up in court — foreign students are planning to come this fall in record numbers to many schools in the state, including UMass Amherst, Northeastern and Harvard.
At UMass Amherst, the number of international graduate students committing to come this year is up by 8 percent, from 608 students last year to 656 this year.
UMass Amherst admitted slightly more international students this year, thinking that some would not come to the U.S. Now, it turns out that some graduate departments have more students enrolling than they had planned.
"Some of our programs actually overshot a bit, and that's because they were expecting that fewer people would say they want to come because of the political situation in the United States, and the issues around immigration," says John McCarthy, senior vice provost for academic affairs. "That didn't happen."
McCarthy says when he shows the results to colleagues, they are astonished.
"Their jaws drop," he says. "They can't believe it. It's completely unexpected."
"[T]hey were expecting that fewer people would say they want to come because of the political situation in the United States, and the issues around immigration. That didn't happen."

John McCarthy, UMass Amherst
Massachusetts' nearly 60,000 international students spend more than $2 billion a year in the state.
McCarthy says there is one country that is sending fewer grad students: China. But he says that is part of a long-term trend.
"I think what's happening in China is that they've made a tremendous investment in building up their own internal system of higher education, and so students feel less and less that they have to go abroad to get a high-quality graduate education," McCarthy says.
China is still the No. 2 country for international graduate students at UMass Amherst, behind India.
McCarthy says there's one country from which applications are way up this year: Turkey.
"We saw nearly a doubling of applications of students from Turkey," McCarthy says. "It's clear that the internal situation in Turkey is the reason for this change. There's a lot of turmoil politically, and it's affecting the universities there, and so students are looking for ways of getting a graduate education somewhere outside their home country."
Since last July, more than 5,000 academics in Turkey have been reported purged from their jobs by the Turkish government.
Last year, 64 graduate students from Turkey told UMass Amherst they would be attending. This year, it's 107.
McCarthy says international students seem impervious to a rise in anti-immigrant sentiment in the U.S., at least for now.
"It's really amazing to see no change in these numbers, and I think the reason is that these students have a dream of studying here," McCarthy says. "It's really important to them, and they're not going to let our situation, our political situation, dissuade them from following up on their dream."
Undergraduate commitments from international students are up at UMass Amherst, too.
Jim Roche, the campus' associate provost for enrollment management, reports a 7 percent increase. He gives credit to his staff for reassuring international students and at the same time preparing them for a more arduous process in getting visas.
"I want to give kudos to my team for doing a lot this year with communications," Roche says. "We just did some outreach and helped students understand what the challenges might be. We've encouraged them to get into the paperwork as soon as they could."
Other universities are also reporting that international students are up.
Northeastern University has the most international students — undergrad and grad — in Massachusetts: 11,702, as of 2016. It's seeing an 8 percent increase in international undergraduate students committing to enroll this fall, to 521 for the incoming first-year class.
Harvard is also reporting an increase in international undergraduate students. It reports that 12.3 percent of its incoming first-year class this fall will be foreign passport-holders, compared with 11.7 percent last year.
At least one graduate school at Harvard appears to be an exception: the Kennedy School of Government. It says it's noticing a slight decline in the number of international students who say they will attend in the fall.
Boston University reports that based on what it knows now, 22 percent of its incoming freshman undergraduate class will be international, but adds a caveat that plans change over the summer. BU would not give current figures.
MIT would only say it's not seeing a decrease in international undergraduate students. It's reporting that 119 of them have accepted enrollment as first-year students this fall.