Without Naming Names, Hillary Clinton Talks Trump At Wellesley College Commencement
03:17
Play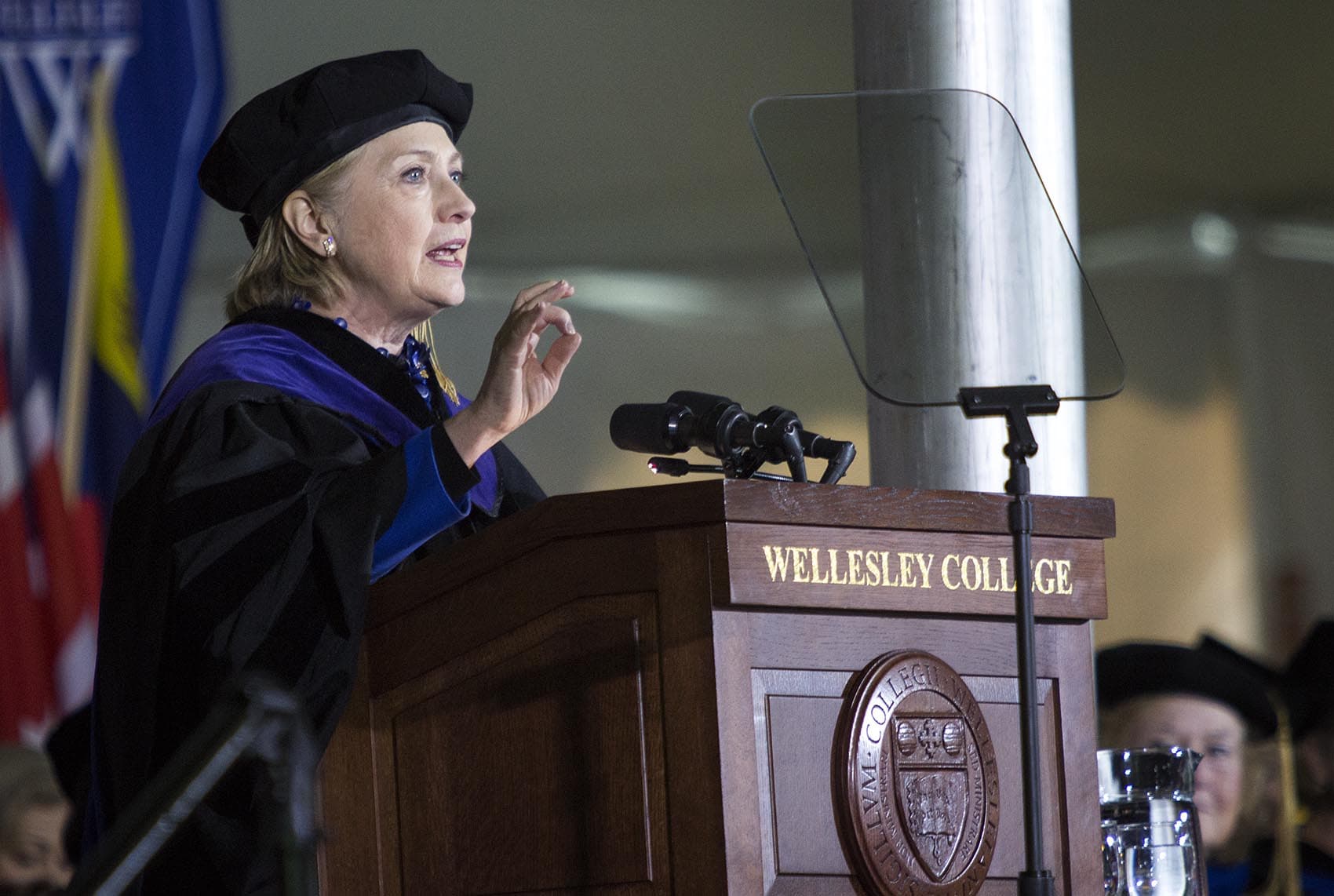 This article is more than 3 years old.
Hillary Clinton veered away from the typical advice one might hear in a graduation speech as she addressed seniors Friday at Wellesley College, her alma mater. Clinton had much to say about the November election and the current state of affairs in the United States.
Clinton confessed with some humor that losing the election was hard.
"I've gotten to spend time with my family, especially my amazing grandchildren," Clinton said. "I was going to give the entire commencement speech about them, but was talked out of it — long walks in the woods. Organizing my closets, right? I won't lie. Chardonnay helped a little, too."
This was Hillary Clinton straight up: the raw, straightforward Clinton who has emerged before in speeches at Wellesley. Gone was the sometimes-stilted candidate, perhaps the victim of too many campaign minders. Here was the Wellesley graduate comfortable among her own.
"I couldn't think of any place I'd rather be this year than right here," Clinton said.
It wasn't all politics, though. Clinton confessed her own uncertainty soon after arriving as a first-year student at Wellesley in 1965.
"Maybe you changed your major three times and your hair style twice as many as that," Clinton remembered. "Or maybe after your first month of classes, you made a frantic collect call — ask your parents what that was — back to Illinois, to tell you mother and father you weren't smart enough to be here."
The former Democratic candidate for president encouraged the graduates to change their minds from time to time.
"You know what? That's okay. Take it from me, the former president of the Wellesley College Young Republicans," Clinton said.
She never once mentioned President Trump by name, but she left no doubt whom she was talking about as she recalled the graduation of her class in 1969, soon after the election of Richard Nixon.
"We were furious about the past presidential election of a man whose presidency would eventually end in disgrace with his impeachment for obstruction of justice," she said.
Clinton warned of the consequences of people in power inventing their own facts and attacking those who question them.
"It can mark the beginning of the end of a free society," Clinton said. "That is not hyperbole; it is what authoritarian regimes throughout history have done. ... They attempt to control reality."
Clinton ended on a call to action. She told the graduating class that American history teaches that it's often during the darkest times that Americans can do the most good.
This segment aired on May 26, 2017.