Hampshire College Seniors Wrap Up Projects Amid School's Uncertain Future
04:41
Play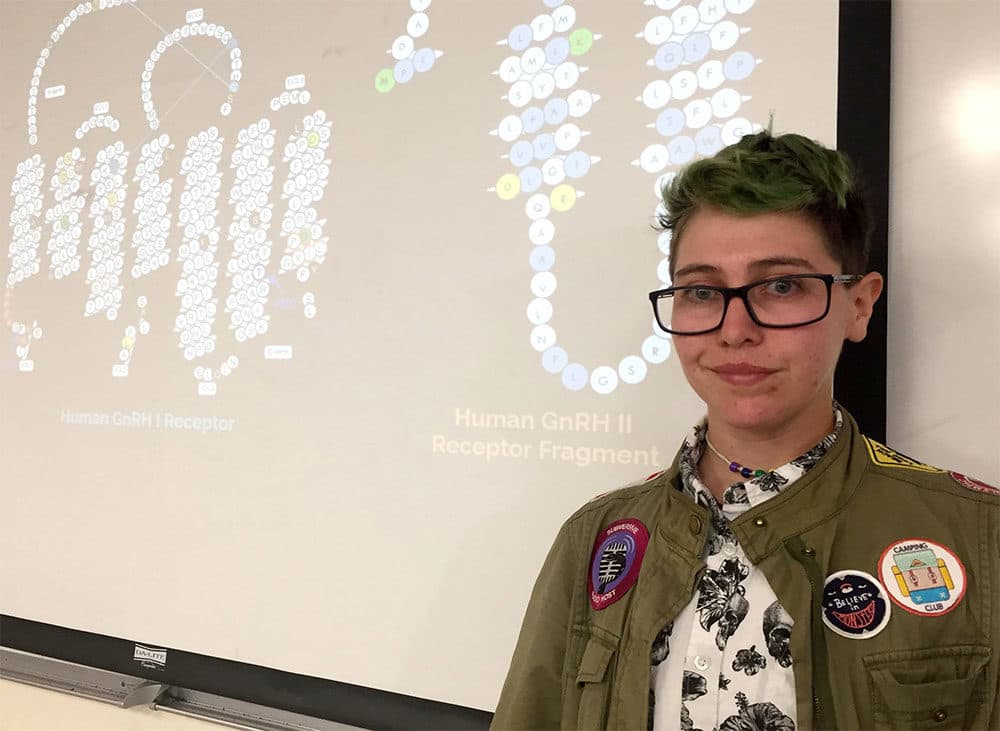 The mood was upbeat but bittersweet at Hampshire College as seniors wrapped up their studies. It could be the final graduating class before drastic changes are made to the experimental school in Amherst.
Every time the bell rang outside Hampshire's library, it meant another student had finished their senior thesis. The Division III project is one hallmark of a Hampshire education, known for its free-spirited community, grade-free evaluations and intense academic inquiry.
Students design their yearlong Div III in collaboration with a faculty committee. Topics tend to be wide-ranging and eclectic — like the accessibility of doula care, or cortisol levels in zebrafish.
Students have been presenting their projects for the past couple weeks.
Dean Elizabeth Conlisk read an original poem at a celebration lunch for the School of Natural Science as people lifted glasses of sparkling apple juice.
"It's time to toast our newest alums, for the work on their very Div IIIs," she recited. "From birth to Boggs, to low-mass stars, though none on the infamous Frisbee."
After a silent beat, Conlisk said: "You guys don't get that?" Then the group laughed.
That was a nod to the somewhat flaky — and many say unfair — impression people have of Hampshire. There was once a Div III about Frisbees that Conlisk said, with a groan, "is forever our reputation."
Faculty are trying to keep up a celebratory tone, Conlisk said, but this is not a typical graduation season.
"It is bittersweet," she said. "It'll feel a lot smaller next year, and we don't know exactly what our future looks like."
Facing a financial crisis this winter, the school decided not to admit a full freshman class for next year. At first, there was talk of merging with another college, but now Hampshire is trying to remain independent through a massive fundraising effort — in part, to preserve the Div III process.
"There's more of an appreciation of something that maybe we had almost become accustomed to — because it was always there, and we always did it, and now we realize it's threatened," Conlisk said.
It couldn't have been an easy semester to hunker down on a major project. There were campus protests, staff layoffs, national media attention and a successful campaign to oust the college president and top board members.
"I want [my younger friends] to have the Hampshire that I've had — to have a school where they can exist beyond a grade."

Senior Savvy Cornett
Savvy Cornett, a Hampshire senior, was part of a months-long student sit-in at the president's office. Cornett would work in the science lab every morning, and then take a spot in the sit-in every afternoon.
"It was hard, but honestly, I think it was easier being a part of it, and working on my Div," Cornett said. "It gave me something to do instead of just sort of sit and worry."
Cornett said that even though they're graduating, they feel invested in Hampshire's educational model.
"My friends that are in the third, and second, first year, I want them to have the Hampshire that I've had — to have a school where they can exist beyond a grade," Cornett said.
On the other side of campus, the School of Cognitive Inquiry was celebrating its Div III presentations. Topics included ethnic identity in Boston's Chinatown, and how the body reacts to capitalist exploitation.
One of the day's more provocative entries was from student Ella Hunt: a critical analysis of the history of the vaginal hygiene industry.
Hunt said it was initially just something she found interesting.
"And then I was like, oh wait, I could actually do this, as like, a field of study, because it's Hampshire, and I can do whatever I want," she said.
Hunt said she's grateful she got the Hampshire education she expected, but she feels conflicted about graduating.
"Someone that I know compared it to, like, being the last person off a sinking ship, which is really sad," Hunt said. "And I don't think that's how we should be thinking of it. Because I do think that it's the students and staff and faculty that make Hampshire what it is, and I think it will very much live on."
Next year, many of those faculty will be on leave, on reduced hours or retiring, and Hampshire will only have about 600 students total — around half the current number.
Before all that, on May 30, school officials will have to appear in front of the New England Commission of Higher Education to make a case why Hampshire should remain an accredited college.
This story was first published by New England Public Radio.
This segment aired on May 17, 2019.