Study: More Women Than Men Attend Mass. Colleges. Far Fewer End Up Running Those Colleges
Women make up a majority of the state's college and university students, but comprise only 37% of the presidents of those institutions, according to a new study released Monday by the Eos Foundation.
The nonprofit examined the leadership of the state's 92 colleges and universities, and found a power gap — and a pay gap — for women.
"They tend to be running the community colleges, the smaller schools and fewer of them are running the major universities, which pay the most," said Eos Foundation president Andrea Silbert.
The study did show a slight gain from the organization's 2018 report, which found women made up just 31% of university and college presidents in the state.
This year's report found women hold just 22% of the presidencies among the state's largest universities — and none are women of color. There are no female presidents among the nine state universities, and 30 institutions have never had a female president, according to the study.
The lack of gender parity exists despite a pipeline full of female candidates in key higher education roles. According to the study, women make up 48% of provosts and 55% of all deans and senior leadership teams in the state's colleges and universities.
While women are less likely to hold the top leadership positions in higher education, the study points to a bright spot: Half of the 14 presidents appointed in the last academic year were women.
"There is still a long way to go particularly with our major universities, but what's critical to look at is the direction and the fact that the incoming class is 50-50," Silbert said. "We could within five or 10 years reach parity in this group so that the higher ed industry could be the model industry in Massachusetts to reach gender parity long before the corporate sector does."
As with other sectors, the study found a lack of women leading the boards of the state's colleges and universities. Among the state's 18 major institutions — those with doctoral programs — none have a woman as board chair, the report found. And women make up less than quarter of the state's public college and university boards, according to the study.
The study did note a greater level of diversity among community colleges. Of the state's 15 institutions, there are eight female presidents, including four women of color, according to the study.
"Community colleges over the last 10 to 20 years have focused very deeply on the idea of equity and diversity, because our student populations are different," Bunker Hill Community College President Pam Eddinger said. "The average age is like 26, 27. So we tend to look at talent in a different way, I believe, and we're much more sensitized to the fact that we need to be more inclusive."
To do that, Eddinger said colleges have to make diversity part of their hiring and recruitment policies. Bunker Hill Community College has a chief equity officer and requires search committees and applicant pools to represent a diverse range of people, she added. The study recommends that other colleges and universities implement similar measures, in addition to examining their recruitment practices and providing unconscious bias training for senior leadership.
"If your search committees are not diverse, both in gender and in racial terms," Eddinger said, "you can end up hiring a lot of people who look like your search committee."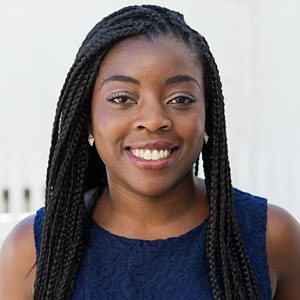 Zeninjor Enwemeka Reporter
Zeninjor Enwemeka is a reporter who covers business, tech and culture as part of WBUR's Bostonomix team, which focuses on the innovation economy.