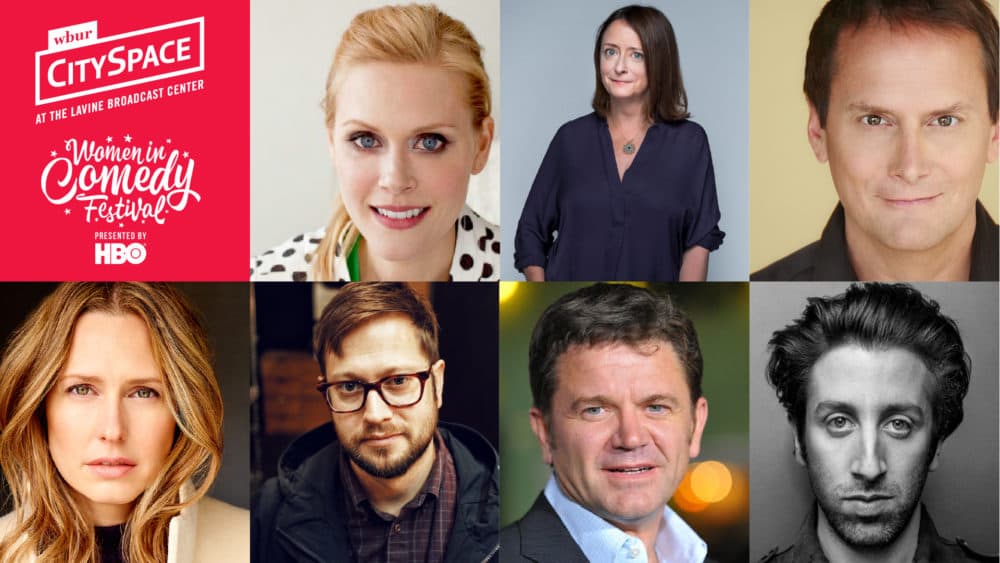 Time & Date
Saturday, May 9, 2020, 7:00 pm
Doors open at 6:00 p.m.
Event Location
WBUR CitySpace 890 Commonwealth Avenue Boston, MA 02215Open in Google Maps
Ticket Price
$46.00
Due to circumstances outside of our control, we regret to inform you that Theme Park Improv has been postponed until further notice. Hang on to your tickets, we'll email you (and post updates here) as soon as a new date is announced.
The Theme Park Improv improvisers take a single suggestion of a theme from the audience, and wing an entire set of fast-paced long-form scenes and characters, based on stories from a special guest monologist. They've sold out shows at SF Sketchfest, Colossal Clusterfest, The Bridgetown Comedy Festival, Moontower, Bentzen Ball, The Vancouver Comedy Festival and The Rooftop Comedy Fest.
This event is part of Boston's Women In Comedy Festival. 
The Theme Park Improv Players:
Janet Varney is a writer, producer, improviser, and Emmy-nominated actress. She stars in the IFC horror comedy series "Stan Against Evil," and as Becca on FXX's "You're the Worst" and as herself recurring on "@midnight." She hosts the innovative podcast The JV Club (featuring guests including Sarah Silverman, Tig Notaro, Christina Hendricks and over 200 more) and was the voice of the title character on Nickelodeon's wildly popular animated show, "The Legend of Korra."
Jessica Makinson is an LA based actor/improviser/writer/director. She has been a series regular on "South Park," "Halfway Home" and "Trigger Happy TV," all for Comedy Central. Other credits include "The Great Indoors," "Maron" and '"Modern Family." As an alumnus of iO West and UCBLA, she can currently be seen doing long form improv on Saturday nights at 9pm in The Armando Show at iO West and with Theme Park Improv at comedy festivals around the country.
Simon Helberg is best known for portraying "Howard Wolowitz" in CBS' award-
winning smash hit "The Big Bang Theory," which was the number one scripted
show on television and recently wrapped its 12th and final season.
Rachel Dratch was a cast member on "Saturday Night Live" for 7 years. She appeared in a bunch of TV shows, including "King of Queens" where she had a recurring role as Patton Oswalt's girlfriend. She also was in the 2019 Netflix film "Wine Country" with Tina Fey, Maya Rudolph and Amy Poehler.
Cole Stratton is the co-founder of SF Sketchfest, the San Francisco Comedy Festival. Along with Janet Varney, he has written and performed comedic commentary to films for RiffTrax.com, helmed by MST3K's Michael J. Nelson.
John Michael Higgins is a member of the Christopher Guest "company," starring in such films as "Best in Show" and "A Mighty Wind." After playing David Letterman in the HBO film "The Late Shift," Higgins' career became centered in Hollywood. In addition to many animated series (like "Legend of Korra"), he has another twenty years of appearances on television shows ranging from "Seinfeld" to "CSI," from "Ally McBeal" and "Arrested Development" to "Kath and Kim" and the recently deceased "Happily Divorced."
Michael Hitchcock has appeared in all of Christopher Guest's award-winning films "Best in Show," "For Your Consideration," "A Mighty Wind" and "Waiting for Guffman," and can be seen in his latest film "Mascots." Other film includes "Super 8," "Bridesmaids," "Serenity, "Wild Hogs," "Happy, Texas" and "Heartbreakers." TV includes "Up All Night," "Curb Your Enthusiasm," "Glee," "United States of Tara," "Men of a Certain Age," "Entourage," "Party Down," "Desperate Housewives," "The League," "Pushing Daisies" and "Arrested Development."