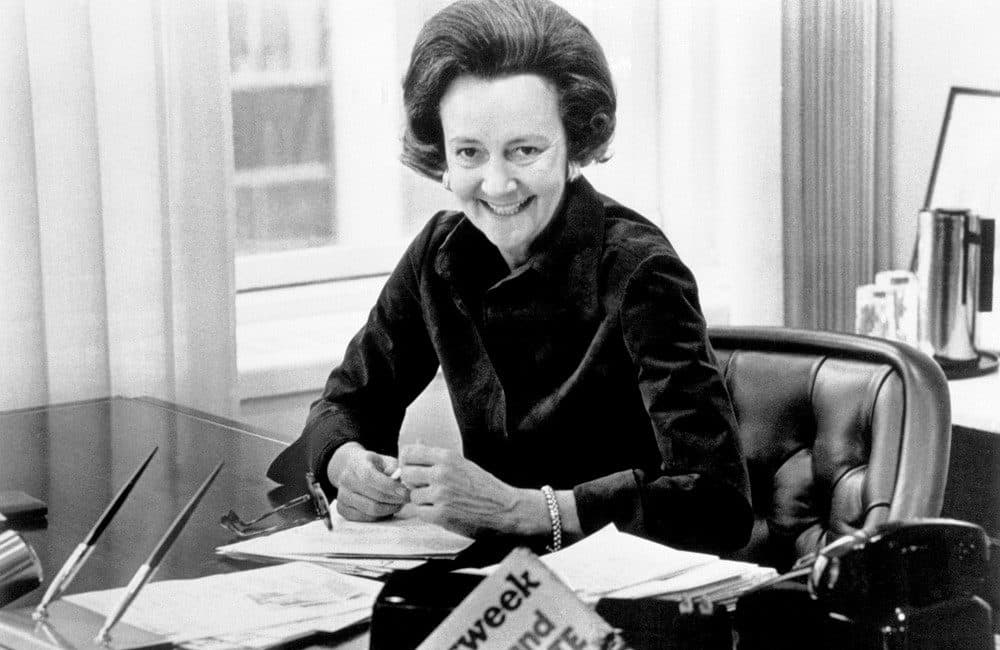 Time & Date
Monday, September 20, 2021, 6:30 pm
Both in-person and virtual tickets are available for this event. Doors open at 5:30 p.m.
Event Location
WBUR CitySpace Event890 Commonwealth Avenue Boston, MA 02215Open in Google Maps
Ticket Price
$5.00-15.00
In conjunction with the New-York Historical Society exhibit, "Cover Story: Katharine Graham, CEO," Here & Now co-host Robin Young moderates a conversation about the progress women have made as leaders in news media throughout history and particularly in the last year.
Introductory Remarks 
Gloria Steinem - writer, lecturer, political activist, and feminist organizer (appearing virtually)
Panelists
Jeanne Gardner Gutierrez - curatorial scholar in women's history, New York Historical Society
Linda Henry - CEO, Boston Globe Media Partners
Mitra Kalita - co-founder and CEO, URL Media
Join the conversation! Submit questions before or during the event here.
CitySpace Tickets (in-person)
General: $15.00 (general admission)
Virtual Tickets (livestream)
$5.00 (only one ticket needed per household)
Ways To Save 
WBUR Sustainers save $5.00 on general and virtual tickets to this event online or at the door with your Membership card. WBUR Members save $5.00 on general tickets online or at the door with your Membership card.
To apply the discount to your ticket purchase online, you'll need to enter a promo code. The code is sent to you in your monthly events newsletter. You can also get your code by emailing membership@wbur.org.
About "Cover Story: Katharine Graham, CEO"
Native New Yorker Katharine Meyer Graham never expected to become the president, publisher, and CEO of the Washington Post, but she thrived in that position—and even helped end a war and a corrupt U.S. presidency by revealing the Pentagon Papers and Watergate to an outraged public. On display in the Joyce B. Cowin Women's History Gallery at the New-York Historical Society,  this exhibition examines a transformative period in Graham's life, as her devotion to the Post helped her grow from a self-effacing widow into an authoritative, decisive media executive.