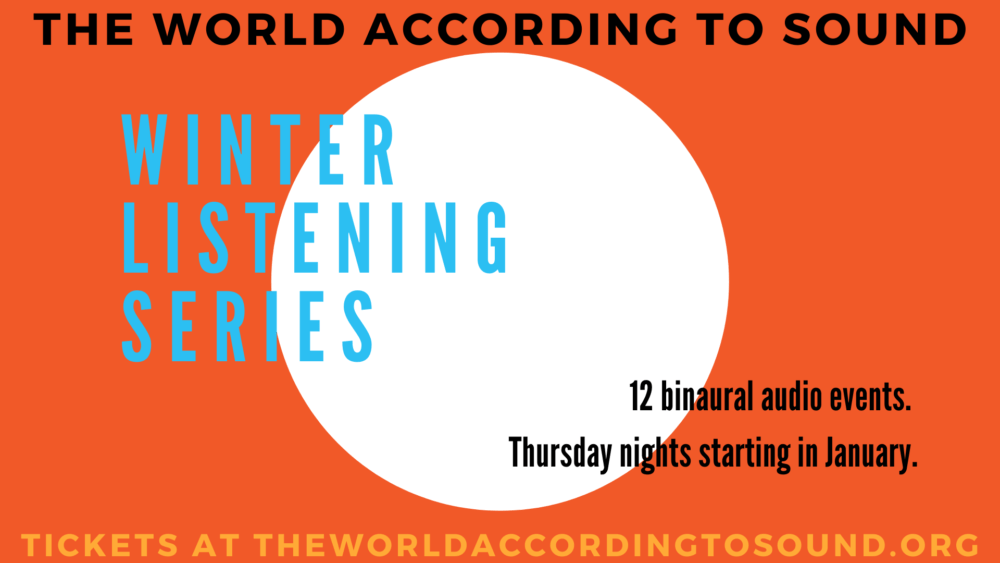 Time & Date
Thursday, January 27, 2022, 6:00 pm
All events begin at 6:00 p.m. Pacific time. Full season and half season passes are available for the entire series in addition to individual tickets.
Event Location
The World According To Sound Virtual EventOpen in Google Maps
Ticket Price
$25.00
WBUR is proud to be a media partner of  The World According to Sound's Winter Listening series 2022. Use the code WBUR25 for 25% off all season passes and individual show tickets.
Every Tuesday from January 6 - March 24, The World According to Sound will stream binaural audio to people listening at the same time, all around the world. Attendees will be mailed an eye mask and listening instructions for how to tune into shows made with new and reimagined work by musicians like Matmos and the Kronos Quartet, radio producers like Tony Schwartz and sound artists like Bill Fontana, Chris Watson, and Hildegard Westerkamp.
The shows are a mix of archival material, field recordings, compositions and found sound. You'll hear antiphonal duets, the world's largest instrument, spider mating calls, a particle accelerator, a pulsar, the inside of an organ, arctic ice turned into music, 1940's Berlin, a body decomposing, a person sitting in a room and everything eaten in a single year by some Englishman.
The listening series is an evolution of The World According to Sound, a podcast and live audio show where listeners sit in the dark surrounded by a ring of loudspeakers. Producers Chris Hoff and Sam Harnett began the project as an attempt to make radio where there was as little talking as possible, a refuge from modern media's deluge of information and chatter.
TRANSPOSITION
Thursday, January 27, 2022
6:00 PM — 7:30 PM (Pacific Time)
Just a fancy way of saying that we're going places. We'll visit Cairo in the 30s, Berlin in the 40s, New York City in the 50s, an iceberg in Antarctica, the deepest place on earth, Alvin Lucier's room and a curious parade of forest elephants in the Dzanga Bai. Q&A with Hildegard Westerkamp.
KRONOS QUARTET
Thursday, February 3, 2022
6:00 PM — 7:30 PM (Pacific Time)
This is a night with the Kronos Quartet—the music, sonic experiments and sounds that inspire its work, beginning with the chord from Beethoven that got the whole group started. Q&A with David Harrington.
BIRDS
Thursday, February 10, 2022
6:00 PM — 7:30 PM (Pacific Time)
Birds. Quiet birds. Loud birds. Birds that never existed. Birds heard by Tiresias, Greek bird-interpreter par excellence. Birds that mimic people. People that mimic birds. From the falcon-headed deity Horus to phoenixes rising from the ashes—humans are bound to the bird. We're teaming up with BirdNote for an evening of all things ornithological.
BODIES
Thursday, February 17, 2022
6:00 PM — 7:30 PM (Pacific Time)
There are a lot of ways to make a body produce noise. Jacob Kirkegaard knows all about that. The sound artist meticulously recorded an autopsy and a body decomposing. We're celebrating the whole range of the live human body too: there's a musical tooter, popping knees, throbbing brain arteries and grunts aplenty. Q&A with Jacob Kirkegaard.
BILL FONTANA
Thursday, February 24, 2022
6:00 PM — 7:30 PM (Pacific Time)
An evening with a pioneer in sound-sculptured sensoria. We'll listen through the expanse of Bill Fontana's career, from the sonic landscape of Australia during a solar eclipse to the Acqua Vergine aqueducts underneath Rome. Through Fontana's work we get an experiential education in sound recording, projection and listening. Q&A with Bill Fontana.
RADICAL RADIO DOCUMENTARY
Thursday, March 3, 2022
6:00 PM — 7:30 PM (Pacific Time)
One of the most ambitious NPR documentaries ever made has a lot to say about cult leaders, but also about journalism and objectivity. The subject of this evening is a first-person account of Jonestown delivered by a person who wasn't there at all. Afterwards, stalwart public radio journalists Chris and Sam will talk with an NPR producer from the network's early days about the state of American journalism, and why public radio has forgotten that format—and not just content—matters if you want to make something meaningful. Q&A with Deb Amos.
SOLITUDE
Thursday, March 10, 2022
6:00 PM — 7:30 PM (Pacific Time)
Alienation, loneliness, solitude—different sides of a common coin. The mating call of the last remaining bird of its kind. Music made in a cave. There will be a contrapuntal train trip up into Canada's frozen north, along with a journey deep inside the fjords and glaciers of the Scandinavian Arctic Circle. Q&A with Melissa Pons.
MATMOS
Thursday, March 17, 2022
6:00 PM — 7:30 PM (Pacific Time)
The only pure music show in the series, brought to us by two electronic musicians who make melodies from hospital apparatus and washing machines and bovine uteri. An original work made for The World According to Sound. Q&A with Martin and Drew.
SOUNDS OF THE FIRESIGN THEATRE
Thursday, March 24, 2022
6:00 PM — 7:30 PM (Pacific Time)
Five decades of The Firesign Theatre's satirical, surreal comedy and drama, all through sound. We'll listen to how they used microphones from the 1930s, and put listeners inside giant arenas and car chases and futuristic dystopias. A night of quadraphonic recordings (stereo is so passé), bozos, dear friends and a dwarf with a pair of pliers. Live Q&A with The Firesign Theatre members Philip Proctor and David Ossman.