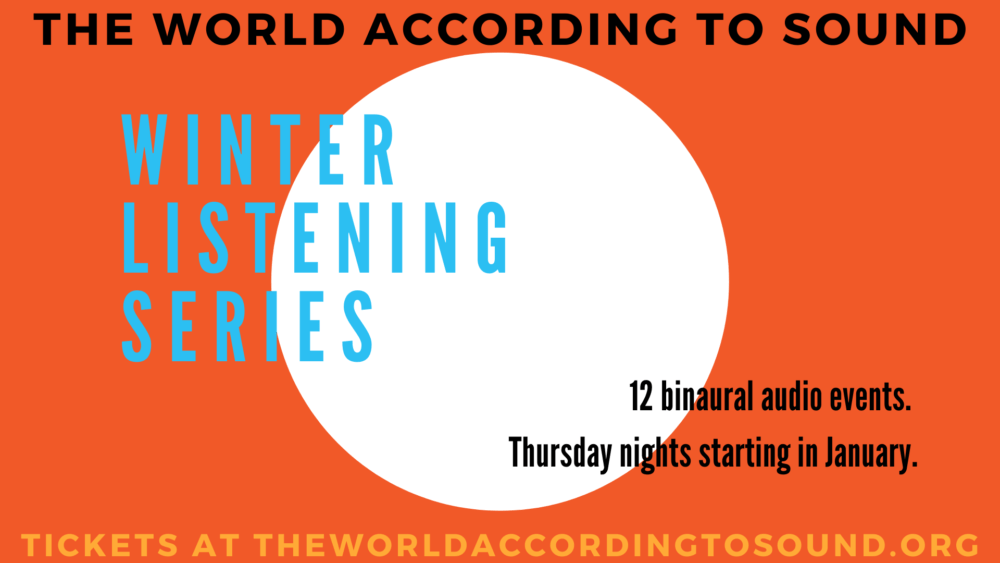 Time & Date
Thursday, March 24, 2022, 6:00 pm
All events begin at 6:00 p.m. Pacific time. Full season and half season passes are available for the entire series in addition to individual tickets.
Event Location
The World According To Sound Virtual EventOpen in Google Maps
WBUR is proud to be a media partner of  The World According to Sound's Winter Listening series 2022. Use the code WBUR25 for 25% off all season passes and individual show tickets.
Every Tuesday from January 6 - March 24, The World According to Sound will stream binaural audio to people listening at the same time, all around the world. Attendees will be mailed an eye mask and listening instructions for how to tune into shows made with new and reimagined work by musicians like Matmos and the Kronos Quartet, radio producers like Tony Schwartz and sound artists like Bill Fontana, Chris Watson, and Hildegard Westerkamp.
The shows are a mix of archival material, field recordings, compositions and found sound. You'll hear antiphonal duets, the world's largest instrument, spider mating calls, a particle accelerator, a pulsar, the inside of an organ, arctic ice turned into music, 1940's Berlin, a body decomposing, a person sitting in a room and everything eaten in a single year by some Englishman.
The listening series is an evolution of The World According to Sound, a podcast and live audio show where listeners sit in the dark surrounded by a ring of loudspeakers. Producers Chris Hoff and Sam Harnett began the project as an attempt to make radio where there was as little talking as possible, a refuge from modern media's deluge of information and chatter.
SOUNDS OF THE FIRESIGN THEATRE
Thursday, March 24, 2022
6:00 PM — 7:30 PM (Pacific Time)
Five decades of The Firesign Theatre's satirical, surreal comedy and drama, all through sound. We'll listen to how they used microphones from the 1930s, and put listeners inside giant arenas and car chases and futuristic dystopias. A night of quadraphonic recordings (stereo is so passé), bozos, dear friends and a dwarf with a pair of pliers. Live Q&A with The Firesign Theatre members Philip Proctor and David Ossman.