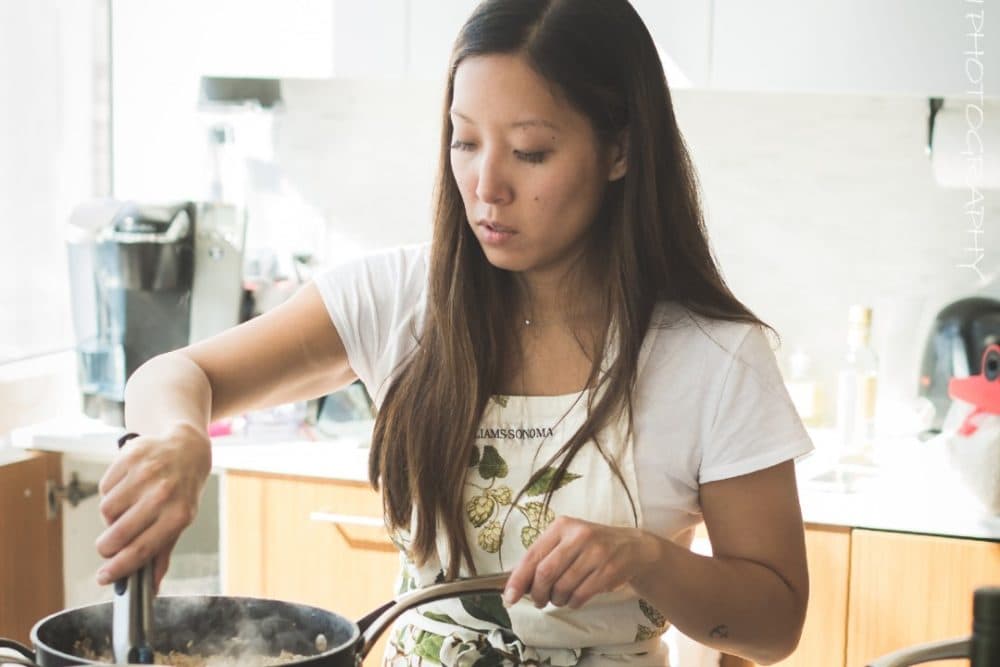 Time & Date
Tuesday, May 17, 2022, 6:30 pm
Event Location
WBUR CitySpace890 Commonwealth Avenue Boston, MA 02215Open in Google Maps
Online sales are closed. In-person tickets are available at the door until we reach capacity.
Curated Cuisine is a monthly series examining all things edible, from the chefs cooking the food to the writers reviewing the recipes. Meet the people shaping the food industry, both local and national and enjoy a post-show bite inspired by the conversation.
Joanne Lee Molinaro, better known as the Korean Vegan, uses plant-based cooking to refresh and re-inspire classic Korean cuisine. A lawyer-turned New York Times best-selling author, she found a home on TikTok sharing 60 second recipes, commentary on social justice issues and stories about her family's immigrant journey from North Korea.
Join us for a conversation with Molinaro about her take on Korean food, her status as a vegan icon and her wildly popular TikTok videos. Irene Li, co-founder of Mei Mei Restaurant Group and Prepshift, moderates. In-person attendees will enjoy a bite from Molinaro's cookbook after the conversation.
Copies of Molinaro's cookbook, "The Korean Vegan Cookbook: Reflections and Recipes from Omma's Kitchen" will be available for purchase at the event. Molinaro will sign books after the conversation. Virtual ticket holders can purchase the book from our bookstore partner Brookline Booksmith here.
This event is co-produced by Boston University Metropolitan College Programs in Food & Wine.
CitySpace Tickets
Premiere: $25.00 (includes reserved seating) SOLD OUT
General: $15.00
Student: $5.00 SOLD OUT
Virtual Tickets
$5.00 (only one ticket needed per household)
Ways To Save
WBUR Sustainers save $5.00 on premiere, general and virtual tickets to this event online or at the door with your Membership card. WBUR Members save $5.00 on premiere and general tickets online or at the door with your Membership card.
To apply the discount to your ticket purchase online, you'll need to enter a promo code. The code is sent to you in your monthly events newsletter. You can also get your code by emailing membership@wbur.org.
Registrants may be contacted by CitySpace about this or future events.
---
Cooked: The Search for Sustainable Eats
Climate change is overwhelming, but many New Englanders are looking for ways to do something about it by "living greener." We think we can help with Cooked, our new newsletter course! In just three weeks, we'll give you the know-how on what food choices actually make an impact in New England, and you'll be empowered to do something meaningful about climate change. Learn more and sign up here.