Are Profits Winning Over Passion In College Football?
15:59
Play
This article is more than 7 years old.
I love college football but there's too darn much of it on television these days. It used to be that college games were played only on Saturday afternoon, but the 2013 season started Thursday night. There are games Friday night, Saturday night, Sunday night and Monday night. TV drives the bus these days for all sports, but especially college football.
The battle between passion in profits is at the heart of "Fourth And Long: The Fight For The Soul Of College Football," an excellent new book by my friend John U. Bacon (see excerpt below). I consider John a friend even though he's from Michigan and I'm from Illinois and I've endured years of seeing John's Michigan Wolverines pound my Illinois Fighting Illini in Big Ten games. John's conversation with Here & Now co-host Jeremy Hobson reveals the tug of war that's playing out in the Big Ten and in college football.
The profits are just dragging the passion through the mud here. It's not even a contest.

John U. Bacon
Of course, the passion for the game still exists among the players and the fans who flock to tailgate parties outside the Big House in Ann Arbor and Memorial Stadium in Champaign-Urbana. But the gap between them and the highly-paid coaches and the athletic directors driven by the bottom line keeps expanding.
"Right now the profits are winning in a landslide," John said. "The profits are just dragging the passion through the mud here. It's not even a contest."
I remember when there used to be maybe one college football game on television every Saturday, mostly on ABC, often with Chris Schenkel and Bud Wilkinson calling the action. In 1966, Michigan State played Notre Dame in what was at the time called "the game of the century."
The Spartans were 9-0 and ranked second in the nation. The Irish were 8-0 but they were ranked first in the nation. This game wasn't shown on TV live, as hard as that is to believe today, because in those days teams were limited in the number of times they could appear on television. But there was so much pressure that ABC relented and allowed the game to be shown on tape delay.
It was excruciating waiting to watch that game. My mom had already heard the final score, but I made her promise not to tell me what had happened. In the end, it didn't live up to the hype. It ended in a disappointing 10-10 tie with Notre Dame basically running out the clock in the 4th quarter, not really trying to score to win the game. Even so, watching it was special. Not anymore.
These days, I mostly listen to college football games on my transistor radio. The picture is better.
Alex Ashlock is a producer for Here & Now and director of the show. He tweets @aashlock.
Book Excerpt: 'Fourth And Long'
By John U. Bacon
But the beauty is this: the fans, alums, and players at Ohio State, Penn State, and Northwestern—and dozens of other schools—all feel the same way. When college teams compete, it isn't just a game between two teams. We see it as a battle between two ways of life. Is there a single professional team that can claim anything like this?
Professional teams don't stand for anything more than a can of pop. The players go on strike, the owners lock them out, and they repeat the cycle every five or ten years, as needed, for more money. Their fans respond in kind, often caring less about the actual teams in their state than the fantasy teams on their computers—or the point spreads in their paper, and the wallets in their back pockets.
As Jerry Seinfeld said, professional players are traded so often, you're really just cheering for your team's jerseys. Those teams don't even represent their cities—six of the NFL's thirty-two teams have moved a total of eight times since the Super Bowl started in 1967. If the Rams play in Los Angeles or St. Louis, what difference does it make?
Of the 124 FBS Division I teams, not one has ever moved, gone on strike, or been locked out. Ever.
College athletes are more passionate playing for a scholarship than pro athletes are playing for millions. And we admire them more for this very reason. It's the difference between citizen soldiers volunteering for the army and hired Hessians. Give us the doughboys, the G.I. Joes, and the grunts fighting for a cause.
And this is why we watch: not for perfection, but passion—the same reason over a million fans watch the Little League World Series every summer. This point is easily proven: the worst team in the NFL would crush the best team in college football, every year. Yet college football is the only sport in the world that draws more fans to its games than the big league teams it feeds. The attendance at Michigan, Ohio State, and Penn State home games typically averages 50 percent more than that of the NFL teams in those states—and often doubles it. No minor league baseball or hockey team comes close to matching the attendance of their parent clubs.
This basic truth escapes both the proponents of paying players and the NCAA executives who try to squelch minor leagues from starting: college football is selling romance, not prowess. If ability were the only appeal, we'd move NFL games to Saturday and watch those games instead. But if you lose the romance of college football, you will lose the fans of college football.
Joining a hundred thousand like-minded strangers solves a modern problem, too. The Dalai Lama and Mother Teresa have both noted that the great disease of Western civilization is loneliness. Yes, it's possible to be lonely in a crowd—but not this one.
Studies show our endorphins spike when we're marching in formation, singing in unison, or cheering together in a stadium. Where else can you be certain a hundred thousand other people are feeling exactly what you're feeling, exactly when you're feeling it? This is why such places are more important now than ever.
Think about it. The Big Ten's twelve teams do not play one game this season that's not televised. You can sit back in your easy chair right at home and watch every game for free. Likewise, every song in the world can be purchased for a few bucks, and every movie is on DVD. Yet we still go to concerts, movies, and games, just as our ancestors did almost century ago. If Beethoven, Humphrey Bogart, or Fielding H. Yost visited those places today, they would think almost nothing had changed.
We need to be together. We need to share something we care about with strangers. And to fill that need, you could do worse than Big Ten football.
Dr. Ed Zeiders, the pastor of St. Paul's United Methodist Church right in downtown State College, has seen what the football team can do for the faithful in ways others might not.
"We are desperately needy," he told me. "We need something to cheer about and rally around. Our culture is devoid of these things.
"We need a place to stand, and a people to stand with, and a cause to stand for. That is not original with me.  That came  out of World Methodism. And those three propositions hold the key to healthy and value-oriented living.
"I've taught and preached that for a lot of years.
"I have this belief that academics should be that unifying principle, but the evidence points to something else.
"Sports has the capacity to make that happen. That can get skewed and twisted, especially in the marketing side of the equation, but my interest in sports is more in the community that forms around them.
"Obviously, football's an important consideration  for us—they've been very good here for many, many years—but part of what my wife and I enjoy is the friendships we create in the stands. There is an ease with which sports fans connect with each other. The sport has a tendency to create an environment, and a way for people to live vicariously through their teams. And in the case of Penn State it has the potential to hold up something that is admirable and unifying."
I've spent four of the past five years following Big Ten football players at close range, and I can tell you that, with few exceptions, they are hard- working, honest guys who care deeply for their school and their team- mates. For many fans, when their favorite running back breaks through the line into the end zone, then simply hands the ball to the ref and celebrates with his teammates, he represents our cherished Midwestern values at their best.
One Wolverine fan who lost his dad at a young age wrote to Michigan's athletic director that "Michigan football is my father."
A foreign concept, perhaps. But not to us.
Our love for college football is irrational—and that's where they've got us.
Excerpted from the book FOURTH AND LONG by John U. Bacon. Copyright © 2013 by John U. Bacon. Reprinted with permission of Simon & Schuster.
This segment aired on August 30, 2013.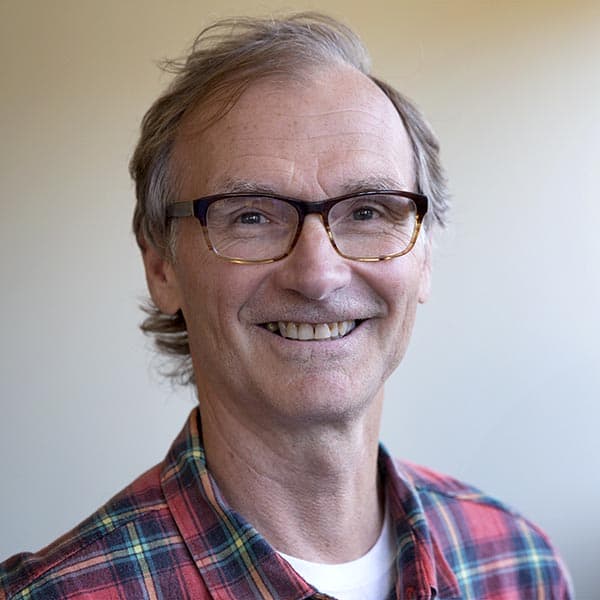 Alex Ashlock Producer, Here & Now
Alex Ashlock has been a producer for Here & Now since 2005. He started his WBUR career as senior producer of Morning Edition in 1998.