True Story Inspires Novel Of Familial Abduction
09:40
Play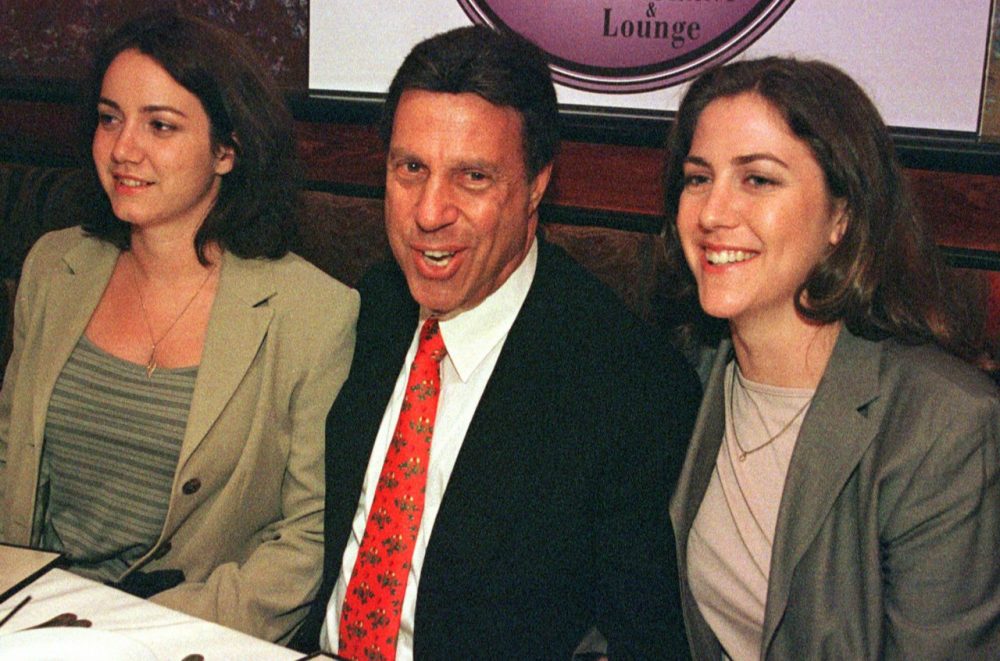 This article is more than 8 years old.
James Whitfield Thomson's new book "Lies You Wanted to Hear" centers around the desperate choices that people make when they believe they have no alternative.
When Massachusetts couple Matt and Lucy's marriage falls apart, Matt — believing that Lucy is an unfit mother — abducts the couple's children, tells them that their mother is dead, and starts a completely new life.
Thomson tells Here & Now's Robin Young that the inspiration for his book came from Boston Globe articles about Stephen Fagan, who abducted his two daughters in 1979. He told them that their mother had died in a car crash and raised them as a single father.
When Fagan was arrested, almost two decades later, his daughters stood by him and refused to meet with their mother.
Book Excerpt: 'Lies You Wanted To Hear'
By James Whitfield Thomson
"I hate flying," the woman in the seat next to Lucy says.
"Me too," Lucy agrees, though it isn't true.  She never worries about her plane crashing, not with all the human failings that tear lives apart.
As the plane roars down the runway, the woman whimpers and crosses herself, and Lucy reaches out and takes her hand. When they are safely aloft, the pilot making a slow, gentle turn northward, Lucy lets go.
"Thank you," the woman says. "I'm going to visit my daughter in New Hampshire and missed my connection.  I didn't want to fly in this weather, but…"  She shudders and gives herself a little hug.
Lucy nods but doesn't respond.  She is on her way home after three days at the mid-winter conference of the American Library Association.  She'd been hoping to catch the five o'clock shuttle to Boston but got stuck in traffic and ended up on the six; then the plane sat on the tarmac for nearly an hour waiting to take off and had to go back to the gate for deicing.  If she's lucky she'll be on the ground by eight.
The woman takes a sky blue ball of yarn from a canvas bag and goes to work, her knitting needles pecking like a pair of hungry birds.  She's about fifty, wearing a purple sweat suit and matching reading glasses.  The woman notices Lucy watching her out of the corner of her eye.
"I'm going as fast as I can," she says.  "But I don't think I'll finish it on time."
"What are you knitting?" Lucy asks.
"A sweater for my new grandson.  My fourth.  No girls yet."
"Come on, you're not old enough to have grandkids."
"I got started early."  The woman rolls her eyes.  "Way too early.  What about you?  Do you have children?"
"Two," Lucy says.  "A boy and a girl.  Today's my son's birthday."
"Wonderful.  How old?"
"Nine."
"Oh, that's a great age.  Same as my grandson Connor."  She wants to tell Lucy all about him and the other boys — long stories about their antics, one already a junior hockey star — and Lucy is grateful there are no more questions about herself.
When they land the woman thanks Lucy for listening.  Then she looks at her watch and says, "At least you'll be home in time to see your son blow out the candles."
Lucy smiles, trying to imagine what a joy that would be.
***
The taxi driver lets Lucy out at Le Lapin Vert, a little bistro on Centre Street a few blocks from her house in Jamaica Plain.  She sits in the back with her suitcase under the table and orders escargots and a glass of chardonnay.  There's a map of France printed on the paper place mats.  In the summer she likes to rent a car and explore the French countryside.  She keeps to the back roads, no plans or reservations.  The taste of the escargots brings back memories of a restaurant in Venasque, a late dinner where she was the only patron, the chef joining her afterward for a cigarette and a glass of wine.  Lucy studies the map on the place mat and conjures up images from her travels: the wild horses of the Carmargue, the cave paintings at Les Eyzies, the brightly colored anchovy boats at Collioure.  She'd like to buy a cottage in St. Benoit someday and plant a small vegetable garden, go to the abbey every evening and listen to the monks chant vespers in the ancient crypt.
A handsome man in an Irish fisherman sweater smiles at her on his way to the men's room, as if they share a secret past.  Lucy puts some money on the table and leaves without waiting for the check.
When she gets home, Frodo and Sam are asleep on the couch.  Frodo yawns and tries to shake himself awake while Sam curls up against the light.
"Some watchdog you are," Lucy says as Frodo comes over and wags his tail.  He looks like a cross between a boxer and a corgi: reddish-brown coat, short legs and a blunt snout, one bent ear, a tail that sticks straight up.  When a man at the dog park asked what breed he was, Lucy laughed and said, Albanian goatherd.
Frodo goes to the back door and Lucy lets him out into the yard.  She takes off her heels and puts on a pair of slippers, checks the thermostat and turns up the heat.  Sam comes into the kitchen and meows and Lucy puts some fresh kibble in his bowl.  The messages on the answering machine are from her mother and Jill and Carla — one melancholy, one anxious, one offhand — each in her own way acknowledging what day it is but none of them willing to come out and say it.  The mail is nothing but solicitations and bills.  Lucy pours a glass of wine, then goes to the study and sits at her desk, its walnut surface scarred with nicks and glass rings and one long burn from a cigarette ash that could have set the whole house on fire.  In the lower left-hand drawer there's a stack of leather-bound journals.
She takes out the one on top and opens it to the place marked by the thin red ribbon attached to the binding.  For several years she wrote almost every day; now weeks go by without a word, her anger and sorrow shriveled to a hard kernel stuck permanently in the back of her throat.  She smoothes the journal open with the heel of her hand and does the math quickly on a slip of scrap paper, feeling guilty that she cannot recall the numbers instantly and recite them down to the minute.  She writes with a fountain pen; there is something comforting in the permanence of the blue-black ink soaking into the page.
1-25-90 (6 years, 7 months & 15 days gone)  Happy birthday, Nathan.  Nine years old today!  That is so hard to believe.  I can almost see you laughing, a shock of dark brown hair falling across your forehead, your grown-up teeth still too big for your face.  Did you have a party after school today or will you have to wait till the weekend?  An afternoon of sledding on a snowy hillside (no girls allowed), hot chocolate and cake afterward, wet socks and gloves drying by the fire.  Or will it be a picnic on a sunny beach, you and your pals playing Wiffle ball and riding your boogie boards in the surf?  Is there a special present you're hoping to get?  A Game Boy?  Baseball mitt?  One of those flashy dirt bikes with a banana seat?  I remember the day I turned nine.  My grandmother took me to the Plaza for tea.  I wanted to live there like Eloise and play tricks on the staff.  Do you remember Eloise?  That was Sarah's favorite book.  Yours was Goodnight Moon.  You were only two, but you knew every word by heart.  You liked to snuggle up close to me at bedtime and pretend you were reading.  That was always my favorite part of the day.
Sam jumps up on the desk and nuzzles Lucy's hand.  She looks at her watch.  9:53. She goes to the kitchen and refills her wineglass, doesn't bother to turn off the light in the study before she heads upstairs.  On the bookshelf in the hall she finds Eloise and Goodnight Moon.  The copper washtub on the hearth in her bedroom is empty, no kindling or wood for a fire.
Lucy crawls under the covers in her clothes while Sam nestles beside her, purring and kneading.  She opens a book and reads aloud.  "In the great green room there was a telephone…"  As the bunny is saying goodnight to the socks, Lucy hears Frodo barking in the yard.  She groans and pulls the cocoon of blankets up around her neck.
"Sam?"
The cat cocks his ears and blinks at Lucy.
"Can you go down and let him in?"  She scratches Sam under the chin.  "Please, baby, go down and get him.  I'm all tapped out tonight."
Excerpted from the book LIES YOU WANTED TO HEAR by James Whitfield Thomson. Copyright © 2014 by James Whitfield Thomson. Reprinted courtesy of Sourcebooks. 
Guest
This segment aired on January 14, 2014.