What Should The President Say In His State Of The Union Speech?
08:30
Play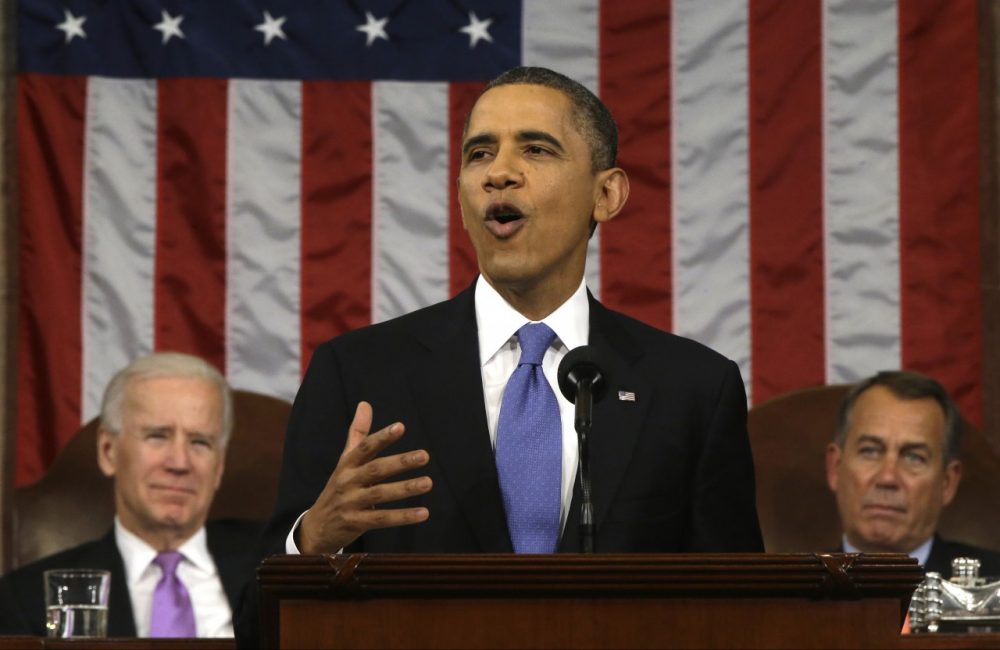 This article is more than 8 years old.
President Obama gives his State of the Union speech before Congress tomorrow night. What purpose does a State of the Union speech serve, late in a second term of an American president?
The address itself is not mandatory. And unlike often more sweeping inaugural addresses, State of the Union speeches tend to devolve into laundry lists of accomplishments and goals.
Princeton University historian Julian Zelizer joins Here & Now's Meghna Chakrabarti to discuss the upcoming speech.
Interview Highlights: Julian Zelizer
On the purposes of a second-term State of the Union address
"The first is obviously to try and help members of your own party, either in midterm elections or in the presidential election that will pick your successor. They're also important to try and explain who you are and try to state your record to the public and to the historians, in some ways, before your time is over. And finally, they still can be a mechanism to try and get issues on the table — even if you're not going to get a lot, you wanna try. So the State of the Union still has some value, even if you're a second-term president, even when you're looking more and more like a lame duck."
On how President Obama's State of the Union speeches have evolved
"Initially they were quite contentious and Obama did try to use them to outline a vision of what he wanted to do. They changed after the 2010 midterm election. There was much more talk about deficit reduction, and the president tried to balance those kinds of issues — austerity issues — with continued discussion of the ideas that animated him, like investing in America. I think recently he's trying to become assertive. I think the last State of the Union was a little more muscle behind it, and I think this one will be the same. And he feels in some ways less constrained, since he's not running for reelection, and wants to at least put up a fight and to lay out a set of ideas for him and for the party.
On President Obama building and solidifying his presidential legacy
"I think he's thinking a lot about his legacy. He gave a lengthy interview to the New Yorker where he's clearly thinking, wondering and hoping in some ways to achieve as much as he can in a very limited set of circumstances. So I think everything that he does from this point in, from speeches to executive power, is going to be about building that legacy as best he can."
Guest
This segment aired on January 27, 2014.