Violence In Egypt As Former President Goes On Trial
06:43
Play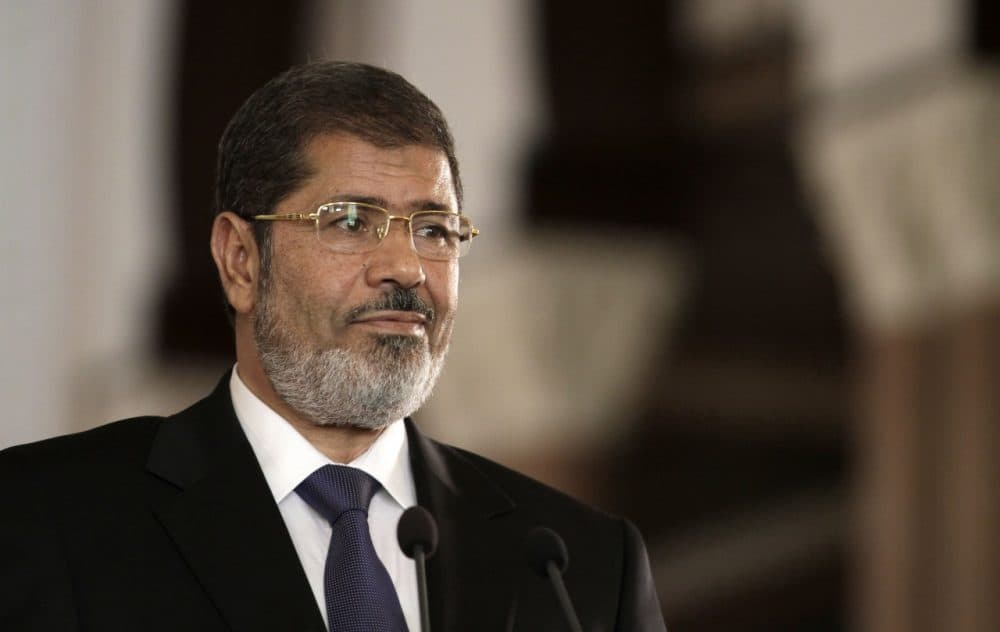 This article is more than 7 years old.
Deposed Egyptian president Mohammed Morsi was back in court today, charged — with 130 others — for breaking out of prison in 2011. That was during the uprising that forced the country's former ruler Hosni Mubarak out of office.
Morsi and his Islamist party, the Muslim Brotherhood, went on the win the round of elections that followed — the first free and fair elections in Egyptian history.
But last July, after a popular uprising against his government, the army deposed Morsi and arrested him. In the months since, the government has declared the Muslim Brotherhood a terrorist group and banned the party. Earlier this month, the government pushed a new constitution through a referendum that is widely viewed as flawed.
Now the military leader who deposed Morsi appears to be ready to run for the country's presidency.
NPR's Leila Fadel tells Here & Now's Meghna Chakrabarti that the main demands of the Egyptian uprising were "dignity, bread, freedom — and that still hasn't happened."
Fadel says instead, there is something more concerning happening. "Voices of dissent that point out the problems, that point out the human rights problems. Those people are going to jail. So there may be a further crackdown on dissent in order to stop criticism, rather than fix the problems."
Guest
This segment aired on January 28, 2014.