Farmers Weigh In On California's Extreme Drought
12:08
Play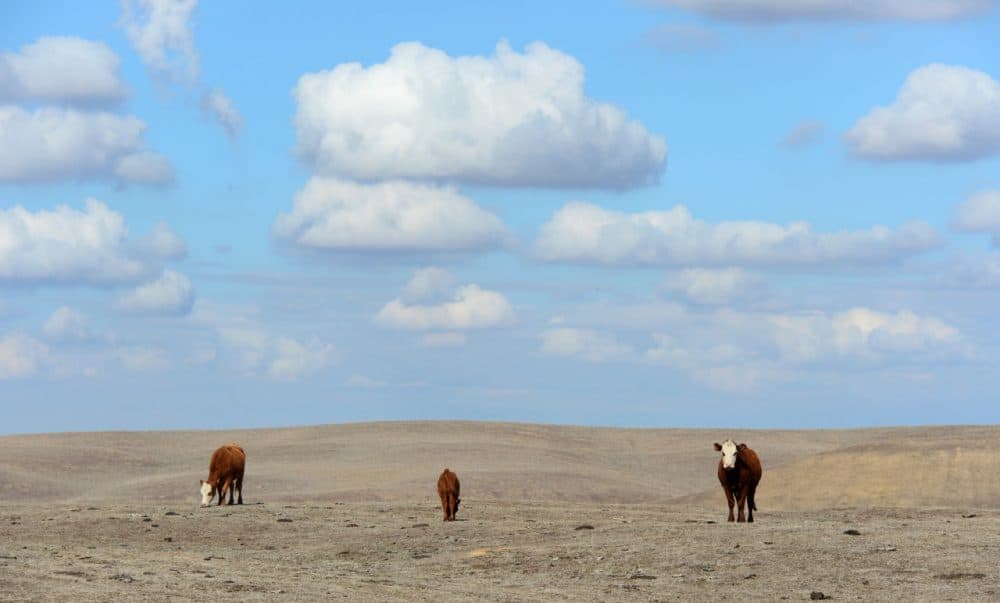 This article is more than 6 years old.
The U.S. Bureau of Reclamation and the Natural Resources Conservation Service have announced another $14 million for water management improvements to California, a day after Agriculture Secretary Tom Vilsack committed $20 million.
Governor Jerry Brown announced a drought crisis last month, and state officials now say 17 communities could run out of water within 100 days.
California is already cutting deliveries from the State Water Project to farms and cities, and urging statewide conservation.
The drought in California is also having a big impact on farmers, who produce half of all U.S.-grown fruits, vegetables and nuts.
Three agriculture producers speak with Here & Now's Jeremy Hobson about how the drought is affecting them.
Interview Highlights
John Harris, chairman and CEO of Harris Farms in Huron, California
"We have a feeding company, a feed lot that we feed the cattle from, and their water needs can be met through a groundwater well. But overall, California's cow industry is really being hurt by this drought, because much of California's cattle are outside on range land that's way below normal rainfall."
"Most of us are already conserving water every possible way already. All of our crops are drip-irrigated, and to put it in perspective too, that we're not really so much dependent on rain in our farming operation as we are in the snowpack and the runoff from the Sierras. That's the real problem, that we've got to have a tremendous resource from the whole Sierra Nevada range that goes up to 12,000 feet and can hold a tremendous amount of water in the way of snow and rain and all that. But it just hasn't happened, and we just don't have the flows that we need, and so we need some kind of a miracle to happen to restore that."
Michael Harris, project director of the California Black Agriculture Working Group
"We [the U.S.] will probably import [food] from some of our neighbors, but that's not sustainable. We're just gonna have to figure out different ways of producing some crops locally. Although California is the bread basket and the fruit basket, the nut basket, we're gonna have to figure out ways in other parts of the country to go back to growing alternative crops that work in those areas."
"I think where we should really take a hard look at is, what is California gonna be? We can't be the bread basket, fruit basket for the world and continue to expand the population. So the projections are, you know, 50 million people, close to 50 million in 20 years. So you can't have good agriculture production while you're expanding the base of concrete over some of the best farmland on the planet.
Janet Pauli of Pauli Ranch and Yokayo Wine Company in Potter Valley, California
"We're in a situation where until we get into frost protection, which will be about mid-March until the beginning of May, our water use needs are very small. Once we get to that place though, most of the growers who are anticipating not having any water, worst case, not any water for frost protection, are doing some things like putting pruning off until later, hoping that we can make it through a frost season without significant damage. But after that point, we're in trouble with regards to keeping these permanent crops alive. We might be able to eke by. Rain would really help. If we don't see any, we're gonna realize some significant crop loss."
"I think if we were to see a really dramatic decrease in crops for this year, it will impact prices. How much, it's really hard to tell. We really don't have a good handle on that yet, and we won't until we see what kind of crops we set in May after we get done with bloom. Then, whatever crop we have, if we can water it enough to keep it going."
Guests
This segment aired on February 6, 2014.