San Diego Mayor Faces Challenges
09:55
Play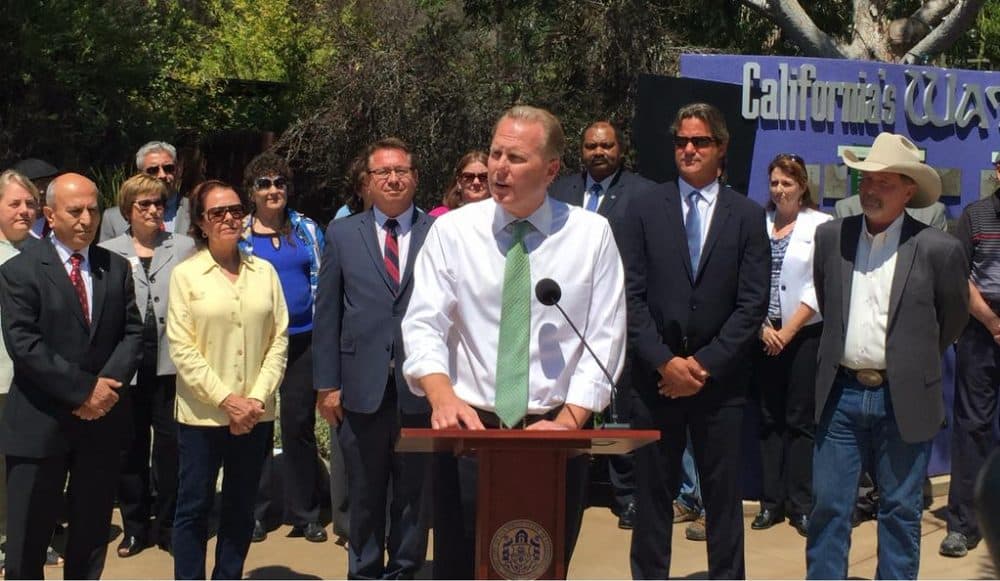 This article is more than 5 years old.
It's sometimes called "America's finest city," but there are concerns in the Southern California city of San Diego. First, there is a historic drought, which the state and city are taking steps to deal with.
There's also the future of its football team, the San Diego Chargers. The team says it needs a new stadium, and there's a chance the team will move elsewhere if that doesn't happen.
Mayor Kevin Faulconer discussed the challenges facing the city with Here & Now's Robin Young, who is broadcasting from San Diego this week.
"Our target here in the city of San Diego is to reduce the water use by 16 percent."
"It's been a way of life here in San Diego for a number of years," said Faulconer about San Diegans' water conservation habits. "It's not new to us here in San Diego, but the drought here of course is real and it's been one of the most severe droughts we've ever faced in California."
Faulconer says San Diegans have conserved water at rates in the double digits since 2007, but with California's new mandatory restrictions going into effect across the state, the city needs to do more to comply with the new rules.
"Different water districts have different targets," said Faulconer. "Our target here in the city of San Diego is to reduce the water use by 16 percent."
The city is focusing on reducing water used for outdoor landscaping. Residents are urged to water their lawns and gardens no more than twice a week, and public workers are being pressed into service to enforce these restrictions.
"We have to pull together as a region," said Faulconer.
Faulconer said San Diego is developing a recycled water program to reuse a third of the city's water supply, and said he hopes it will be running by 2021.
"When completed, we will create a third of our city's water supply from recycled water," said Faulconer. "It's going to be one of the most ambitious projects in the country and one we're pretty proud of."
Guest