Presidential Candidates React To Charleston Shooting
11:06
Play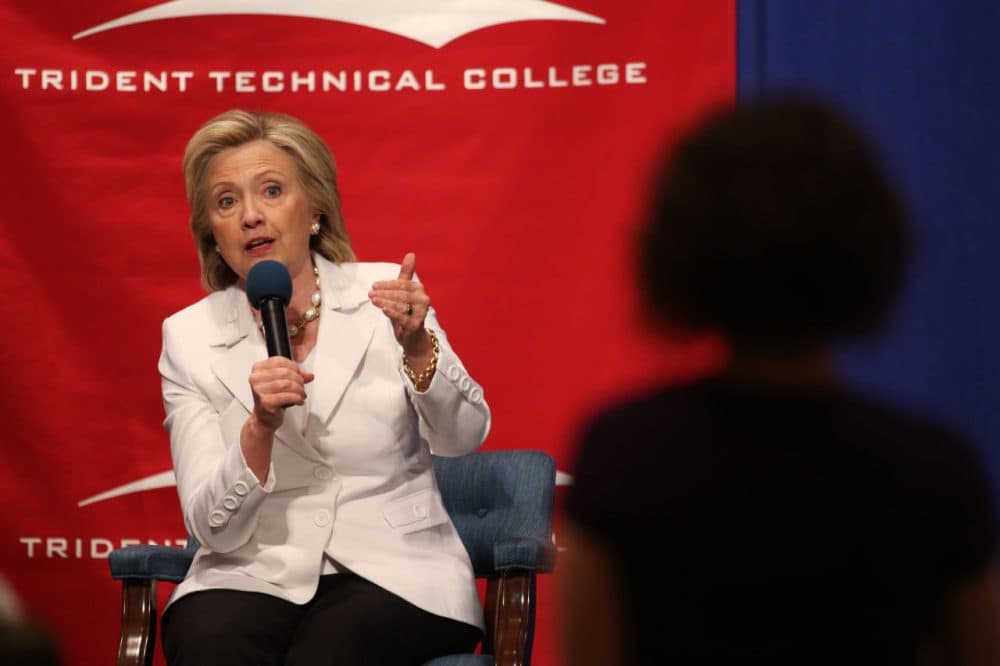 This article is more than 5 years old.
It didn't take long, once news of the deadly shooting at the Emanuel AME Church in Charleston, South Carolina, started coming in for the 2016 presidential candidates to react.
Republican Jeb Bush canceled a planned town hall with veterans for Thursday in Charleston.
"Columba and I mourn today with the Emanuel AME Church and the families of the victims of this terrible crime. Our hearts are broken at the senseless loss of life," he said in a statement. "Our prayers are for the community that has lost its pastor and a brave leader. May the families and the city of Charleston be lifted up by the prayers of our entire nation."
Democrat Hillary Clinton, who left Charleston just hours before the shooting, had this to say at a campaign appearance the next day in Las Vegas:
"In the days ahead, we will once again ask what led to this terrible tragedy and where we as a nation need to go. In order to make sense of it, we have to be honest. We have to face hard truths about race, violence, guns and division," she said. "How many innocent people in our country, from little children, to church members, to movie theater attendees, how many people do we need to see cut down before we act?"
And South Carolina Republican Sen. Lindsey Graham canceled campaign events elsewhere to travel back to his home state in the wake of the shooting.
"Really the last thing on my mind right now is a political debate," he told CNN. "My job is to be here and to show solidarity with my community and my state. But if you want to have a debate, we'll have it. I don't mind debating gun control. I want Americans to know that the solutions to problems like this are not one law away."
Here & Now's Robin Young and Peter O'Dowd talk with Julie Mason, host of the Press Pool on Sirius XM's POTUS channel, and Wesley Lowery, national reporter for The Washington Post, about how the Emanuel AME Church shooting is reverberating politically, and about other news from the campaign trail this week.
Guests
This segment aired on June 19, 2015.